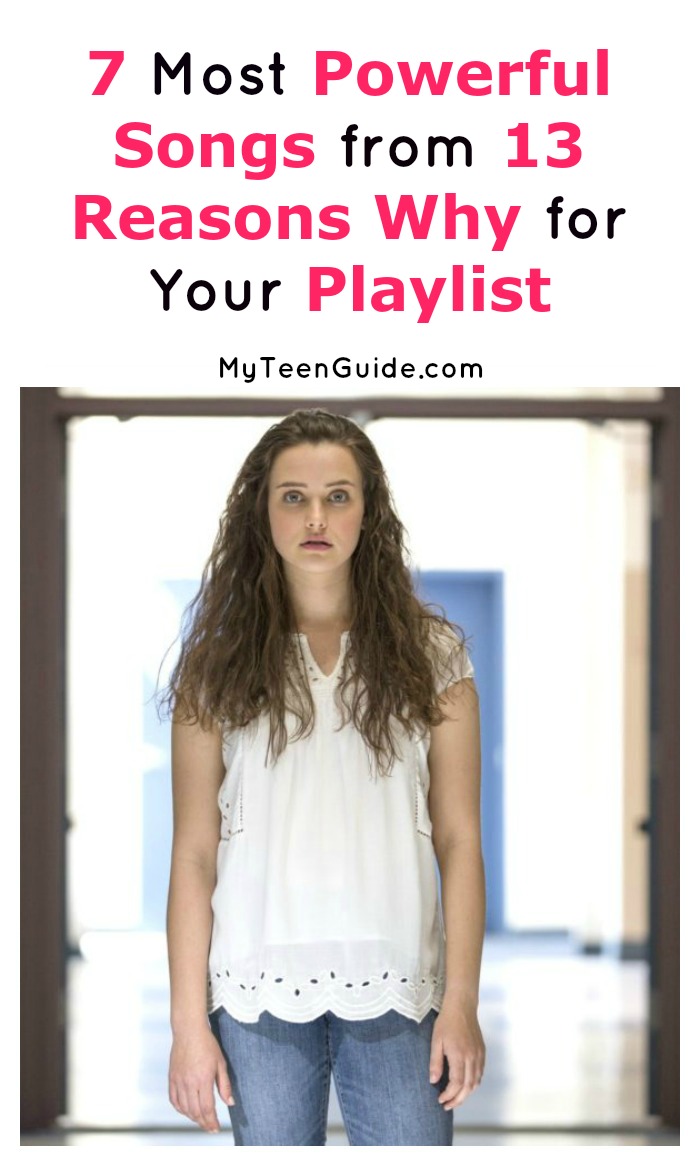 It seems like songs from 13 Reasons Why are getting a lot of buzz lately. With bands from the show speaking out about the controversial material and fans insisting that there were hidden clues in the songs, the music is getting just as much attention as the show itself. Honestly, I can't tell you if there were hidden clues, although I will say that Tony playing a Joy Division tape in his car in the first episode was a good indicator that all was not right in the world (I love the band, but it's not known for its happy-go-lucky style and Ian Curtis,  the lead singer, did commit suicide).
I can, however, tell you which of the many songs from 13 Reasons Why really stood out to me as the most powerful. Of course, this is all subjective, since we all have different taste in music, so I'd love it if you could share your favorite songs from the show!
Most Powerful Songs from 13 Reasons Why
Affiliate links included below. Thanks for your support!
Love Will Tear Us Apart- Joy Division
As I mentioned above, Joy Division isn't known for shiny & happy. That said, while the lyrics to Love Will Tear Us Apart
are downright depressing, the music itself is pretty upbeat. This song is very much a Hannah & Clay song, from the lines about flawed timing to exposed failings. Here is a YouTube version with the lyrics:
Kill Em With Kindness-Selena Gomez
I'm more of a punk rock girl than a Selena Gomez girl, but the lyrics in Kill Em With Kindness
mesh perfectly with the themes in 13 Reasons Why. Of course, Gomez executive produced the show, so it makes sense that she'd have a few perfect songs for it.  I also think anyone who has ever been bullied can totally relate to the lyrics. Here is the version from the series:
Fascination Street- The Cure
Joy Division isn't the only old-school alternative band that 13 Reasons Why brought back into the mainstream. The Cure was Emo decades before Emo was a thing. Fascination Street
has so much meaning that makes sense in the show. "Pull on your face/pull on your feet," if you get through to the end of the series, you'll see Hannah do this when she goes to that last fateful party. Not because she wanted to have a good time, but because she was reaching the point where she just couldn't feel…or she felt too much and needed to stop. Sometimes, they're both the same thing.
https://www.youtube.com/watch?v=_n2t7on6MR8
The Killing Moon- Echo and the Bunnymen
Covered on the soundtrack by Roman Remains, The Killing Moon
was originally written by another throwback to the 80s emo days, Echo and the Bunnymen. To give you an idea of the type of song you're in for, it was also featured on the Donnie Darko soundtrack
. Yep, one of the most mind-bending films of all time (okay, of modern time). It's a sad song, full of loss and loneliness. Hmmm, maybe there were clues in the music, after all.
Young & Unafraid – The Moth & The Flame
I never heard of The Moth & The Flame
before their song in 13 Reasons Why. This one may be relatively short on lyrics, but the words that are there perfectly reflect the way friendships fall apart in high school. The words kind of remind me of the We Used to Be Friends by The Dandy Warhols (it's the theme song for Veronica Mars).
https://www.youtube.com/watch?v=U8rM39LksEA
Reunion- M83
Another song that captures the almost-relationship between Clay and Hannah, Reunion by M83
fits well with Joy Division, The Cure and other New Wave songs on the soundtrack, even though it's a lot newer (2011, versus the 80s and 90s). The official video is super creepy, more like a sci-fi movie than a music video.
Bored- Billie Eilish
Back in August, Vogue named 14-year-old Eilish the next "It" girl. Yep, you read that right, she's only 14, yet she's comparing love to things like falling off a cliff and a napalm sky. In "Bored
," she comes off as "just go, I don't care," but underneath you can tell she's saying "please stay," something she has in common with Hannah.
There are many brilliant and powerful songs from 13 Reasons Why. They did a pretty good job of mixing old and new, alternative and mainstream. I'd like to say they did a good job of mixing upbeat and morose, but there is nothing at all upbeat about the show, so it makes sense that the music would reflect that. This isn't exactly a backyard BBQ party playlist. It's more of a "close the curtains, light the candles and wallow for a while" playlist.
That's okay, though. We all need those sometimes. Wallow & wail. Just don't wither. Eventually, you have to turn off the sad, sad tunes and get back to living. That's kind of the point that Hannah missed. Granted, she had some pretty horrific things happen to her, but suicide is never, ever, ever an option.
If you're feeling like you've reached the point you feel like suicide is an option, please (please, please, please) get help. Call a suicide hotline, talk to a friend, or walk yourself into the nearest ER and tell them that you're suicidal. I've been there. I'm not just another writer throwing a bunch of "blah blah suicide hotline" talk at you to cover her butt. I. Have. Been. There. Music like these songs from 13 Reasons Why did help me get through it, but music can only do so much.
Do you have any favorite songs from 13 Reasons Why? How about other songs that helped you through a tough time? Tell me about them below!