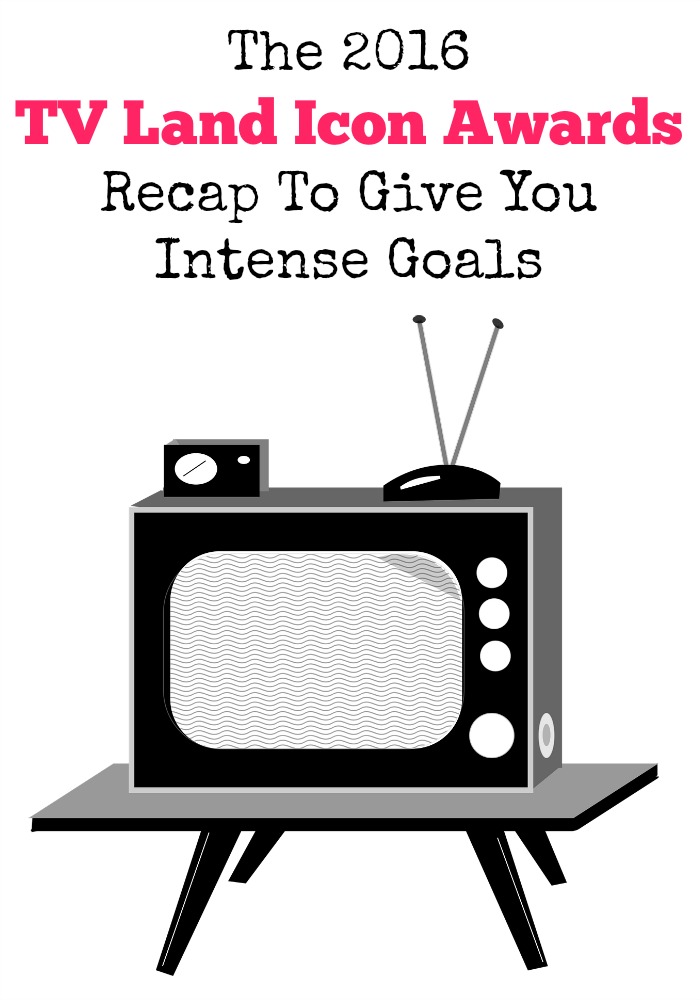 I dig the glamor at award shows, and this 2016 TV Land Icon Awards recap is full of truely talented tv actors and actresses. If you're not familiar, Nickelodeon has a nighttime spinoff show that was called "Nick at Night," and is now is a separate channel. TV Land plays almost exclusively classic TV shows. It's almost a badge of honor to one day have your show make it to TV Land. The 2016 TV Land Icon Awards was taped on April 10, 2016, at The Barker Hanger in Santa Monica, California and aired tonight on TV Land. The show was hosted by comedian George Lopez. Check out the full 2016 TV Land Icon Awards recap below!
2016 TV Land Icon Awards Recap
Timeless Icon Award
Actor John Stamos was presented with the Timeless Icon Award by Garry Shandling, after some tributes from his Full House co-stars Lori Loughlin and Dave Coulier and Grandfathered co-stars Paget Brewster and Josh Peck. The Beach Boys also took the stage and sang a medley of their songs as a tribute to Stamos, including hits Good Vibrations, Wouldn't It Be Nice and Fun, Fun, Fun. Stamos then joined The Beach Boys onstage for Barbara Ann.
In his acceptance speech, Stamos said, "I feel like I owe this and everything good in my life to the people who surround me with love. I promise I never take for granted." Stamos also revealed the inspiration behind his famous catchphrase Have Mercy. He explained that it was Garry Marshall would always tell him "Get a catchphrase, you need a catchphrase."
John Stamos began his acting career on General Hospital as Blackie Parrish from 1984 to 1984. He also went on to play Jesse Katsopolis on Full House from 1987 to 1995 as well as Fuller House in 2016; Jake Phillips on Jake in Progress from 2005 to 2006; Dr. Tony Cates on ER from 2005 to 2009; Dr. Carl Howell on Glee from 2010 to 2011 and Jimmy in Grandfathered since 2015.
Comedy Duo Icon Award
Keegan-Michael Key and Jordan Peele are presented with the Comedy Duo Icon Award for their show Key & Peele by Rob Huebel. During their acceptance speech, the duo said, "We're extremely humbled by the company we're in." Key & Peele premiered on Comedy Central on January 31, 2012, and ended on September 9, 2015.
Trailblazer Icon Award
Ellen Pompeo, who has played the role of Dr. Meredith Grey on Grey's Anatomy since 2005, presented Debbie Allen with the Trailblazer Icon Award. Pompeo said about Allen, "From the very start of her career on Broadway, she has followed her passions, chased her dreams and never let a no get in her way." Debbie Allen said in her acceptance speech, "I can't begin to tell you how much I feel in this moment, thanking her family and the long list of individuals who "helped me to get where I am." Debbie Allen is an actress, dancer, choreographer, producer, director and humanitarian. She is most famous for her role as Lydia Grant in the television series Fame, from 1982 to 1987. She currently plays the role of Catherine Avery on Grey's Anatomy.
Fan Favorite Icon Award
Actress Sutton Foster presented the award for Fan Favorite Icon Award to Jim Parsons. Parson has played the role of Sheldon Cooper on The Big Bang Theory since 2007. I love Jim Parsons and am a faithful watcher of The Big Bang Theory. Parsons plays the role of Sheldon like no one else can.
Tribute To Garry Shandling
Bob Odenkirk presented a touching tribute to Garry Shandling, calling him "an icon for the ages." Shandling unexpectedly died at the age of 66 on March 24, 2016, from a massive heart attack. Bob Odenkirk said about Garry Shandling, "Garry Shandling was funny all the time; wherever you were, whatever was happening, he'd make you laugh. So naturally you would ask, 'What are you working on?' For the last 15 years at least, it seemed Garry was working on himself: on his Buddhist practice, meditating, trying to get past all this samsara."
Instant Icon Award
Cuba Gooding Jr, who plays the role of O.J. Simpson in American Crime Story: The People Vs O.J. Simpson accepted the award for Instant Icon Award, presented by Entertainment Tonight host, Kevin Frazier. Cuba Gooding Jr. said in his acceptance speech, "It is so humbling…we are incredibly grateful to you, the fans. There isn't a day that goes by that someone doesn't say how affected they are. The show succeeded on so many levels, and we're thrilled it connected so deeply with viewers." The People Vs. O.J. Simpson is the first season of American Crime and is based on the book The Run of His Life: The People V. O.J. Simpson by Jeffrey Toobin. This was an amazing show and showed the O.J. Simson case from a different perspective than all the media hype. It focused not only the trial but the people that were involved in the trial.
Impact Icon Award
Seth MacFarlane, the creator of Family Guy, presented the Impact Icon Award to Norman Lear. Seth MacFarlane said about Norman Lear, "It's amazing how Norman's shows from 40 years ago address race, sexuality, income inequality in a more open, candid and progressive way than shows do now. Through his thoughtful presentation, Norman has done more to advance race, gender and sexual inequality than any politician, member of the clergy and even Supreme Court justice." During his acceptance speech, Lear said, "I have two words, Holy s—. Life is a great collaboration. I've worked with so many great people, trust me when I say, my success is one giant collaboration, and I thank you for that." Norman Lear is credited with producing hit shows like All in the Family, The Jeffersons, Sanford and Son, Maude, Good Times and One Day at a Time. Amber Riley, from Glee, along with season one winner of The Voice, Javier Colon, sang a medley of songs from Norman Lear's shows.
Who are you happy to win a 2016 TV Land Icon Awards during this recap? Tell me your favs in the comments!
*Image via Pixabay