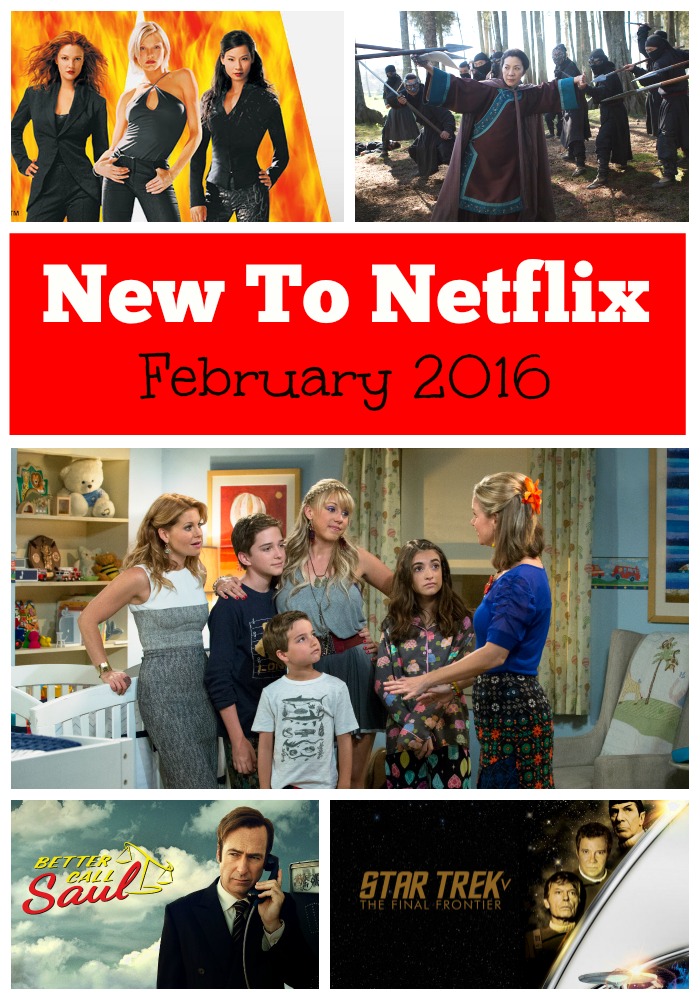 Get your Netflix app ready, we have the latest list of all of the best releases on Netflix in February 2016. I'm looking forward to some great shows like Season 2 of The Returned and Better Call Saul. The movies are looking good too with flicks like Cruel Intentions, Dope and Charlie's Angels. You will have no problem finding something to watch. Plus the grand debut of Fuller House, the sequel reboot of the early 90's show Full House is here this month! *fangirl squeal* Here is what I am going to be adding to my list that is being released on Netflix in February 2016.
New To Netflix In February 2016 For Your List
February 1st
A Picture of You
Better Call Saul- Season 1
Charlie's Angels
Game Face
Johnny English
The Lizzie Borden Chronicles- Season 1
Star Trek V: The Final Frontier
Stardust
Teen Witch
Tin Man: Search for the Emerald
A Picture of You is a twisted movie about family, secrets, loss, letting go and moving on. If you loved Breaking Bad, Better Call Saul is the prequel spinoff and is slated to be hilarious. Charlie's Angels is a funny reboot of the TV series from the 1970's. Game Face is a drama that showcases the lives of Fallon Fox, a transgender MMA fighter and Terrence Clemens, a gay basketball player. Johnny English is a funny parody of secret agent James Bond.
The Lizzie Borden Chronicles stars Christina Ricci, Clea DuVall and Cole Hauser and looks pretty wicked, chronically the life of a murderer who killed her father and stepmother in 1892. Star Trek V is about the USS Enterprise crew and their confrontation with Sybok, don't tell my boyfriend or that's all that will be on. Stardust is the story of a young man who journeys to the land of fairies to bring back a fallen star and win his true love's heart. Teen Witch is a 1989 fantasy comedy movie that was pretty good. Tin Man continues the Wonderful Wizard of Oz story, with some science fiction thrown into the mix and looks worth an evening.
February 10th
Dope is the story of a high school senior, working hard to get into a top college when he befriends a local drug dealer.
February 17th
The Returned centers on a quiet little mountain town, where the dead seem to come back to life.
February 26th
Crouching Tiger, Hidden Dragon: Sword of Destiny- Netflix Original
Fuller House- Season 1- Netflix Original
https://www.youtube.com/watch?v=uhInIOKwGXU
Crouching Tiger, Hidden Dragon is the story of Martial World heroes and their quest to keep the evil Hades Dai from getting his hands on the Green Destiny sword. Fuller House is the much-awaited sequel to Full House, which aired from 1987 to 1995. I'm watching this one as soon as it comes out!
Last Call: Catch Your Favorites Before They Are Gone!
Leaving February 1st
Benny and Joon
Big Fish
Blue Crush
Classic Doctor Who: Collections 1-18
Crocodile Dundee 2
Doctor Who- Season 1-8
Gothika
The Hurt Locker
Sorority Row
The Terminator
Leaving February 11th
Stephen King's Bag of Bones
United 93
Leaving February 17th
Leaving February 19th
Leaving February 25th
Leaving February 27th
There are so many good shows and movies coming, I can almost forgive Netflix for dropping Dr. Who…. Almost… At least I'll have some other great shows to mop up my binge-watching tears. What are you excited to see coming to Netflix in February 2016?