Michael Myers fans are in for a treat with these Halloween movie quotes & trivia!
On October 19, 2018, Myers is back again to torment the sole survivor of his killing spree, in the direct sequel to the 1978 film.
While the upcoming  movie is the 11th installment in the Halloween movie franchise, it ignores all of the other sequels, except for the original movie.
This time, though, Jamie Lee Curtis' character is ready for him!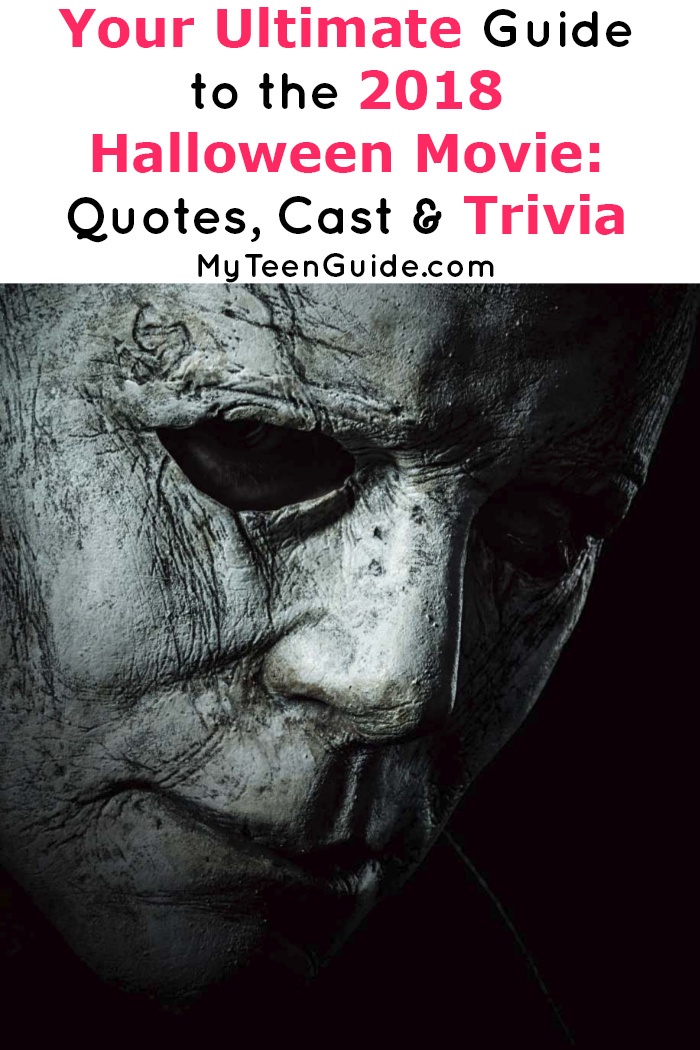 Make sure you're ready, too, by checking out our guide to the 2018 Halloween movie, with quotes, cast info and fun facts!
Related:100 Horror Movies that Will Give You Nightmares for Years
Halloween Movie Quotes, Trivia & Cast
This post contains affiliate links. If you make a purchase through these links, we earn a small commission at no extra charge to you.
The 2018 Halloween movie is interesting, because it's not really a reboot, or even a continuation of the franchise. It's kind of like a sequel reboot, if such a thing exists. Basically, just pretend that the 10 other sequels never happened.
Read on to find out who's who in the Halloween movie cast, then check out some great quotes and trivia!
Related: 5 Of The Best Classic Horror Movies To Watch On Halloween
2018 Halloween Movie Cast
1. Jamie Lee Curtis as Laurie Strode
Jamie Lee Curtis returns to her role as Laurie Strode. She's now suffering from PTSD after being the only survivor of Michael Myers' killing spree in 1978, in which he killed her friends Annie, Bob and Lynda.
Jamie Lee Curtis has won 2 Golden Globe Awards. In 1990, she won Best Actress in a Television Series- Comedy or Musical, for her role as Hannah Miller in the television series- Anything But Love.
In 1995, she won Best Actress in a Motion Picture- Comedy or Musical, for her role as Helen Tasker in the movie- True Lies.
2. Nick Castle as Michael Myers
Nick Castle as Michael Myers, the famous masked figure who kills teenage babysitters on Halloween night.
Nick Castle is better known for his directing rather than his acting.
To date, he has directed 9 movies, including the 1984- The Last Starfighter, the 1993- Dennis the Menace and the 1995- Major Payne.
3. Judy Greer as Karen Strode
Judy Greer as Karen Strode, daughter of Laurie and mom of Allyson.
Judy Greer is known for her roles as Penny Nicholson in the 2001- The Wedding Planner, as Lucy Wyman in the 2004- 13 Going on 30 and as Miss Desjardin in the 2013- Carrie.
At first, the name Judy Greer didn't ring a bell. But, then I looked into some of the movies she's starred in and I realized I had seen all 3 of the movies I listed above.
4. Andi Matichak  as Allyson Strode
Andi Matichak as Allyson Strode, daughter of Karen and granddaughter of Laurie.
The upcoming Halloween movie will be Andi Matichak's debut film.
I don't know about you, but I enjoy seeing movies where it is the first movie role for one of the actors or actresses. I mean, everyone has to start somewhere, right?
5. Will Patton as Sheriff Hawkins
Will Patton as Sheriff Hawkins, who helps Laurie in her plan to seek out revenge against Myers.
6. Virginia Gardner as Vicky
Virginia Gardner as Vicky, Allyson's best friend.
Virginia Gardner is known for her roles as Karolina Dean in the television series- Marvel's Runaways and as Christina Raskin in the 2015- Project Almanac.
Now that we know who's who, let's check out some Halloween movie quotes!
2018 Halloween Movie Quotes
1. Quotes from the 1st movie trailer, released by Universal Pictures on June 8, 2018.
Martin, a documentary filmmaker, in the opening of the movie trailer:
Martin- "We're here to investigate a patient that killed three innocent teenagers on Halloween in 1978. He was shot by his own psychiatrist and taken into custody that night and spent the last forty years in captivity."
(To date, the trailer has received 19,389,812 views.)
2. Conversation between Allyson Strode, Vicky and Cameron:
Allyson- "Everyone in my family, like, turns into a nutcase this time of year."
Vicky- "Yeah, I mean your grandmother is Laurie Strode. She was almost murdered."
Cameron- "Wasn't it her brother who murdered all those babysitters?"
Allyson- "No, it was not her brother. That's the man that people made up."
(I admit, I am confused. Is Myers her brother, or isn't he???)
3. Conversation between Laurie Strode and Hawkins:
Laurie- "Do you know that I pray every night that he would escape?"
Hawkins- "What the hell did you do that for?"
Laurie- "So I can kill him."
(WOW! Laurie is no longer that terrified babysitter from 40 years ago. Now, she is a woman on a serious mission of revenge).
4. Conversation between Laurie and Karen Strode:
Laurie- "The bus crashed."
Karen- "Mom, what bus crashed?"
Laurie- "Michael escaped!"
Laurie, referring to Michael:
Laurie- "He's waited for this night. He's waited for me. I've waited for him."
(I am not sure whose idea it was to put Michael and several other mental patients, on a bus to be transported who the heck knows where, but it was a stupid one. I mean, seriously, it's the middle of the night and they are in the middle of nowhere. Gee, what could possibly go wrong! SMH)!
5. Quotes from the 2nd movie trailer, released by Universal Pictures on September 5, 2018.
Dana and Martin, two documentary filmmakers, in a voiceover:
Dana- "Forty years ago on Halloween night Michael Myers murdered three people."
Martin- "After that horrific night, he was sent back to the institution in captivity."
This trailer averaged about 871,151 views per day during the first few days after it came out! Check it out:
6. Conversation between Laurie Strode and Karen Strode:
Laurie- "I need to protect my family. You have no security system, Karen."
Karen- "Mom, you need help!"
Laurie- "Evil is real."
Laurie, referring to Michael:
Laurie- "He is a killer, but he will be killed tonight."
Halloween Movie Trivia
1. They don't call her the scream queen for nothing!
Jamie Lee Curtis has appeared in 5 other horror films besides Halloween, including the 1980- Prom Night
, the 1980- The Fog
, the 1980- Terror Train
, the 1981 Road Games
and the 1999- Virus
.
2. There's a reason why Andi Matichak was chosen
Before Andi Matichak was cast in the role of Allyson Strode, popular actresses Emma Roberts and Lucy Hale had expressed in the role. However, the movie studio wanted an unknown actress for the role. This was much like the 1978 Halloween movie because it was the debut film for Jamie Lee Curtis.
3. Lucky #13?
David Gordon Green is the director for the upcoming movie. This will mark his 13th movie as director. Some of his other movies include the 2007- Snow Angels, the 2008- Pineapple Express and the 2013- Prince Avalanche. (Isn't the number 13 sometimes considered evil or unlucky? Guess since this will be his 13th directorial film, Halloween seems like the perfect fit, don't you think)?
4. Reunited
At the age of 70, Nick Castle is the oldest actor to have played the role of Michael Myers. He is also the 3rd actor to have played the role more than once, since he also starred in the original film. Tyler Mane played Myers in the 2007- Halloween and the 2009- Halloween II. George P. Wilbur played Myers in the 1988- Halloween 4: The Return of Michael Myers and the 1995- Halloween: The Curse of Michael Myers.
5. It's Deja Vu All Over Again
If it feels like we've done the "pretend the rest never happened" thing before, it's because we have! Remember Halloween H20
? It took place 20 years after the original and basically ignored all of the movies in between. I guess they figure 20 years is enough time to remember that we've already been down the "direct sequel" road!
I'm looking forward to seeing the 2018 Halloween movie. Aside from H20 (the other direct sequel), I think that most of the movies that came after the original got just a little silly. I mean, how many times can you kill the same guy? I think it will be interesting to delve into the mind of a woman who's lived the last 40 years worrying about a killer escaping and coming after her again.
Have you heard any other great Halloween movie quotes or trivia? Are you looking forward to this one? Share your thoughts below!