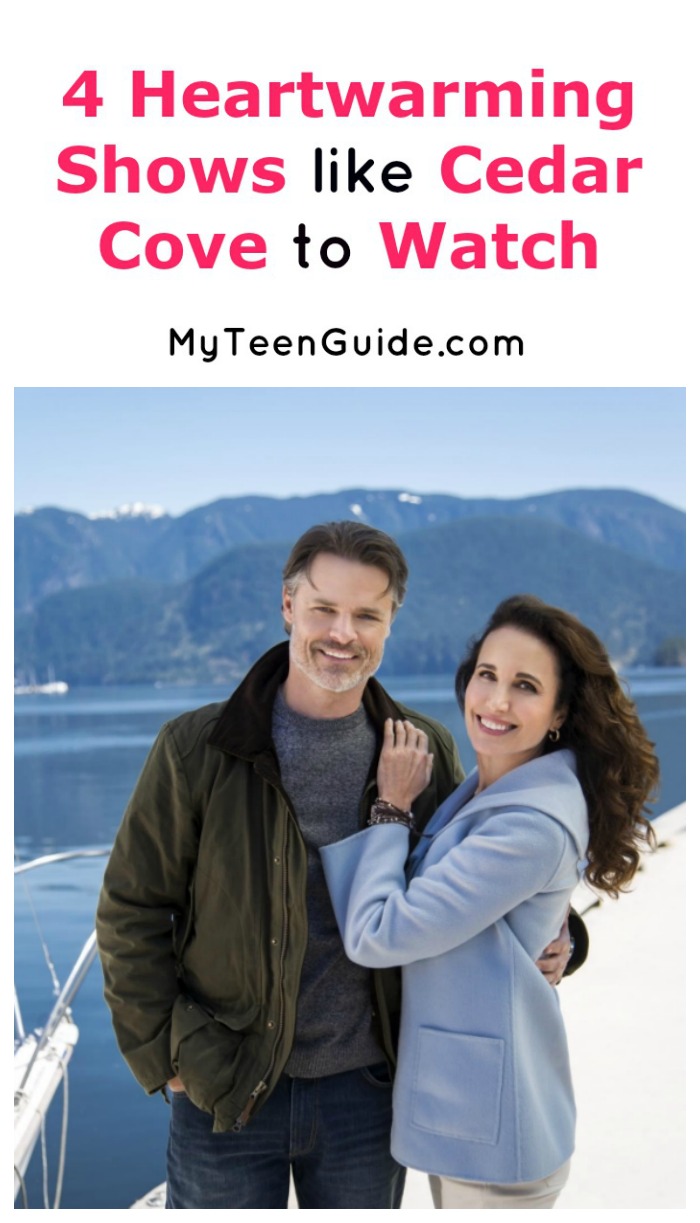 When I need to feel all ooey gooey and warm inside, I turn to shows like Cedar Cove, on the Hallmark Channel. I know, I know, Hallmark shows are a little on the sappy side, but sometimes that's exactly what I need!  The show ran from 2013 until 2015, producing 36 episodes. Cedar Cove is a pure drama and romance show, telling the story of a judge's personal and professional lives as well as those who live in the surrounding town. Once you have watched every episode of Cedar Cove, you'll want to add these 4 shows to your will watch list!
Shows Like Cedar Cove for Your Watchlist
Affiliate links included below. Thanks for your support!
1. When Calls the Heart
Good things do come out of Canada! When Calls the Heart
is a Canadian-American family drama and Western that is based off of a book with the same name. The show also began on the Hallmark Channel! When Calls the Heart tells the story of Elizabeth, a young teacher who is assigned to teach in a coal-mining town, one that is vastly different from the high-society life she is used to.
2. Girlfriends' Guide to Divorce
This show is so real, so drama-filled and so easy to relate to! Girlfriends' Guide to Divorce
takes viewers into the life of Abby McCarthy. Abby is a self-help author who gains new friends and takes on new adventures as an impending divorce looms above her. The show proves just how much solace friends and adventures can bring you, even when you are going through a rough time in life.
3. Good Witch
Good Witch
 just returned for their third season on the Hallmark Channel! This show incorporates drama, comedy and fantasy and is okay to watch even if you have younger siblings running around.  The show is all about the life of Cassie Nightingale, a newly widowed woman who is left to take care of her teenage daughter on her own. The show takes on all sorts of common family problems but always leaves you laughing!
4. Glory Days
Though Glory Days is almost 15 years old, this show is still worth watching! The show tells the story of a novelist who returns home and has to face all sorts of weird and sometimes unpleasant happenings. The show takes you into his life of dealing with these strange occurrences. Glory Days has been compared to Dawson's Creek
, so you know it is worth watching!
Do you enjoy any of the Hallmark Channel's other productions? Do you think you'll watch any of the shows like Cedar Cove on this list? Tell us about it below in the comments section!