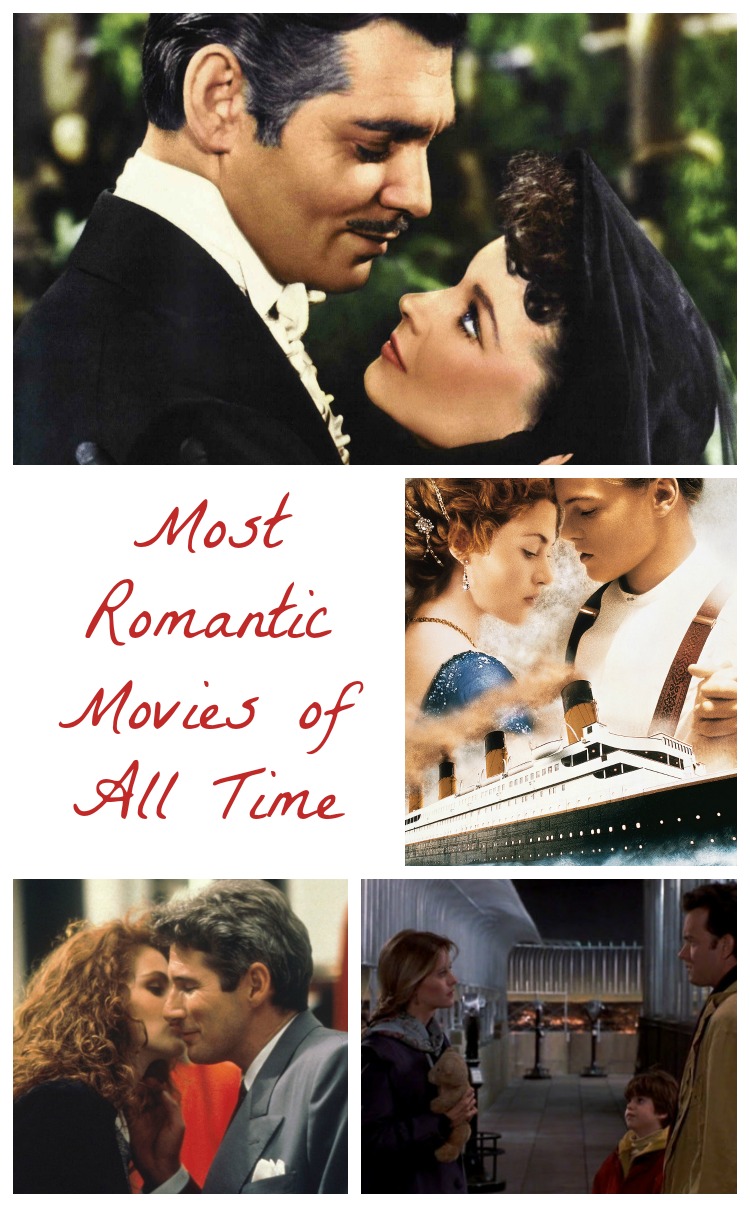 Romances movies can make you laugh and make you cry all at the same time. They are also designed to make you all warm and fuzzy inside, especially when they have a happy ending! There's nothing like watching the girl get the guy (or vice versa) at the end of 90 minutes. Makes you feel hopeful, you know what I mean?  With Valentine's Day coming up, we thought it would be a great time to share our picks for some of the best romance movies of all time!
Best Romance Movies of All Time
Pretty Woman
Pretty Woman is a 1990 romantic comedy film that stars Richard Gere, Julia Roberts, Hector Elizondo, Ralph Bellamy, Laura San Giacomo and Jason Alexander. The movie is about a millionaire who hires an escort to accompany him to some social events. The problem is that neither one expected to fall in love with the other, but it changes both of them forever.
Gone with the Wind
Gone with the Wind is a 1939 epic historical romance movie that is adapted from the 1936 novel by author Margaret Mitchell. The movie stars Clark Gable, Vivien Leigh, Leslie Howard and Olivia de Havilland. Scarlett was raised on a plantation, survived through the Civil War and ends she marries a man she doesn't love in retaliation for the love of her life marrying someone else. After the war ends, Scarlett goes through some rough times including becoming a widow and being poor and starving. Will she ever find true love?
Sleepless in Seattle
Sleepless in Seattle is a 1993 romantic comedy drama film starring Tom Hanks, Meg Ryan, Bill Pullman, Ross Malinger and Rosie O'Donnell. After Sam's wife dies, he and his young son move to a whole new state. Jonah convinces his dad to tell his story on-air to a local radio talk show. A woman listener, Annie, hears his story and wants to meet him, even though she is engaged to someone else. Sam receives tons of letters from women wanting to meet him. However, Jonah is convinced that Annie is the perfect woman for his dad and will do whatever it takes to ensure they meet.
Titanic
Titanic is a 1997 epic romantic disaster movie that is based on the fictionalized account of the real-life sinking of the RMS Titanic. The movie stars Leonardo DiCaprio, Kate Winslet, Billy Zane, Frances Fisher and Gloria Stuart. The RMS Titanic featured passengers Jack, a poor man who won a trip on the ship during a card game and Rose, a society girl who is engaged to marry the rich and snobby Cal. Two people from two different social classes meet and fall in love during the excursion. However, when the ship hits an iceberg, Rose needs to find and rescue Jack, who has been locked in a room by Cal.
If it's epic love stories you're looking for, these are definitely among the best romance movies of all time! Whip up some healthy movie snacks and let the love-fest begin!
What movies would you add to the list of best romance movies of all time? Tell us in the comments!