This 4th of July craft for kids contains affiliate links to help you find supplies. We only share products we love.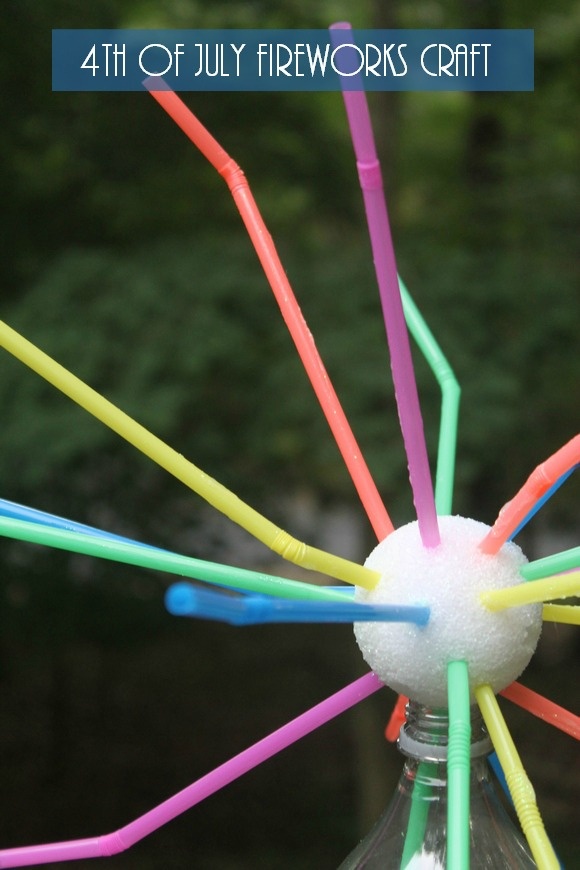 Looking for an easy 4th of July craft for kids that can be done either alone or in a group? I have one for you! Trust me, when I say it's easy, I mean it.   I am typically not the craftiest person around, but every once in a while I get bitten by the crafting bug. I came up with this idea all by myself, and I'm really quite proud of it!
 Glow-in-the-Dark Straw Fireworks 4th of July Craft for Kids
Supplies Needed:
Styrofoam balls- Now, these are actually the priciest part of the craft. I was surprised! I paid more than I thought I would at the local craft store. However, I found a 12 pack on Amazon for just $7.50, which is significantly less than I paid.
Colorful Straws- I went with neon colors, but you can use any colors.
Glow-in-the-Dark paint or glitter glue (I used the glitter glue)
an empty 2-liter bottle
Directions:
Paint the Styrofoam balls with the glow-in-the-dark paint or glitter glue. What I did was put it on the opening of the bottle and paint all the exposed areas, let it dry, then turn it and get the spot that I missed. LET IT DRY! I made the mistake of not waiting long enough and ended up peeling glitter glue off my hands for an hour. Actually, that was kind of fun, I missed peeling glue off my fingers like in kindergarten!
Stick the colored straws into the Styrofoam balls. The easiest way to do this (which I discovered after trial and error) is to stick one in, then place it in the empty bottle. That holds the project still. Place them all around, trying to alternate colors a bit so it's even looking. I used the bendy straws so that I could angle them differently. Actually, I accidentally bought bendy straws and didn't think to cute the bendy part off, so I improvised. But it worked, so now it's part of my instructions just like it was meant to be that way!
Paint the straws. I ended up painting just a few here and there, so the whole thing wasn't glittery. You can paint them all or none, it's cute either way. The easiest way to do this is to use the foam paint brushes.  I love those because they evenly distribute the paint. Plus they're super inexpensive, making them a total craft kit essential.
Let dry!
It looks really cool at night too! It was hard to get a picture of the glowing, but you get the idea: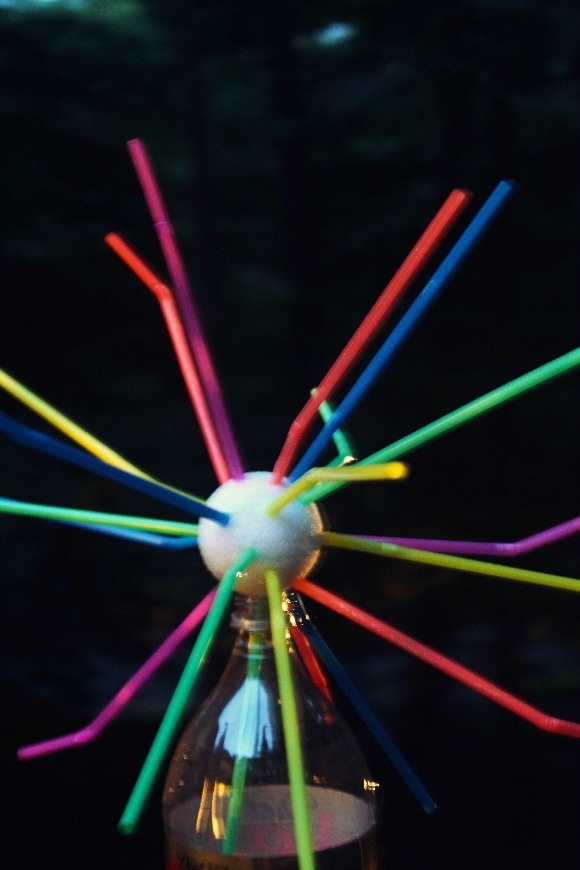 That's pretty much it! Kids can hold their DIY fireworks by one of the straws, or you can insert a stick into the ball. This is a fun 4th of July craft for kids to do in between all those great 4th of July party games while waiting for the real fireworks! If you want to spend a bit extra, you can use those thin, long glow sticks instead of straws and skip the straw painting step. Looking for more craft ideas for the 4th, check the following craft for kids to make
Do you have a favorite 4th of July craft for kids? Tell us about it in the comments!