Looking for the most fun 4th of July party games for kids ever?
We've got you covered!
You're going to love these ideas!
Plus, check out few great tips and party decorations that will make the party a success.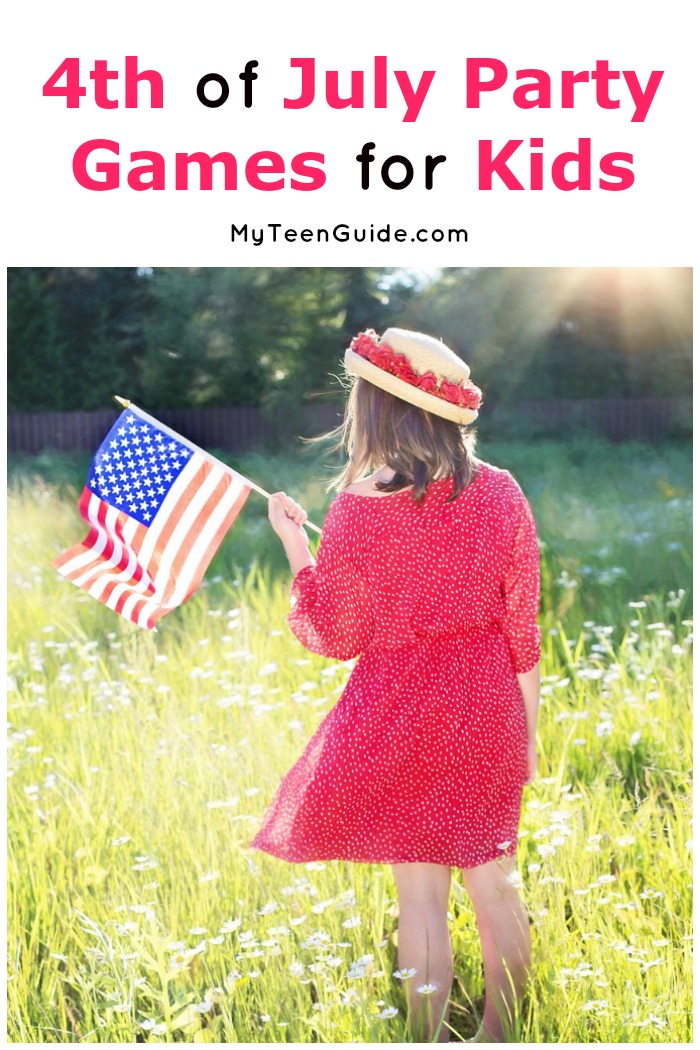 4th of July Party Games for Kids
Affiliate links included below. If you make a purchase, we earn a small commission at no extra charge to you.
1. Water balloon dodge ball
This is one of those 4th of July party games for kids that gets everyone in a competitive mood and helps to cool you off.
All you have to do is divide the kids into two teams- one doing the throwing and one doing the dodging.
After the dodging team has all been knocked out, and one person remains as the victor, have the teams swap positions and do it again!
Make the water balloons in advance to save time.
2. Obstacle course
Create a fun obstacle course that includes several things the kids have to complete along the way, like a sack race, cartwheels, crawling under a rope, or some other fun idea and the very last part of the race will be sitting on a water balloon to make it pop.
It wouldn't be a true 4th of July party game for kids unless you had a little water, right?
Check out this great video tutorial on how to DIY an obstacle course for kids!
3. Water gun tag
It's like a regular game of tag, but the person that's "It" will be squirting the other kids with a water gun.
The last one not hit with a stream of water wins and gets to be "It" next.
This is a game that could occupy kids for at least an hour.
4. Ice cube race
For most people, 4th of July party games for kids includes something that will keep the kids cool. This is a game that will keep them active and provides them with ice.
Have the kids divide into teams of four.
Place two kids of one team on one end of the field and two on the other end.
Give the starting person an ice cube on a spoon and have them run down to their team member, swap off the spoon, and that person runs back to the other team member.
Do this until all team members have had a chance.
The first team to have each member run with the spoon and ice wins, but they can't let the ice fall off of the spoon!
5. Pin the stripes on the flag
This is one of the best 4th of July party games for kids to include kids of all ages and it is super easy to do. It's basically a spin on Pin the Tail on the Donkey.
Hang up a flag (can be made of poster board) that is missing its stripes.
Blindfold kids and have them try to pin the white stripes on the flag.
The closest to accomplishing this will win, or you can make it a group activity that has no winner.
If you want to get really difficult with this game, you can even ask kids to pin the stars on the flag, too!
4th of Party Decorations & Tips for the Perfect Party
Want to make sure all the kids have the best 4th of July party ever?
Check out these tips to pull off the bash of the year!
Amazing Party Decorations
4th of July party decorations don't have to be expensive or complicated, especially if you're hosting an outdoor party. As long as you incorporate red, white, and blue, you're good to go.
Here are a few of my favorite decorations that kids will love! These items will help you recreate the look above!
Patriotic Party Plates & Cups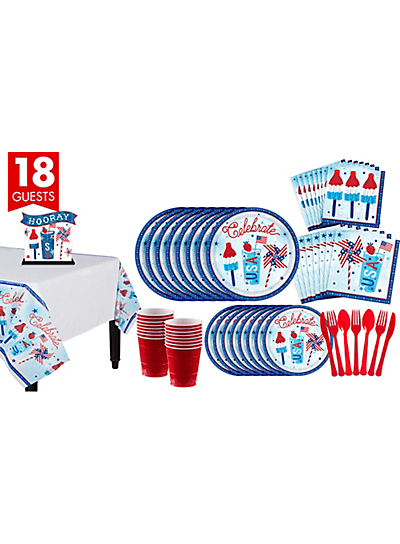 If you want to go the cheapest route possible on your party plates and cups, you can just go with red Solo cups
, white paper plates
, and blue utensils
. Easy peasy without costing a fortune.
On the other hand, you can splurge a bit and let your dining essentials become part of the decor!
For a kids party, I love the set pictured above. It's called the Celebrate USA party pack, and it comes in sizes for 18 or 36 guests.
Kid-Friendly Party Lights
If you're planning a nighttime party outdoors, you'll want some lights so your guests can see!
Normally, I'd say just save money (and ward off bugs) by buying a bunch of colorful patriotic citronella candles
. With kids around, though, candles aren't the best idea.
You can get a few to place around in areas that kids can't reach, but for your main party lighting, go with something a little more kid-friendly.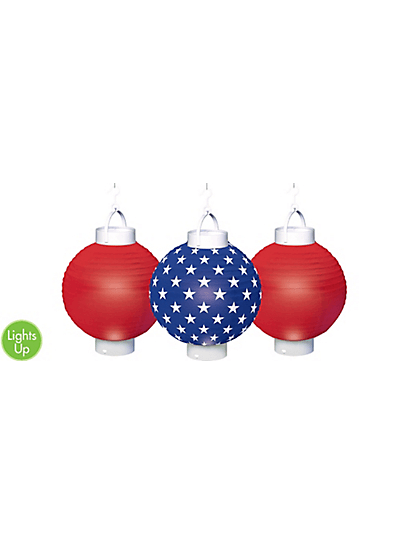 I love the light up patriotic party lanterns above! They only come three to a pack, though, so you'll either need a bunch, or you'll need something else to go with them.
You can go with something along the lines of starry string lights
 to fill in the gaps.
Flameless "candles" are another pretty idea. Check out a few that I love:
Staying Dry with a Party Tent
This isn't so much a decoration or 4th of July party games tip, but it's definitely important for throwing the perfect party!
July is such a stormy month throughout most of the US! We have storms roll through that last five minutes, then they're over. Yet in those five minutes, everything gets absolutely soaked!
If you throw a lot of parties, I HIGHLY recommend getting yourself a really nice party tent
with sides.
Don't have the budget for it? Grab a canopy tent
to at least provide some shelter during unexpected storms!
Check out a few party tents that I love in all budgets.
Need more ideas? Check out our Party Games for Kids guide for more fun ways to keep kids entertained!
Do you have 4th of July party games that kids love? What about some for adults?