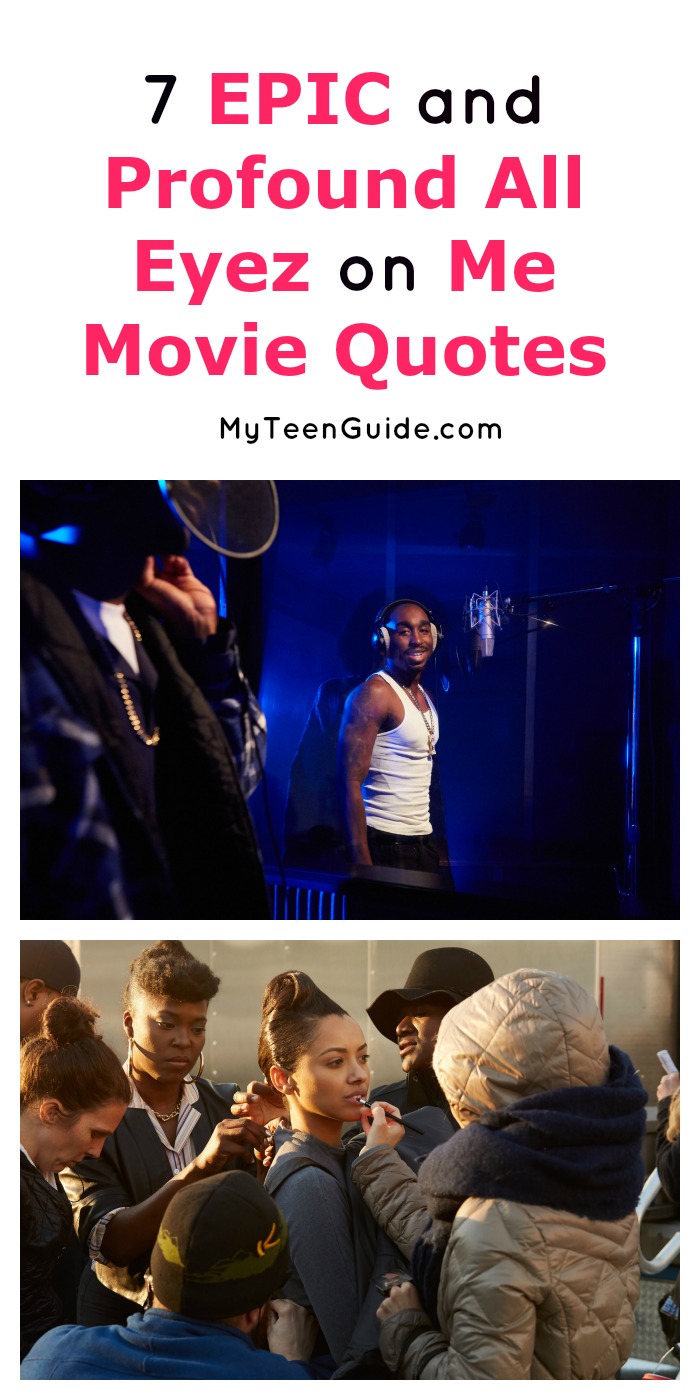 Based on the amazing All Eyez on Me movie quotes that I've seen so far, I think the Tupac bio is going to be crazy good! All Eyez on Me is an upcoming biopic, action-drama movie, that is based on the life of rapper/record producer, Tupac Shakur. The movie is set to hit theaters on June 16, 2017, on what would have been Tupac's 46th birthday.  Even if you're not really into rap music, Tupac's story is still an interesting one to watch unfold on the big screen. Maybe it's the fact that his murder hasn't been solved yet since his shooting back in 1996. Mysteries like that always draw us in. Here are some amazing quotes from the movie.
All Eyez On Me Movie Quotes
1- Mutulu Shakur, talking to a young Tupac Shakur:
Mutulu- "You must stand for something. You must live for something. And you must be willing to die for something."
Mutulu was Tupac's stepfather, played by actor Jamie Hector. Tupac is played by actor Demetrius Shipp Jr.
https://www.instagram.com/p/BUksnE-gg7t/?taken-by=alleyezmovie
2- Mutulu Shakur, talking to a slightly older Tupac Shakur:
Mutulu- "Sometimes people need to step outside of who they are to realize what they can really be. This is a brilliant opportunity to bring together the revolutionaries and the gang communities; and you can unite them."
3- Tupac Shakur, talking to The Notorious B.I.G.:
Tupac- "We got a big platform man. Use that platform to make change."
The Notorious B.I.G. is played by actor Jamal Woolard. He was Tupac's friend-turned-rival, who was killed in a drive-by shooting, at the age of 24, on March 9, 1997.
https://www.instagram.com/p/BUhrbGBglOr/?taken-by=alleyezmovie
4- Conversation between a journalist and Tupac Shakur, while visiting Tupac in prison:
Journalist- "I have it on good authority that the FBI has a 4,000-page file on you."
Tupac- "Only 4,000, huh?"
The journalist is played by actor Hill Harper. The journalist had gone to see Tupac at the Clinton Correctional Facility in Dannemora, NY, where Tupac was serving a short sentence for first-degree sexual assault.
5- Suge Knight, talking to Tupac Shakur and other Death Row Records artists:
Suge- "A lot of people are born males but they're not men; I'm a man. Death Row is more than a label. It's a way of life."
Suge Knight was the co-founder, along with Dr. Dre, of Death Row Records. He is played by actor Dominic Santana.
6- Conversation between Jada Pinkett and Tupac Shakur:
Jada- "The man I knew wanted to use his voice to educate, to bring people together."
Tupac- "Jada, if he's coming at me, he's going to get dealt with."
Yes, the same Jada Pinkett that is now married to actor/rapper, Will Smith. She and Tupac became friends when they were both students at the Baltimore School for the Arts in Baltimore, Maryland and stayed good friends until his death. The role of Jada is played by actress Kat Graham.
https://www.instagram.com/p/BUUzg9ugVPe/?taken-by=alleyezmovie
7- Tupac Shakur, in a voiceover, at the end of the movie trailer:
Tupac- "We must not hate those who have done wrong to us, for as soon as we hate them, we become just like them."
What do you think? Are you planning to watch this one? Have you heard any other All Eyez on Me movie quotes that just made you stop and think? Share below!