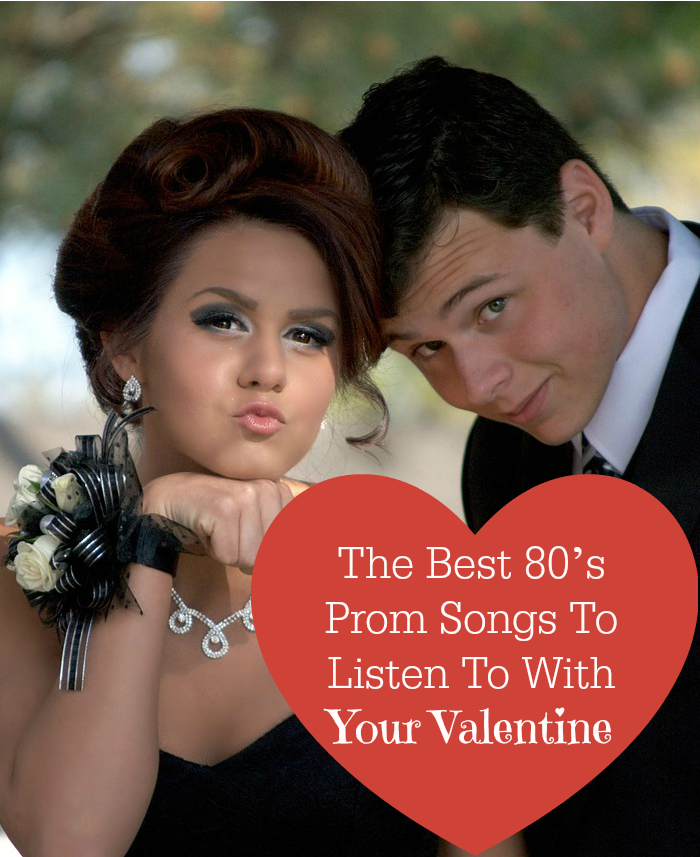 Prom songs from the 80's are so iconic that many you still hear played at proms today. The 80's (and some of the 90's) brought us the era of the EPIC rock love ballad. Nothing says "I love you" quite like a power ballad can, making them super romantic songs for Valentine's Day too. Whether you are an expert at classic rock music or brushing up on the greats, here are some of the best 80's prom songs to listen to with your valentine. OMG, an 80's Prom party would be an adorable theme for a Valentine's Day party! Play these songs at your party!
The Best 80's Prom Songs to Listen To For Valentine's Day
Crazy for You
https://www.youtube.com/watch?v=Zn5OJGucveg
Tease and crimp your hair, Crazy for You by Madonna was released in 1985. The song appeared in the 1985 movie Vision Quest, starring Matthew Modine and Linda Fiorentino. It is the ultimate slow dance song and became a staple at proms in the 80's.
Lyrics: It's all brand new, I'm crazy for you.
One More Night
One More Night was released in 1984 by Phil Collins. This soft rock ballad appeared on his album titled No Jacket Required. The song reached #1 on both the Billboard Hot 100 and Billboard Adult Contemporary charts in 1985. Don't confuse this with Maroon 5's One More Night, they are def different songs!
Lyric: Like a river to the sea, I will always be with you.
Take My Breath Away
I feel the need, the need for speed! Take My Breath Away is a song that was released in 1986 by Berlin. The song was featured in the 1986 film Top Gun starring Tom Cruise and Kelly McGillis. Few things were as cool as Tom Cruise with his Top Gun fighter planes in the 80's. The song won the 1986 Academy Award and the 1986 Golden Globe Award for Best Original Song.
Lyric: Watching in slow motion as you turn to me and say, my love.
Keep On Loving You
That music video says it all, doesn't it? Haha! Keep on Loving You by REO Speedwagon, was released in 1980 on their album titled Hi Infidelity. The soft rock power ballad appeared in several movies throughout the years including The Last American Virgin in 1982, Smiley Face in 2007 and Ghosts of Girlfriends Past in 2009.
Lyric: When I said that I love you I meant that I love you forever.
The Time of My Life
Nobody puts baby in a corner! The Time of My Life by Bill Medley and Jennifer Warnes was released in 1987. It was used in the 1987 movie Dirty Dancing starring Patrick Swayze and Jennifer Grey. The song went on to win several awards including the 1987 Academy Award for Best Original Song and the 1988 Golden Globe Award for Best Original Song.
Lyrics: Because I've had the time of my life, no I never felt this way before.
Are you thinking about throwing that 80's prom party now that you've listened to the tunes? Which of these romantic prom songs will you listen to with your Valentine? Tell me in the comments!
*Image via Pixabay