Can't get enough when it comes to creepy horror movies like Annabelle: Creation? Check out these 10 spine-tingling flicks to watch right now!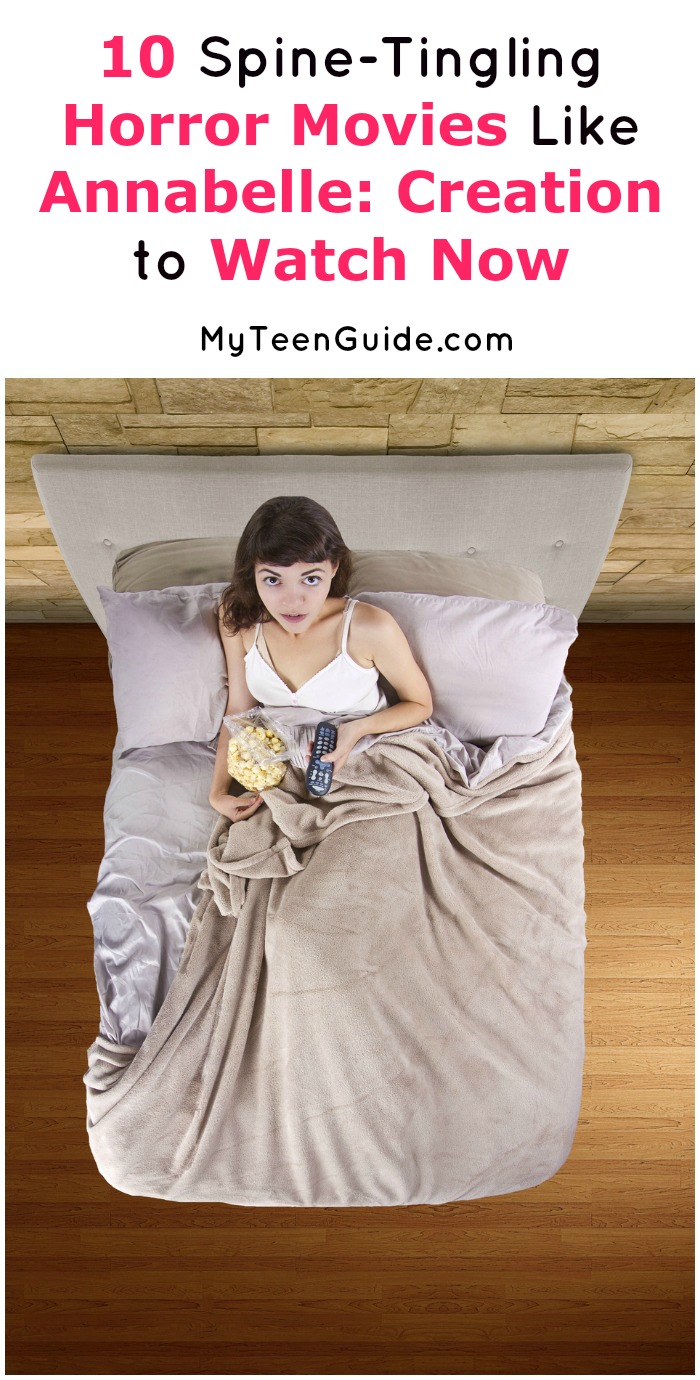 If you are a horror movie buff, then Annabelle: Creation is a definitely must-see movie. It's the prequel to the 2014 movie Annabelle, which itself was kind of a prequel/spin-off to one of the creepiest movies of all time, The Conjuring. and is set to be released in theaters on August 11, 2017. If you're still craving more horror after seeing it in theaters (or need a scare to hold you over until the release date), here are some other great movies like Annabelle: Creation to check out! First, take a peek at the second trailer! Find the first trailer in our Annabelle: Creation quotes!
Scary Movies Like Annabelle: Creation
Affiliate links included below. Thanks for your support!
1. May
May
is a 2002 psychological horror movie whose main character was inspired by Amanda Plummer's character, Lydia Sinclair, in the 1991 movie- The Fisher King. May Dove Canady, who suffered a traumatic childhood, finds solace in Suzie, a glass-encased doll. May stars Angela Bettis.
2. Saw
Saw is a 2004 horror movie. It is the 1st movie in the Saw film franchise, followed by 2005 Saw II, 2006- Saw III, 2007- Saw IV, 2008- Saw V, 2009- Saw VI, 2010- Saw 3D and 2017- Jigsaw. Dr. Lawrence Gordon and Adam Stanheight, two strangers who mysteriously wake up in a rundown bathroom and find themselves in a serial killer's deadly game. Saw stars Cary Elwes, Leigh Whannell and Tobin Bell. While the entire franchise is crazy popular, as is usually the case, the first one is the best.
3. Seed of Chucky
If campy horror is more your thing, you can't go wrong with Seed of Chucky
. This 2004 supernatural slasher movie is the 5th movie in a series of 7, in the Child's Play film franchise. The other movies in the series include: 1988- Child's Play, 1990- Child's Play 2, 1991- Child's Play 3, 1998- Bride of Chucky, 2013- Curse of Chucky and 2017- Cult of Chucky. Glen heads to Hollywood to resurrect his parents, Chucky and Tiffany, where a movie is being made about the couple's murderous rampage. Seed of Chucky stars Billy Boyd, Brad Dourif and Jennifer Tilly.
4. Doll Graveyard
Doll Graveyard
is a 2005 horror movie. Sophia's abusive father forces her to bury her favorite dolls in the backyard, but when she breaks her neck, she is buried along with her dolls. Fast forward 100 years later and the home is occupied by the Fillbrook family, including the two children- Guy and Deedee- who discover the buried dolls and Sophia's spirit. Doll Graveyard stars Hannah Marks, Jared Kusnitz and Gabrielle Lynn.
5. Dead Silence
Dead Silence
is a 2007 supernatural psychological horror movie. When Jamie Ashen tries to uncover the truth about his wife's murder, he discovers it may be linked to the murder of Mary Shaw, a local ventriloquist. Dead Silence stars Ryan Kwanten and Judith Roberts. If clowns and puppets freak you out, you may want to watch with a friend!
6. Demonic Toys 2
Demonic Toys 2
is a 2010 slasher horror movie that is the sequel to the 1992- Demonic Toys and the 1997- Hideous. Dr. Lorca, his girlfriend, Lauraline; her son, David; Dr. Lorca's driver, Eric and a psychic, Lillith, find themselves trapped in an ancient Italian castle and mistakenly unleash the Demonic Toys. Demonic Toys 2 stars Michael Citriniti, Elizabeth Bell, Lane Compton, Billy Marquart and Selene Luna. The clown in the trailer alone is enough to make me hide under the covers for a month!
7. The Conjuring
The Conjuring
is a 2013 supernatural horror movie. It is the prequel to the 2016- The Conjuring 2, as well as the 2014- Annabelle and the 2017- Annabelle: Creation. Real life paranormal investigators, Ed and Lorraine Warren, investigate the Rhode Island home of the Perron family, that is said to be haunted. The Conjuring stars Vera Farmiga, Patrick Wilson, Ron Livingston and Lili Taylor. Of all the movies like Annabelle: Creation, this is definitely a must-see (aside from the original, of course).
8. Finders Keepers
Finders Keepers
is a 2014 horror movie. Alyson Simon, a divorced mother, moves into a new home with her daughter, Claire. Claire soon becomes obsessed with a doll that was left behind by the previous homeowners. Finders Keepers stars Jaime Pressly and Kylie Rogers.
9. Poltergeist
Poltergeist
is a 2015 supernatural horror movie that is a remake of the 1982 movie of the same name. Eric and Amy Bowen, along with their three children- Kendra, Griffin and Madison, move into a home that is haunted with evil apparitions. Poltergeist stars Sam Rockwell, Rosemarie DeWitt, Saxon Sharbino, Kyle Catlett and Kennedi Clements. If you want to be a horror movie purist, start with the original series before checking this one out!
10. The Boy
The Boy
is a 2016 psychological horror movie. Greta Evans works as a nanny for an elderly couple, who possess a life-sized doll that they treat like their own child. The Boy stars Lauren Cohan, Jim Norton and Diana Hardcastle.
Any of these movies like Annabelle: Creation are scary enough to make you want to sleep with the lights on! The Conjuring and Poltergeist are two of my favorites. I STILL have nightmares from The Conjuring, and I saw it in theaters when it first came out!
Do you have any favorite horror movies like Annabelle: Creation? Share below!