Here are all the Atomic Blonde movie quotes and trivia that you need to know before seeing Charlize Theron kick butt in her latest action flick! You're welcome!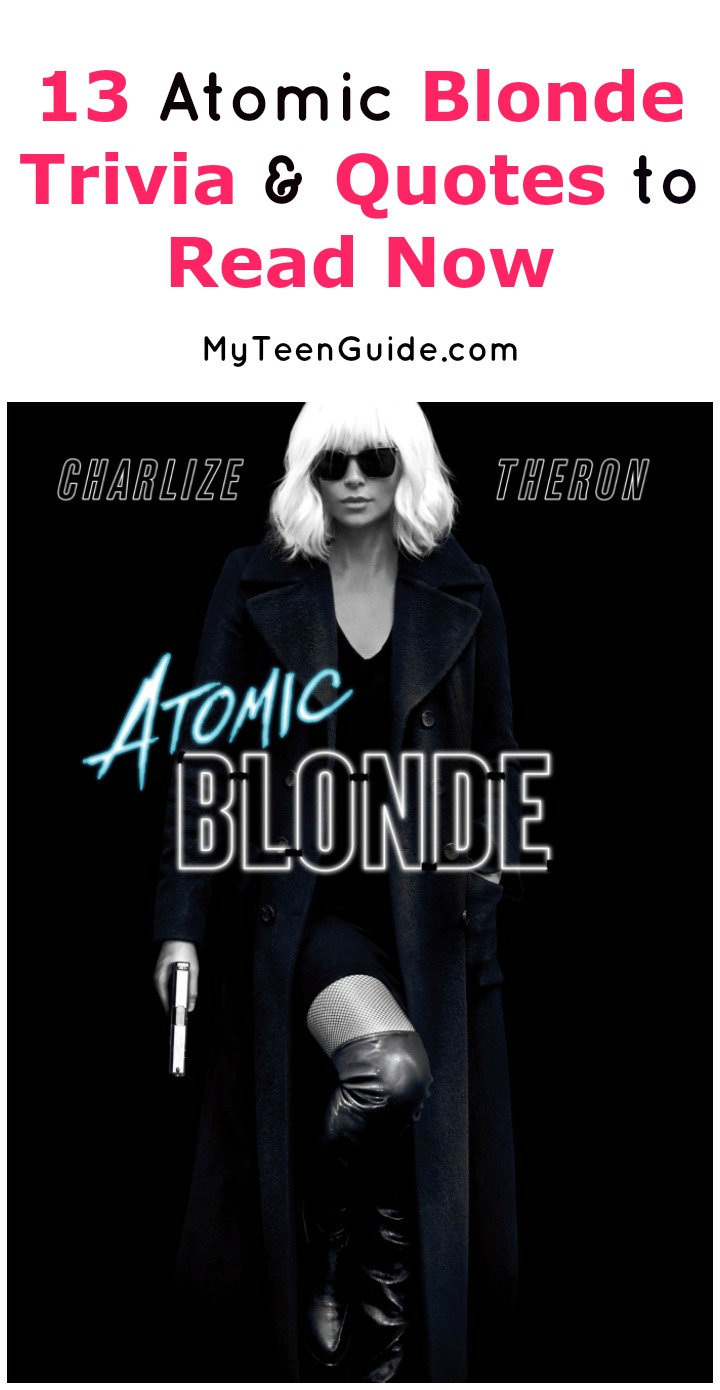 Atomic Blonde is an upcoming action, spy, thriller movie that is based on the 2012 book- The Coldest City- by Antony Johnston. The movie is set to be released in theaters on July 28, 2017 and stars Charlize Theron, James McAvoy and John Goodman. Check out the trailer, then read on for some movie trivia and quotes!
Atomic Blonde Movie Trivia & Quotes
Affiliate links included below. Thanks for your support!
Movie Trivia
1- Charlize Theron's role in Atomic Blonde was so physically intense that she had EIGHT personal trainers to help her prepare!
2- James McAvoy broke his hand while filming another movie, Split, and it didn't have time to completely heal before filming started for Atomic Blonde. That means he had to deal with an injured hand during all his scenes! Talk about a tough guy!
3- As we mentioned above, the movie is based on a graphic novel called "The Coldest City." Did you know that the movie was actually going to be called that? Atomic Blonde definitely has more of a ring to it, don't you think?
4- Fans are calling the movie "Jane Wick," because of the similarities between the two movies. It makes sense, since director David Leitch also co-directed John Wick.
5- I hope Charlize Theron has good dental insurance! She actually cracked two teeth while filming the movie!
 Atomic Blonde Movie Quotes
6- Lorraine Broughton, as a voiceover in the movie trailer:
Lorraine- "I chose this life, and someday it's going to get me killed. But not today."
Lorraine Broughton, played by actress Charlize Theron, is a MI6 spy, who is sent to Berlin to find out who killed an undercover agent.
7- Gray, referring to Lorraine Broughton:
Gray- "Lorraine Broughton, an expert in escape and evasion. Proficient in intelligence collection and hand to hand combat."
Gray is played by actor Toby Jones.
8- CIA Agent and Lorraine Broughton:
Agent- "Agent Gascoine was killed last night. Did you know him?"
Lorraine- "Enough to say hello."
CIA Agent is played by actor John Goodman.
9- CIA Agent, talking to Lorraine Broughton, referring to a double agent in Berlin:
Agent- "He had an atomic bomb of information. Find out who's hunting our operatives and trust no one."
10- Lorraine Broughton, talking to David Percival:
Lorraine- "What do you know about this woman who's been following me?"
David Percival, played by actor James McAvoy, is the Berlin station chief. The woman Lorraine is referring to is Delphine, played by actress Sofia Boutella, is an inexperienced spy.
11- David Percival, talking to Lorraine Broughton, after she starts shooting at him:
David- "Welcome to Berlin. I'm David…Don't shoot. I've got your shoe."
12- Conversation between David Percival and Lorraine Broughton:
David- "This was never part of the plan."
Lorraine- "It was part of mine."
13- Conversation between CIA Agent and Lorraine Broughton:
Agent- "The clock is ticking and everyone you get close to ends up dead."
Lorraine- "Someone's set me up. Someone from the inside. Now this only ends one way: a bullet."
I'm betting this one will be HUGE when it hits theaters! If you're planning to see it on opening weekend, I highly suggest buying your tickets online so you can skip the lines.
What do you think? Are you looking forward to seeing this one in theaters? Have you heard any other Atomic Blonde movie trivia or quotes? Share below!