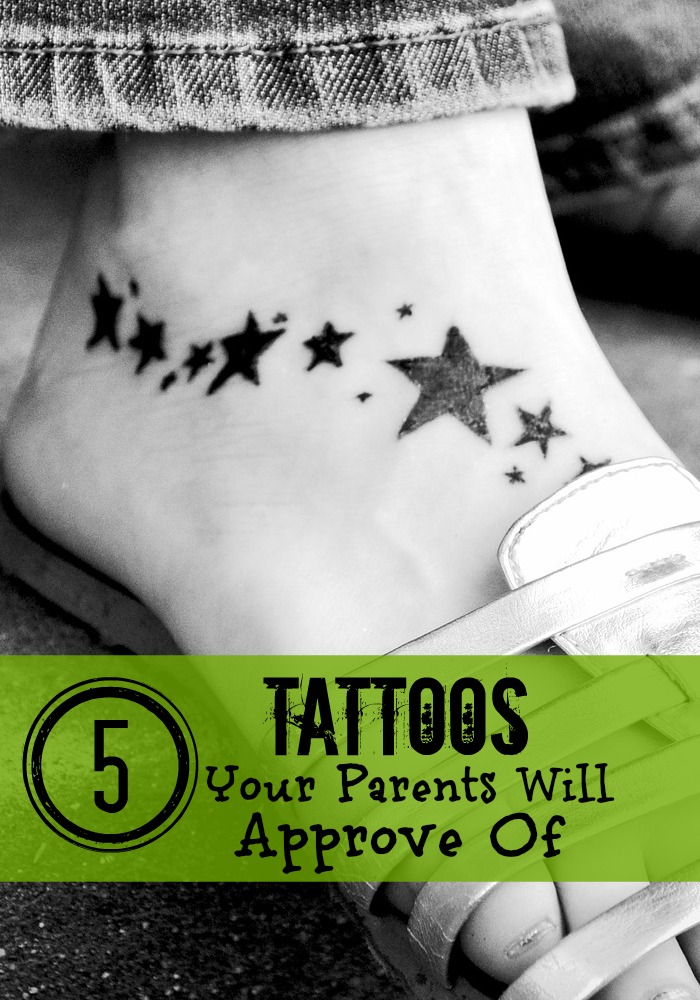 Parents (especially moms) sometimes get all upset when you get a tattoo, but I've got five tattoos your parents will approve of!  I would not recommend getting a huge side piece or one that spreads across your chest, you are not trying to give your parents a coronary.  Start small and with meaning and it should go over fairly well.  Check out my suggestions below!
Beautiful Tattoos Your Parents Will Approve Of
Mom
What mom wouldn't appreciate her name tattooed on you?  There is the classic 'Mom' with a heart and ribbon like the sailors used to get, or something more simple and understated.  Check out Adam Levine's mom tattoo.  He had it placed so that when he is holding up his mic, you can read it on his forearm.  This just makes him even more attractive, if that is even possible.
Memorial 
Getting a tattoo for a loved one lost is a great way to always remember them.  I know we never really forget, but I know when I look at the tattoo I got for my grandfather, I smile and know he is with me.  It is hard to argue a memorial tat.  I mean it is better than getting your favorite band's logo across your chest right?
Awareness Ribbons
These days everything has a colored ribbon associated with it.  We all know pink is for breast cancer.  I actually have one, for my Nana.  She was diagnosed with breast cancer and ended up having one removed.  So I got a pink ribbon on my right arm, signifying keeping cancer out of her right breast (she had the left one removed).  So far so good!  I did not choose your typical ribbon, I went with a pink bow (bows are made of ribbon right?)  
Kids
If you have kids, and many people do these days, this is another tat choice your parents should be ok with.  I mean, they are their grandkids.  So many people choose to go with the footprint they take at the hospital when they are born, or hand prints, or a combo and wings if you happen to have lost a child (I'm very sorry).  I chose a different route.  For my daughter, I chose to do a combination of our zodiac signs, she is a Cancer and I am an Aries, I did rams horns in the Cancer symbol.  For my son, I chose a classic design with a sparrow and a pocket watch which reads the time he was born on it.
Small
Typically anything small your parents might not freak out about so much.  My little brother's first tattoo was of a huge side piece (he does not recommend this location as a first tattoo by the way).  It is a memorial of a friend he lost.  Mine was a small butterfly on my shoulder (typical I know).  Inconspicuous is always good as well.  As much as you might love to have that little music note on your finger or hand to represent your passion for music, your employer may not appreciate it (many are changing their minds these days).  It's always good to be able to cover up your tats and not have to walk around in a snowsuit all the time.
Unless your parents have tattoos (or are just great open minded people), they might be a bit taken aback at first.  Once the shock of 'it's permanent' wears off, and they realize that the tat you did get is one of deep meaning, or small enough to hide and be dainty, all will be right with the world again.
Did you get a tattoo that your parents approve of?  Share with us below!