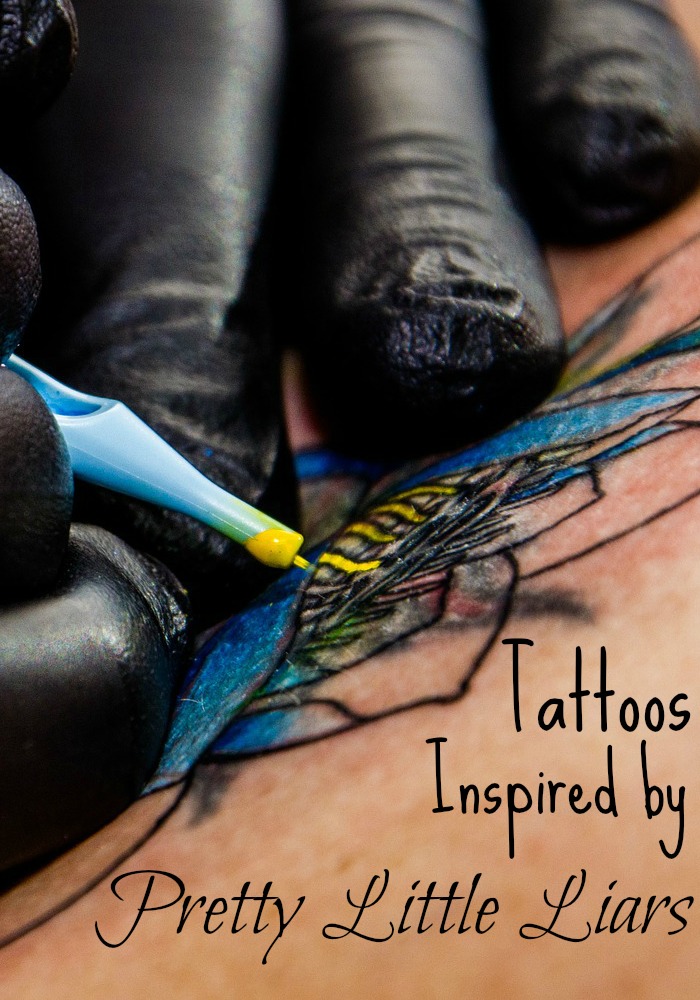 If you are looking for tattoos inspired by Pretty Little Liars I have them for you right here!  From the obvious to the not-so-obvious, you can showcase your love for PLL in a permanent way.  I have never regretted a (affiliate link) tattoo because regardless of what it is, it represents a moment in time for me.  So what would your tattoo inspired by Pretty Little Liars look like?  Here are some ones I like!
Tattoos Inspired By Pretty Little Liars
The Obvious
I think it goes without saying, the A.  The beauty of this is that it can really mean anything!  I do love fonts and playing around with how something might look.  I do happen to like 'A…' for this idea and you can do any number of different looks with it.  Or change it up a bit and do '-A'.  Have fun!
'2 Can Keep A Secret'
If you leaning more towards some words rather than symbols, I happen to really like the opening song.  You can get the whole lyric '2 can keep a secret if one of them is dead' (kind of creepy, just sayin') or just go with '2 can keep a secret', it will keep people wondering what that means.
Toby's Tat
Remember Toby's '901 Free at Last' tat?  Only your fellow PLL fan club members will know what that means.  And are you really friend with people who wouldn't know?  
Script
I personally love the script they use in the title for Pretty Little Liars.  What I cool name too huh?  I mean yes we all know it's a show, and getting this will definitely show your love for everything PLL, but it's just super cute.  Think about it "Pretty Little Liars" in the script font across the inside of your wrist?
Lipstick
In the opening credits someone is placing lipstick on whoever is in the casket.  A super cute and simple stick of red lipstick would make a cool tattoo.  This part in the opening credits always seems to catch my eye (and creep me out a bit too).
Small Simple And Discrete
So many people have this tiny little tattoo, but how many of them have it because of their love for PLL?  On your dominant hand, on your pointer finger, the one you put up to your mouth when you say 'Shhh', yes that one.  How cute would a little tat right there be?
Quotable
In keep with the same idea of using text, here are a few more of my faves:
She knew too much

Before you embark on a journey of revenge, dig two graves

Never trust a pretty girl with an ugly secret

It takes patience to listen.  It takes skill to pretend you are listening (Harmon Okino). *My fav!
Have fun with the text you will use and placement.  It's all about the placement. Have you thought about a PLL tat before you read this?  What about now?  What is your favorite line from the show that you would get for a tattoo?  I love tattoos that keep people questioning, or that only a certain few might know what it means.  Because after all, it is for you right?  No one else.  
Share your favorite tattoos inspired by Pretty Little Liars with us below in the comments!