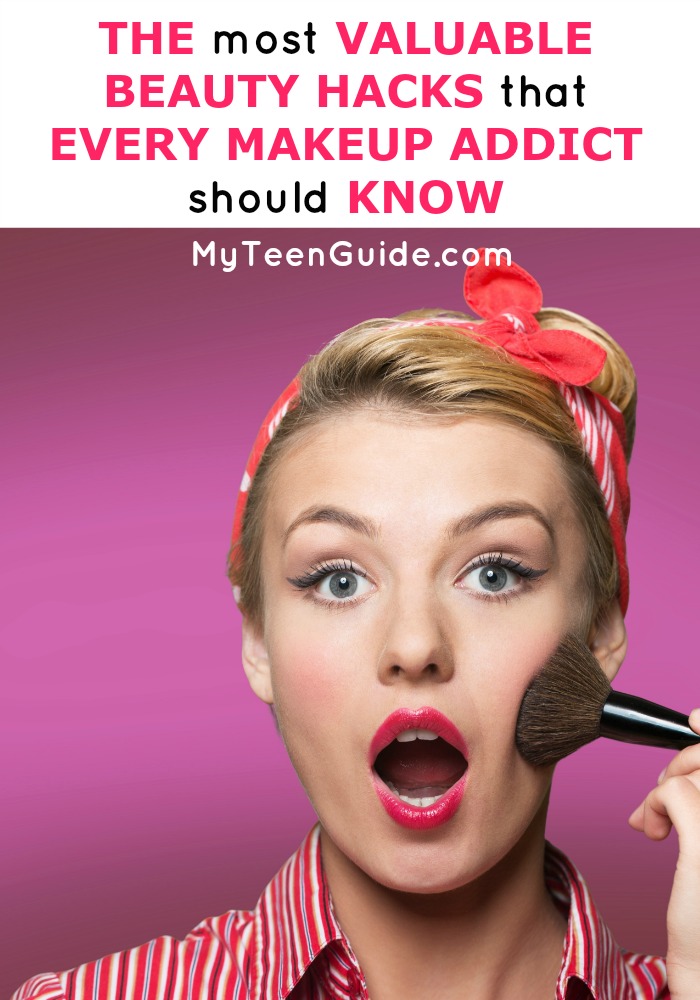 Makeup can look amazing when it's on point, but the struggle is real to get that amazing look every time. I am a bit obsessed with my makeup routine, and it makes me so upset when my makeup just isn't working how I want it to. Makeup should stay where I want it, and don't even get me started about when my favs run out. Srsly, that trip to the store to replace my favorite item always costs me more money than I want. I end up picking up hair products, new polish for my nails, dotters and tips to make nail art, and did you check out all of the new beauty blenders on the market? Ah-mazing for getting a better foundation layer, especially under my eyes! (Fuldisclosurere this is an affiliate link, but you can find my absolute fav beauty blender on Amazon. It's my new makeup BFF.) Sometimes you just need to extend your current makeup stash a bit further and keep more dollars in your pocket. Look no further because here are some of the best hacks for every savvy makeup addict.
The Most Valuable Beauty Hacks That Every Makeup Addict Should Know
Glitter Nail Polish Remover– You love glitter nail polish but hate the fact it is so tough to remove from your nails? Here is how you can make it easier: instead of applying a base coat of nail polish, apply a layer of white glue thinned with water instead. Allow to dry, then apply the glitter polish as you normally would. When you are ready to remove the polish, it will peel right off with ease.
Related: How To Make Beach Waves Nail Art (With Facebook Live Video!)
Make Lipstick Stay Longer- One of the things that women hate most about wearing lipstick is that they have to keep constantly applying it because it wears off. However, the good news is that there is an easy trick to ensure your lipstick lasts longer. Apply your lipstick as normal, place a tissue against your lips and apply a coating of translucent powder. You're then setting the lipstick color, so it lasts longer.
Avoid Mascara Mishaps- When applying mascara, do you sometimes get some on your upper eyelid by accident? To prevent this, all you need is a plastic spoon. Place the spoon against your upper eyelid and apply mascara as you normally would. This trick will ensure the mascara stays off your eyelids.
Related: 7 Summer Beauty Tricks Every Girl Should Know
Extend The Life Of Dried Out Mascara– If your favorite mascara seems dried up in its tube, don't throw it away. All you need to do to bring that mascara back to life is to squeeze in a couple of drops of saline solution, or eye drops to the mascara tube. The saline solution will make the mascara moist, and it will be like new once again.
So lovelies, do you know of any other makeup hacks that I should be using? Tell me your favorite tips down in the comments!
Copyright: Vector Image by StockUnlimited