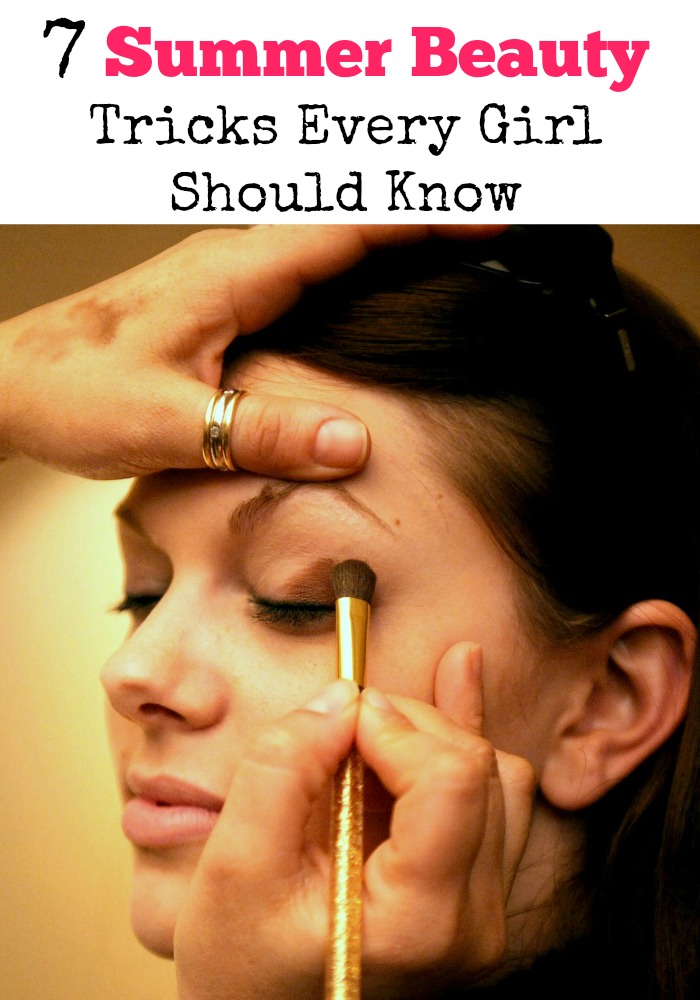 It's time for fun in the sun, and you need these summer beauty hacks will leave you looking hot! I know my routine has to change in the summer, but I don't mind because summer if one of my favorite times of year! From heat that can melt your makeup, to keeping your skin safe and fresh, summer sunshine and heat brings new beauty challenges to overcome. Luckily most of the change you can do without buying too many products, which leaves your extra wiggle room to try out those new summer makeup colors!
7 Summer Beauty Tricks Every Girl Should Know
Ready to switch your summer beauty routine? Check out some of my favorite summer beauty tricks so you shine all summer!
Put Your Beauty Lotions In The Fridge
Guess what feels amazing on your face? Any lotion that has been in the refrigerator feels amazing. You may have heard of putting your aloe in the fridge but lotions. face creams, eye creams and any other kind of moisturizing product feels wonderfully cool after being in the chill zone. It's a super easy way to cool down in the summer.
Exfoliate Before Shaving
https://youtu.be/uqegi6aYkuI
We should all be exfoliating before we shave all year. Let's face it, in the summer your razor gets more of a workout, and the stretches are much shorter between uses. By exfoliating your skin first, you prevent pesky ingrown hairs plus get a much closer shave by sloshing off the dead skin. Check the video for an easy DIY shave exfoliate scrub.
Put SPF On Every Morning
https://www.instagram.com/p/BDwb_fXPNM2
We should all be wearing sunscreen when we go outside to protect our skin against sun damage and much uglier skin problems down the road. Do yourself a favor and get in the habit of putting on some sunscreen every morning (especially on your face!). That way when you pop outside for just a few minutes because the weather is beautiful, you'll already be protected. Make sure to apply extra if you're going to be outside for a long amount of time, and also to reapply throughout the day! Your skin thanks you both now and down the road!
Use Baking Soda To Even Out Self Tanner
Sure the best thing is to keep sunscreen on your skin and avoid laying out in the sun of purpose. If you decided to opt for a fake tanner, you might discover you have some orange, streaky "mistakes." Erase them away by adding a little bit of water to baking soda to make a paste. Then exfoliate the orange streaks away with your new eraser. I recommend applying this treatment in the shower with the water off, then rinsing away with lots of water when you're finished.
Use Bronzer As Eyeshadow
https://youtu.be/DRQWfTNL74A
Sparkly golds look beautiful on your lids during the summertime. Anxious to try it out but don't want to buy more shadow? Your bronzer makes a beautiful shimmery golden glow on your lids, just try it! I love this eye makeup video tutorial which uses a combo of bronzer and blush for a pretty summer look.
Switch To Crème Based Products
In summer it gets so hot, that it sometimes feels like your face is melting. Switch to crème based products to help makeup stay put. I usually switch my foundation, my blush, and, at least, one everyday eyeshadow color. While you're at it, now is also the time to switch to waterproof mascara!
Wake Up With Beautiful Bedhead
https://www.instagram.com/p/BDwAprEObNm
Find yourself sweating at night? Invest in some dry shampoo! Spray your hair before you go to bed, then tie your hair off your neck. The shampoo will soak up any oils at night, and you'll wake up with lovely naturally tousled hair.
What are some of your favorite summer beauty tricks? I want to hear your secret tips in the comments!
*Image via Pixabay