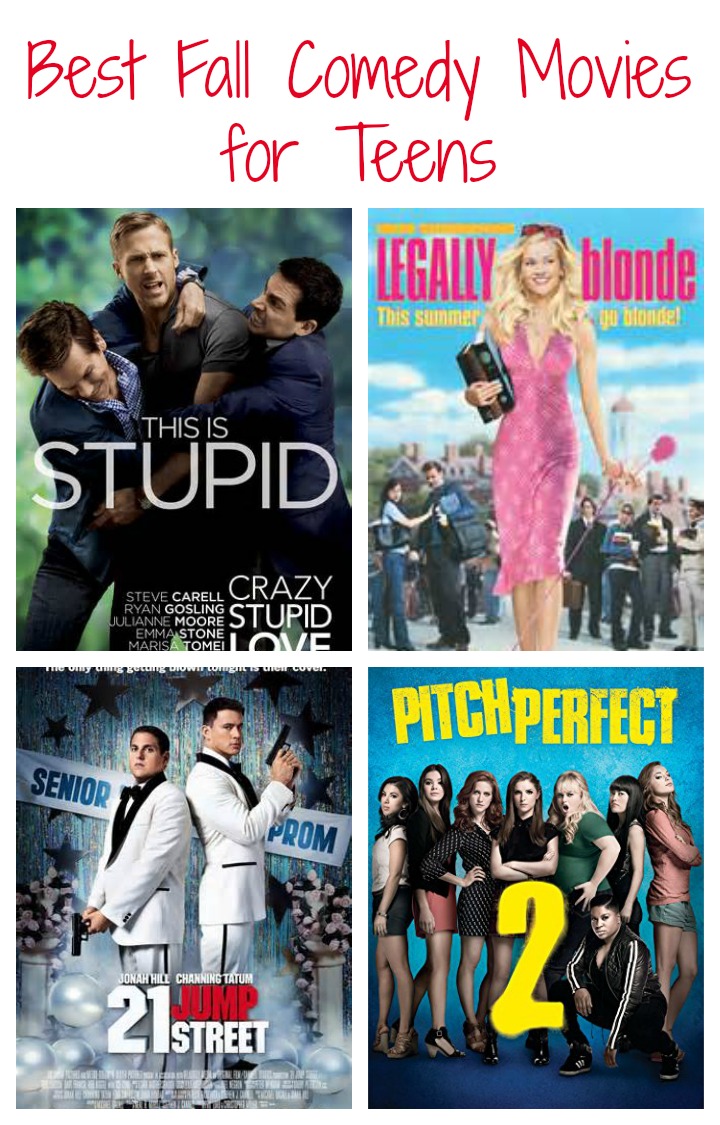 Lovelies, are you looking for the best comedy movies to watch this fall with your BFF? We got you covered for those days when you when you just want to lie on the coach with a bowl of popcorn and watch movies that will make you laugh after an exhausting day at school. Here are the best fall comedy movies to watch on a cold fall day.
Best comedy movies for teens to watch on a cold fall day
Crazy, Stupid, Love– Crazy, Stupid, Love is a 2011 romantic comedy-drama movie starring Steve Carell, Ryan Gosling, Julianne Moore, Emma Stone, Marisa Tomei and Kevin Bacon. Cal Weaver is a guy in his 40's with a great job, loving wife, awesome kids and a nice house. However, that all falls apart when he learns that not only has his wife had an affair, but she wants a divorce too. Cal hasn't not been part of the dating scene for decades now so he doesn't exactly know how to attract women. But, he makes friends with Jacob Palmer, a good-looking player who is determined to teach Cal how the game is played.
Legally Blonde- Legally Blonde is a 2001 comedy movie based on the book of the same name by author Amanda Brown. The movie stars Reese Witherspoon, Luke Wilson, Selma Blair, Matthew Davis, Victor Garber and Jennifer Coolidge. Elle Woods has it all: she is naturally blonde, a Hawaiian Tropic girl, the sorority president and she has a smart, handsome boyfriend, Warner. She wants to be his wife one day but he thinks she is too blonde to be married to him. Warner heads off to Harvard and reconnects with an old flame from prep school. Of course, this does not sit well with Elle so she takes matters into her own hands, with a little help. She wiggles her way into Harvard to get Warner back, but she soon realizes that Harvard is nothing like she is used to.
21 Jump Street– 21 Jump Street is a 2012 action comedy movie starring Jonah Hill and Channing Tatum. Jenko and Schmidt join the police force together as well as the Jump Street Unit. Because of their youthful looks, they are assigned to investigate a dangerous drug ring at a local high school. However, the pair are not exactly prepared to take on the anxiety of the teenage years, especially since high school isn't quite the same now as when they attended.
Pitch Perfect 2: If you caught our exclusive interview with Pitch Perfect 2 star, Chrissie Fit, you know that this massive hit is one of THE must-watch best comedy movies for teens of the season. It has pretty much everything you could want in a film: laughter, music and total girl power! I can't think of anyone better to spend a cold fall night with than the Barden Bellas!
These fall comedy movies for teens are perfect for watching while snuggling up on the couch under your favorite blanket with a big bowl of hot buttery popcorn!
Do you have any favorite fall comedy movies for teens that you'd recommend? Tell us in the comments!