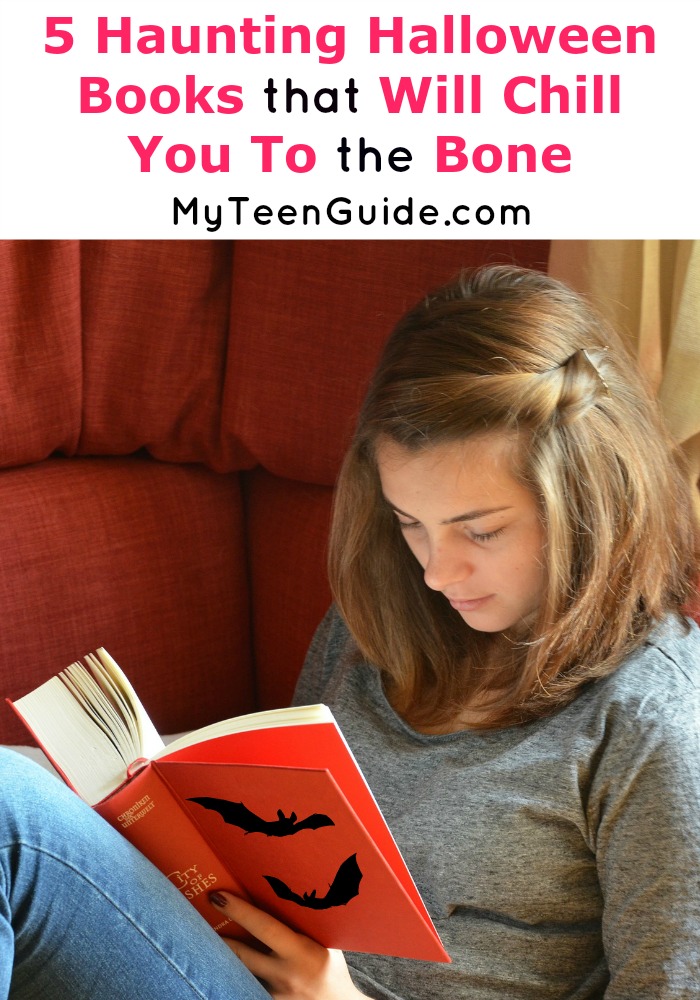 With Halloween just around the corner, you might be looking for  Halloween books that are more than a little bit spooky. I love a good creepy read this time of year. With the darkness of nighttime settling in earlier, it's just the right time to pick up a story that's  little more…. mysterious. Check out some of my favorite reads and you won't be disappointed, though you may have to sleep with the lights on!
Related: 5 Amazing YA Fairy Tale Retelling Books To Get Lost In
5 Haunting Halloween Books That Will Chill You To The Bone
*Some affiliate links are included with this post!
The Hallowed Ones
The Hallowed Ones was published in 2012 and written by Laura Bickle. I have to warn you that this book is not for those who are squeamish but for those who are not, this is one of the best books you will ever read. It is the story of a teenage Amish girl who is on the verge of the time in her Amish life when she can get a glimpse of the world outside of her community. The problem is that something or someone on the outside is on a killing rampage. When she brings in an outsider to her Amish community, she puts everyone in severe danger. According to Miss Literati, "THE HALLOWED ONES by Laura Bickle is a post-apocalyptic horror story centering around Katie, a 16-year-old living in an Amish community. Full of vampires, terror, gore and the end of the world, this novel, is a must read for the Halloween season!"
The Monstrumologist
The Monstrumologist was published in 2009 and written by Rick Yancy. It is the story of Will Henry, who loves monster hunting. This creepy gothic feeling adventure will definitely keep you on the edge of your seat. According to Common Sense Media, "This is gothic horror — whether the monstrumologist studies and hunts monsters for altruistic purposes is debatable. The story remains true to the sexism of the times, and borders on misogyny."
Related: 5 Spooky Halloween Party Ideas Your Friends Will Shriek About
Anna Dressed in Blood
Anna Dressed in Blood was published in 2011 and written by Kendare Blake. It tells the tale of a ghost hunter and his journey to locate and kill one of the strongest ghosts he has ever faced. According to Kirkus Review, "Blake populates the story with a nice mixture of personalities, including Anna, and spices it with plenty of gallows humor, all the while keeping the suspense pounding."
Possess
Possess was published in 2011 and written by Gretchen McNeil. It is the story of a teenage girl who wants the eerie voices in her head to go away. However, she soon learns that she has a rare ability to literally banish the voices, who turn out to be demons, back to whatever hell they came from. According to Courtney Reads A Lot, "I did love the storyline and the details behind Bridget's power. The Watcher and Nephilim myth popped up again just like in a recent book I read, Angelfall. Possess offered some suspense, and it was cool to see the mystery unraveling."
In the Shadow of Blackbirds
In the Shadow of Blackbirds was published in 2013 and written by Cat Winters. The story takes places in 1918 and tells the tale of a teenage girl who awoke after being struck by lightning only to discover that she can talk with the dead. According to Publishers Weekly, "Winters's masterful debut novel is an impressively researched marriage of the tragedies of wartime, the 1918 flu epidemic, the contemporaneous Spiritualism craze, and a chilling love story and mystery."
What are the best Halloween books that you know? Have you read any of my picks, or have you added any books to your list? Tell me down in the comments?
*Image Via Pixabay