If you need some great Halloween party games for teens to take your spooky bash to the next level, we've got you covered!
We've got classics that everyone should play at least once, quick "minute to win it" games and even some all-nighter ideas!
No tricks here, I promise!
Read on for all the best Halloween party games you need for the perfect bash!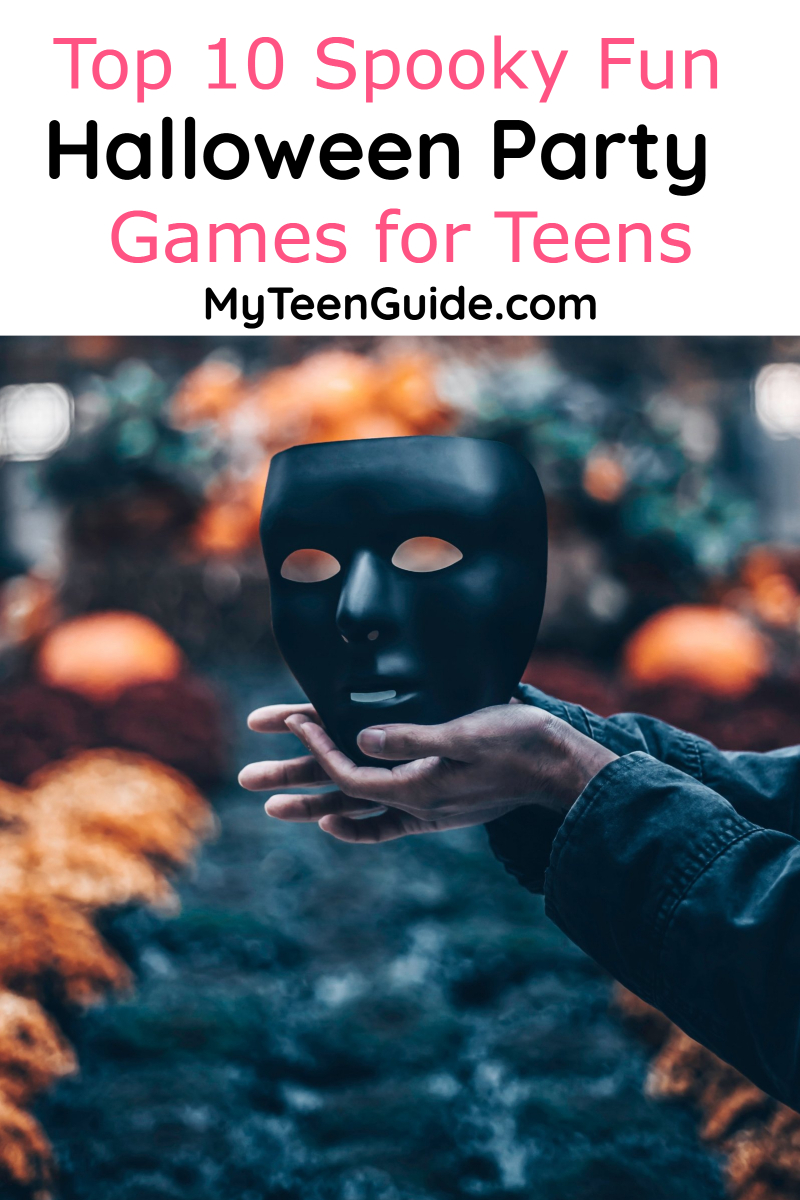 Halloween Party Games for Teens
Halloween is my favorite time of the year!
The air is crisp, the food is awesome (pumpkins and candy, what's not to love?) and everything has a spooky vibe to it.
Since most teens have outgrown trick or treating (and even if they wanted to go, most towns have laws against it for teens– boo on them!), we need something else to do, right?
So, party time!! But what is there to do at a party? Play games, of course!
Keep reading for a few of our favorites! Hopefully, we can make your next Halloween party a smash hit with these fun games. By the way, games often require different little things, and you will find all this here, as well as many ready-made costumes.
FYI, this post contains affiliate links. If you make a purchase through these links, we earn a small commission at no extra charge to you.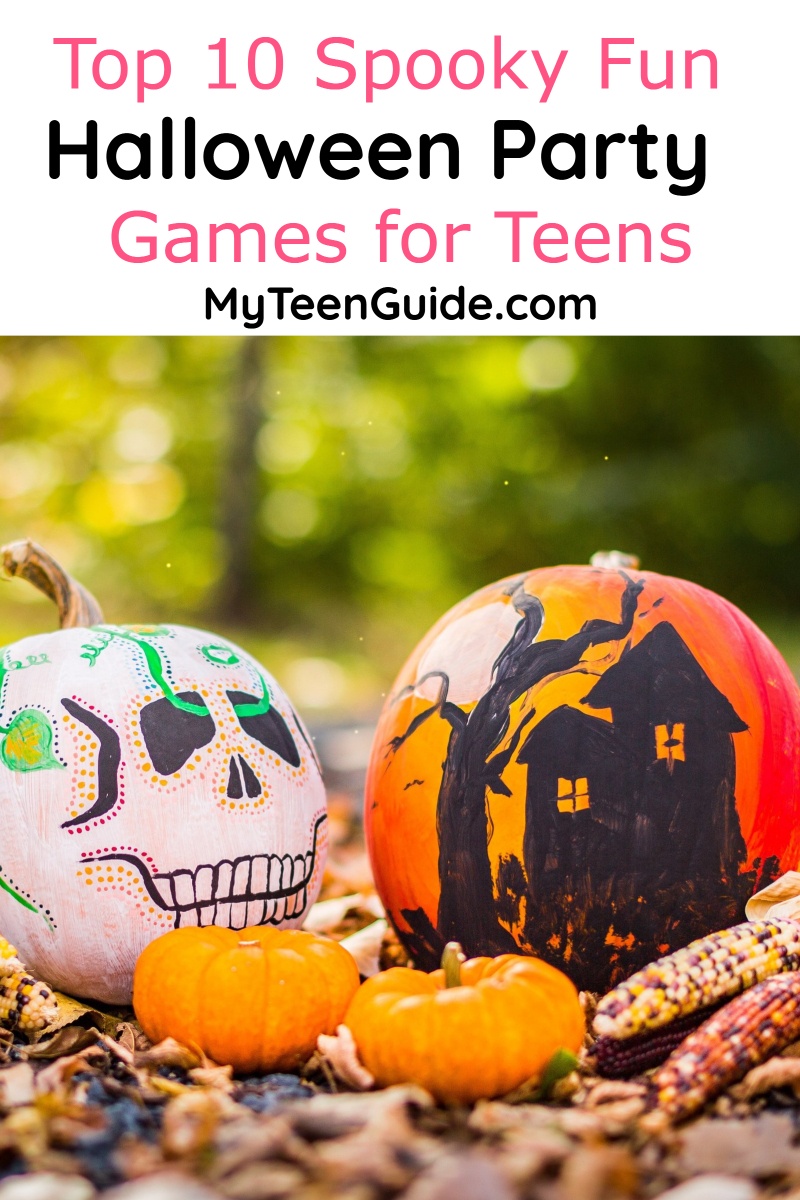 1. Apple Bobbing
This classic game has made appearances at Halloween parties for years.
All you need is a tub or barrel large enough to fill with water and have enough room for 15-20 apples.
How to Play:
The goal is to get as many apples as you can without using your hands! Dunk your head in the water and get chomping!
If apples just aren't your thing (they're kind of pricey these days!), Spoon University has some fun alternatives.
I like their idea of bobbing for candy! Grab a big bag so you have enough to go around.
2. Minute to Win It Mummy Wrap Game
The mummy wrap game is quickly becoming a classic on par with bobbing for apples, and it's a lot less messy!
Sure, you'll be picking up TP bits for months, but at least it doesn't have to potential to flood your living room. 😀
How to Play:
Divide the partygoers into two groups or pairs. Each group gets 2-3 rolls of toilet paper.
The goal is to fully wrap your partner in paper as quickly as possible.
To add an extra challenge to the race, the papered "mummies" need to race across a finish line still fully covered!
Obviously, you don't want to use the good TP for this challenge, so grab a few packages of cheap stuff.
Amazon's Solimo Toilet Paper is pretty reasonable, like $0.50 a roll. Or just head to the dollar store and grab a few packages of their TP.
Honestly, the cheaper the better, because the 1-ply stuff falls apart easily and makes the whole game even more of a challenge.
3. Pass the Pumpkin (with a twist)
Flash back to your childhood with this fun version of hot potato with a twist!
How to Play:
Everyone remembers how to play that game, right? The goal is to NOT be the one holding the potato when the music stops.
Well, in the version, you'll pass around one of those trick or treat pumpkin baskets! The catch? It'll be filled with funny face photo booth props!
If you're left holding the pumpkin, you have to put on one of the props. Keep going until all the props are gone.
You'll likely have quite a few people wearing multiple items! Now, use those items as intended and snap some hilarious photos!
4. Pumpkin Carving Contest
This golden oldie never gets boring! Before the party, grab a bunch of pumpkins in roughly the same size.
Make sure you get the type meant for carving. Those tiny ones don't really work well.
How to Play:
The goal is to carve a perfect Jack-o-lantern to win the prize! How you do that is up to you!
If you want to make it easier, provide templates for everyone and see who can come closest to it.
Or, give everyone the freedom to create their own design. Remember to use safe carving knives, nothing too sharp.
Don't let anything go to waste – the insides of the pumpkin can make a good pumpkin pie afterward!
5. Halloween Feeley Meeley (Mystery Box)
This long-forgotten game recently made an appearance in the extremely popular horror/thriller film Annabelle Comes Home.
How to play:
Before the party, take multiple boxes/bowls and fill them with different textured ingredients.
Gummy worms, pumpkin guts, and jello make great contents.
Tell a scary story while having party-goers feel the "brains", "guts" and other body parts of the characters in the story.
Another clever way is to have blindfolded guests feel around the contents of the box and try to guess what it is!
The gooey and slimy feeling at your fingertips is enough to make anyone's skin crawl!
6. Murder Mystery
It's not a successful Halloween without a spooky murder to solve!
If you love clue, you will love murder mystery! You can even plan your entire night around this Halloween party game!
How to play
Conjure up a creepy yet gripping murder story and assign the participants each a different role in the story.
Clues should be hidden all over the house, and as you make your way around the house with one clue leading to another, the thrilling story will start to unfold!
Figure out who the murderer is and what exactly happened to the victim in this bonding activity.
Check out some tips on how to plan the perfect murder mystery party here!
7. Midnight Candy Hunt
One of the easiest (and tastiest) Halloween party games for teens is a good old-fashioned candy hunt!
It doesn't necessarily need to be done at midnight, but it's definitely spookier when the sun has set.
How to play:
Similar to an Easter egg hunt, divide the guests into groups or they could participate as individuals.
Hide candy all over your yard before the party starts. Hand out flashlights and see who ends up finding the most candy!
The goal is to find as much candy as you can! Though I feel everyone is a winner when candy is involved!
8. Halloween Hide and Seek
Hide and seek is an age-old children's game that most, if not all of us have played.
To give it a little Halloween twist, let's add a scare factor into the mix.
How to Play:
The "it" person needs to make his or her way around the house seeking the hidden players.
Once found, the hiders (ghouls) need to jump out and scare the "it" person. If they manage to freak the "it" out, then they switch places.
The goal is to not be scared! Put on your brave face and try to find as many "ghouls" as you can!
9. Halloween Costume Contest
You can't have a Halloween party without a costume contest, can you? No, of course not!
How to play:
Before the party, send out a text/email/invite telling all your friends to come in costume (and make it a good one!)
Plan on doing the contest portion early on, before everyone's makeup runs and clothes get all messed up from the other games.
Give out awards (either actual prizes or just printed awards) for different categories. A few examples include:
Most epic face painting
Creepiest costume
Best classic costume (for that friend who inevitably arrives wearing a sheet with eye holes cut out)
Most insane DIY costume
Most original idea
10. Scary Movies
When all else fails, scary movies are a great way to end the night.
Check out our list of scary movies that will definitely give you the creepy crawlies!
• Annabelle
• The Conjuring movies
• The Babadook
• The Others
• Paranormal Activity movies
• Insidious movies
• The Ring movies
• Blair Witch movies
With so many games we have come to love, you will never run out of ideas for Halloween parties!
All it takes is to switch out an object or theme and replace it with something spooky for a touch of Halloween.
Tell us your favorite Halloween party games for teens below!