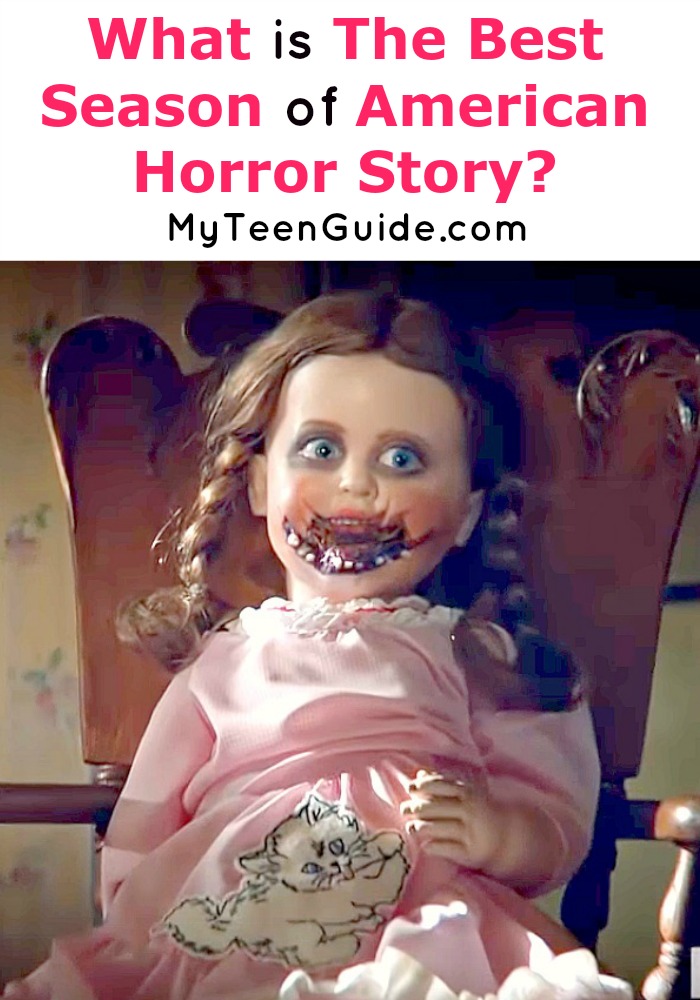 What is the best season of American Horror Story? American Horror Story is currently in the midst of its sixth season but what is the best so far? Since this super creepy tv show changes location, every season you don't necessarily have to watch the seasons in order. Bae has been debating which season to show his friend first who he's trying to bring over to the AHS side, so we had a big debate about this. Check out what we decided about what was the best season of American Horror Story, after many many MANY long hours of debate!
What Is The Best Season Of American Horror Story?
American Horror Story changes a bit every season, so while some things stay the same, it's almost like watching a new show every single season. Though many people think that the newest season is always the best, there are a couple reasons why you may want to check out season one Murder House a little closer. This season of American Horror Story is super scary among several other reasons below.
https://www.youtube.com/watch?v=-9KZr2Vn7CQ
Won Numerous Awards
Murder House was nominated for 65 awards in its 1st season and won 19 awards. The season won a total of 6 awards in 2012 at the Online Film and TV Association Awards: Best Direction in a Drama Series, Best Music in a Series, Best Editing in a Series, Best Visual Effects in a Series, Best New Theme Song in a Series and Best New Titles Sequence. Also, other awards won include the 2012 Dorian Award for TV Drama of the Year, and Jessica Lange won the 2012 Golden Globe Award for Best Supporting Actress in a Series, Mini-Series or TV Film for her role as Constance Langdon.
Related:5 Of The Best Classic Horror Movies To Watch On Halloween
Features A Talented Cast
There are six main characters in Murder House along with recurring and guest appearances.
Connie Britton plays the role of Vivien Harmon. She is best known for her roles as Tami Taylor on Friday Night Lights from 2006-2011.
Dylan McDermott plays the role of Ben Harmon. He is best known for his role as Bobby Donnell on The Practice from 1997-2004.
Taissa Farmiga plays the role of Violet Harmon. She is best known for her role as Sam Moore in the 2013 movie The Bling Ring.
Jessica Lange plays the role of Constance Langdon. She is best known for her roles as Julie Nichols in the 1982 movie Tootsie and as Carly Marshall in the 1994 movie Blue Sky.
Evan Peters plays the role of Tate Langdon. He is best known for his role as Jesse Varon on Invasion from 2005-2006.
Denis O'Hare plays the role of Larry Harvey. He is best known for his role as Russell Edgington on True Blood from 2010-2012.
Has The Best Ratings
According to Metacritic, the pilot episode of season 1 scored a 62/100 and Rotten Tomatoes gave the entire season a 76% approval rating. The pilot episode was also the best series premiere for FX with 3.18 million viewers.
Has Some Of The Best Quotes
While all of the seasons have had some pretty memorable quotes, I think the best came out of season 1. Here is just a sampling of awesome quotes.
Conversation between Larry Harvey and Ben Harmon:
Larry- "I'm trying very hard not to judge you."
Ben- "Me? You murdered your entire family."
Larry- "Yes. But I was never unfaithful."
Conversation between Vivien Harmon and Violet Harmon:
Vivien- "The light is different out here. It's softer."
Violet- "It's called smog."
Conversation between Vivien Harmon and Moira O'Hara:
Vivien- "Can I ask you a personal question? Do you ever get tired of cleaning up other peoples' messes?"
Moira- "We're women–it's what we do. I just get paid for it."
So what do you think is the best season of American Horror Story? Tell me down in the comments; we've been seriously binge watching this one lately!