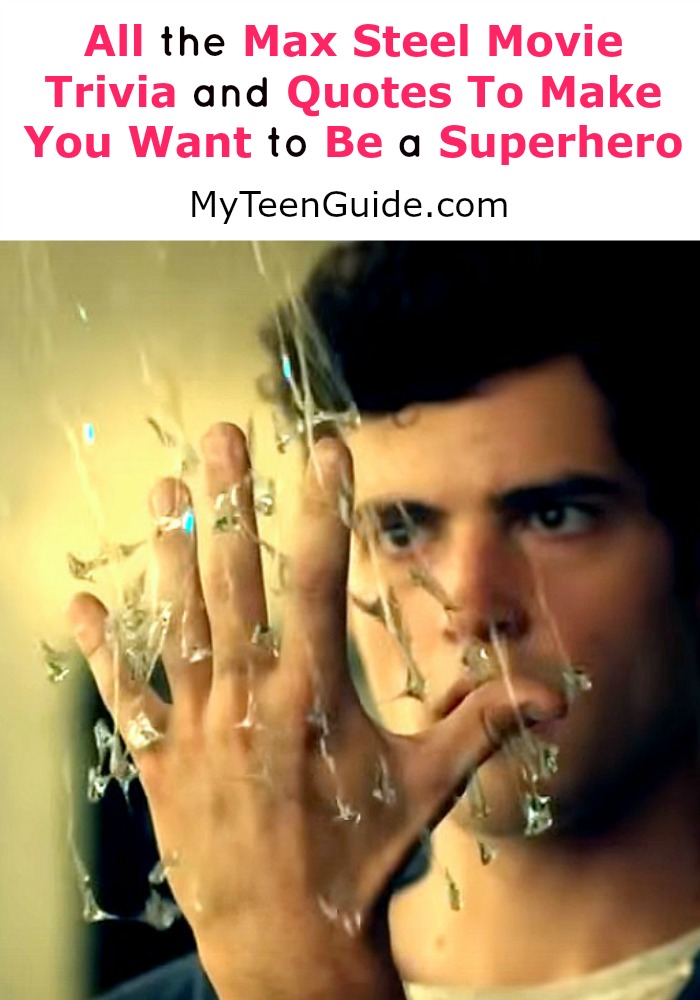 The movie quotes and trivia from the new Max Steel movie are seriously reminding me of a young iron man crossed with superman! This superhero is every teen who ever wanted to suddenly have magic powers and meet an alien. Sound like you? Me to! Check out al the details about the Max Steel superhero movie quotes and trivia below before you check out the new movie!
https://www.instagram.com/p/BLMkZB_hjp0/?taken-by=maxsteelmovie
All The Max Steel Movie Trivia And Quotes To Make You Want To Be A Superhero
Max steel is an upcoming science fiction superhero movie that will hit theaters on October 14, 2016. The movie is about Max McGrath, a teenage boy and Steel, his alien friend. Together, the pair set out on adventures as Max Steel, a superhero that evolves when Max and Steel combine their powers together. Max Steel stars Ben Winchell as Max McGrath. Here are some awesome trivia and quotes from the movie.
Related: 3 TV Shows Like The Flash That Will Save The Day
Max Steel Movie Trivia
The movie is based off the 2013 animated series of the same name that aired for one season on the Disney Channel. Season two of the animated series was released on Netflix in 2014. The movie is also based on the action figures from Mattel, which were released in 1997.
Taylor Lautner was first cast to play the lead role of Max McGrath but dropped out due to scheduling conflicts and Ben Winchell was cast for the role.
Stewart Hendler is the director of the movie. He also previously directed the 2007 movie Whisper and the 2009 movie Sorority Row.
Ben Winchell is best known for his role as Benjamin Wallace in Finding Carter. He is also set to star in two other movies in 2016: Carrie Pilby and Labor of Love.
Andy Garcia plays the role of Dr. Miles Edwards in the movie. However, he has also played the role of a doctor in the 1988 movie Stand and Deliver, where he played Dr. Ramirez.
Related: Amazing Movies Like The Fantastic Four To Figure Out Which Super Hero You Are
Max Steel Movie Quotes
Conversation between Molly McGrath and her son, Max:
Molly- "We're home Max. No more moving around. Fresh start."
Max- "Right, fresh start number nine."
Max, talking to Sofia Martinez:
Max- "My dad died here when I was really young. I didn't think coming back would be a big deal but I was wrong."
Conversation between Max McGrath and Steel, upon their first encounter:
Max- "Stay back! What are you, some kind of robot?"
Steel- "My name is Steel."
Max- "Oh my God, you speak English."
https://www.instagram.com/p/BLOthvLBZUy/?taken-by=maxsteelmovie
Conversation between Max McGrath and Steel:
Max- "I want to know everything you know, right now."
Steel- "Okay. The ultralinks are here to destroy the Earth because your energy is the only thing that can stop them."
https://www.instagram.com/p/BLZHtZvgFeT/?tagged=maxsteel
Conversation between Max McGrath and Dr. Miles Edwards:
Max- "You knew my father? I need to know about his work."
Miles- "Your father was working to find a way to harness energy beyond anything that mankind has ever attempted. He was right on the edge of a breakthrough."
So what do you think of these Max Steel movie quotes and trivia? Are you looking forward to this movie? Tell me in the comments!