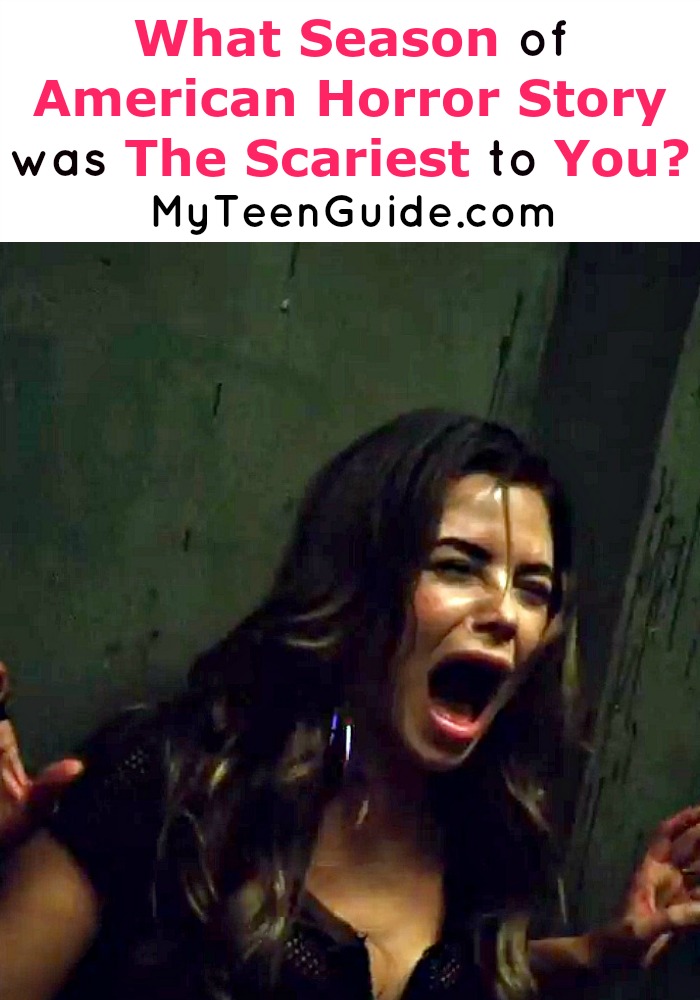 So what season of American Horror Story was the scariest to you so far? This is being debated in so many circles and American Horror Story does such a good job of turning up the creepy factor. It's hard to choose, but there is one season of AHS in particular that creeps me out big time! Here's all of my reasons why season two of American Horror Story was the scariest one so far!
Related: 5 Unbelievably Good TV Shows Like Supernatural For Your Inner Demon
What Season Of American Horror Story Was The Scariest To You?
In the five completed seasons of American Horror Story the scariest one is Season two! This season is named Asylum and has to be the scariest of them all. The season takes place in an asylum which is already super creepy enough with all of the medical possibilities.  This season also has some disturbing moments that left me in shock and some really creepy quotes.
Disturbing Moments
Episode 1- You know a season is going to be scary and gory when in the first episode, there is a terrifying scene. A couple is on their honeymoon in present day when they check out the haunted remains of what used to be the asylum. The groom soon gets his arm ripped off by Bloody Face, who later turns out to be a serial killer. Bloody Face wears a mask that he made from the skin and teeth of his victims.
Related: 5 Of The Best Horror Possession Movies That Are Scarier Than Halloween
Episode 3- In this episode, Shelley, a patient at the asylum, is turned into one of Doctor Arden's experiments. He first amputates both her legs and then gives her an injection which turns her into a Rasper, which are patients who are turned into mutant savages, feeding on human body parts, by Doctor Arden.
Episode 5- In this episode, we get our first glimpse of Doctor Thredson's house of horrors. His home is decorated with a lampshade made from human skin and a candy bowl made from a human skull. Then there is the basement where he skins his victims.
Episode 8- Here we meet Leigh Emerson, also known as the Killer Santa. In just one night, this guy kills 18 people dressed as Santa Claus. Later, he would also kill 7 nuns at the asylum.
Episode 9- In episode 9, there was a pretty gory scene where Lana Winters performs an abortion on herself using a coat hanger and blood was just pouring out of her.
Creepy Quotes
Episode 1
Conversation between Sister Jude Martin and Kit Walker:
Sister Jude- "Your story about little green men? That won't do here."
Kit- "They weren't human. They were monsters."
Sister Jude- "All monsters are human. You're a monster."
Episode 2
Conversation between Doctor Arthur Arden and Sister Jude Martin:
Doctor Arden- "The last time I suggested electroshock therapy, you accused me of being a sadistic barbarian."
Sister Jude- "I prayed about it. When I wasn't praying for you to find a halfway decent haberdasher."
Conversation between Doctor Oliver Thredson and Sister Jude Martin:
Doctor Thredson- "In just the short time that I've been here, I have witnessed appalling things. Abuse. Malpractice. Candidly, I'm shocked."
Sister Jude- "It's a madhouse, Doctor. What did you expect?"
Episode 5
Conversation between Lana Winters and Doctor Oliver Thredson:
Lana- "You make furniture?"
Doctor Thredson- "Lamps mainly. I make the shades myself."
Lana- "What kind of material do you use?"
Doctor Thredson- "Skin."
Episode 6
Doctor Oliver Thredson, talking to Lana Winters:
Doctor Thredson- "A mother's touch. Skin to skin contact. That's what I was craving, that's what I was missing. My whole life. But she smelled of formaldehyde. And her skin, even after I removed it, was cold. And stiff."
Episode 8
Conversation between Leigh Emerson and Sister Jude Martin:
Leigh- "Where's your Christmas spirit, Sister?"
Sister Jude- "What do you take me for, an idiot? Huh? You killed 18 people from five families in one night. You might expect to remain in irons for the rest of your life."
So tell me in the comments, what season of American Horror Story was the scariest to you?
Image via a trailer screenshot