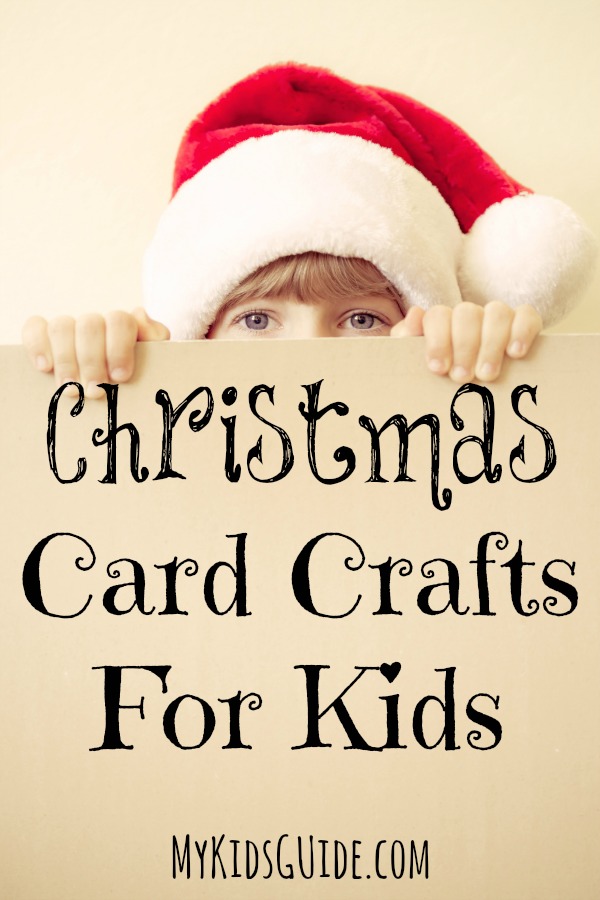 We love making unique gifts for family, and these Christmas Card Crafts For Kids are perfect!  Not only are they your standard holiday greeting, they are also a handmade craft and gift too!  With a bit of assistance your kids can make any of these fun cards to present to their teachers, friends or grandparents this year.
CHRISTMAS CARD CRAFTS FOR KIDS
Twig & Ribbon Christmas Tree Card:  A simple piece of card stock, a small twig and various colored ribbons tied on the twig and glued to a card make an adorable creative card.  This is perfect for even the smallest kids to help you with.  Add a button or glitter for the star to create a great holiday card that everyone will love.
Felt & Button Christmas Tree Card:  A few pieces of colorful felt, some buttons and other embellishments and glue create a unique and whimsical homemade card that kids will love making, and friends will be glad to have.  Older kids can cut and create on their own.  Younger kids will need help with cutting, but will have fun assembling the trees on their own.
Footprint Mistletoes Card:  This is such a fun one to make with the little ones!  A bit of card stock, paint and creativity creates the cutest "mistletoes" you'll ever see.  This one is perfect for the baby, toddler or preschooler to do since it is mostly just painting their feet and making a foot print. Add a painted ribbon, or real ribbon to the top of the foot to create a fun look as if it really is mistletoe hanging.
Zig Zag Glitter Trees:  This is great for the younger kids to help you with.  Take basic white glue and create a zig zag pattern that looks like a tree.  Sprinkle glitter over glue to make a fun and sparkling Christmas tree for the front of your card.  Add pom poms, sequins, beads and more glitter to make this a fun and unique holiday tree card.  Older kids can also have fun writing a holiday greeting in glue, then coloring it in with various colors of glitter.



Kids can help create beautiful and unique cards with just a little assistance.  Set up your craft table with great colored papers, felt, buttons, pom poms, sequins, glitter, glue, gel pens and more to create these personalized holiday greetings.  These Christmas card crafts for kids are sure to become an annual tradition for your family.
Looking for more great Christmas crafts for kids? Check out our Pinterest board!

Follow MyKidsGuide's board Christmas Crafts for Kids on Pinterest.
What are your favorite Christmas card crafts for kids?