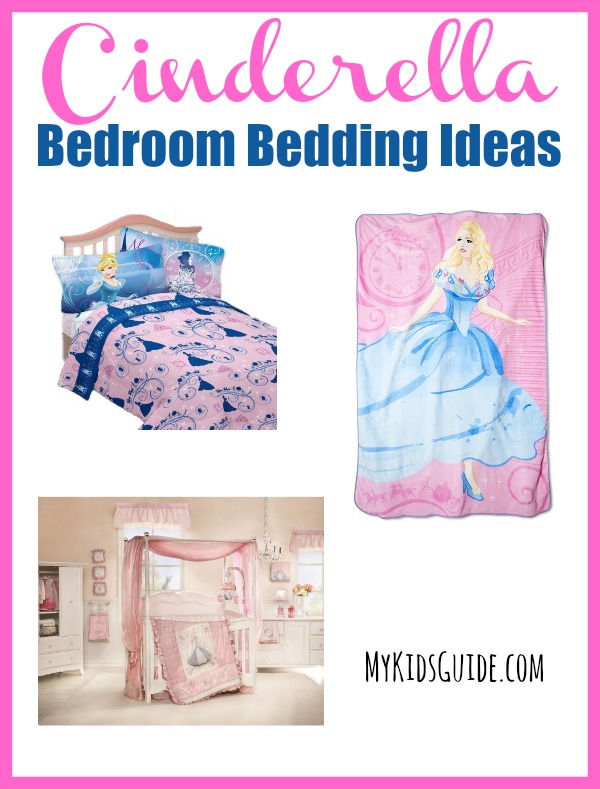 With the recent live action adaptation of Cinderella hitting theaters, it is time to think about these Cinderella Bedroom Bedding Ideas For Your Daughter.  From simple sheets and comforters, to princess themed throws and even a baby crib set this list will make your daughter feel like she is Cinderella.  No matter what our budget is, you can create a gorgeous Cinderella themed bedroom with just a few items.
CINDERELLA BEDROOM BEDDING IDEAS FOR YOUR DAUGHTER
3 Piece Cinderella Secret Princess Bedding Set:  This is a beautiful bedding set for a twin bed.  Featuring your favorite princess and the mix of dark blue and pink to create a perfect setting befitting any princess in training.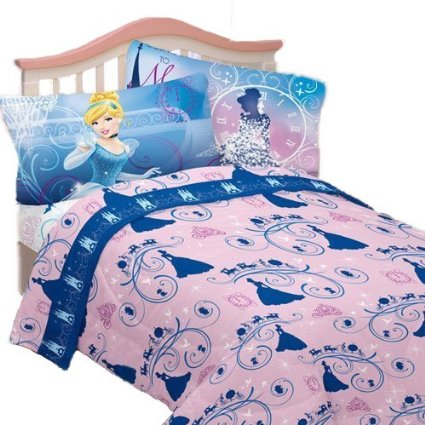 Cinderella Princess Sparkles 4pc Bedding Set:  This is the perfect set to give your daughter a bit of extra sparkle in her room.  This full size set is a great choice that coordinates with the traditional pink and blue color scheme expected of all princesses!
Disney Baby Cinderella 7 Piece Crib Set:  This set is just too perfect when you have a little girl on the way!  Start them from the beginning knowing they are your princess!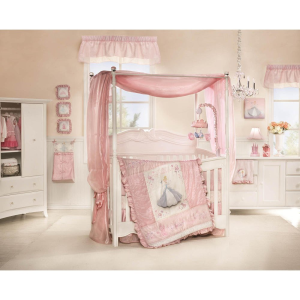 Cinderella Princess Comforter with Matching Skirt:  This set is just what your daughter needs to celebrate her love of the most famous princess around!  This is perfect to go with solid sheets, and of course she will love having her own princess skirt!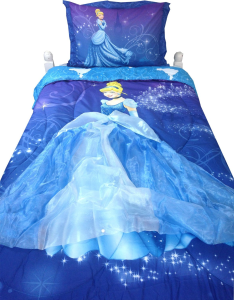 Cinderella Princess Rug:  This cute rug is perfect for going in a Cinderella bedroom or bathroom!  It adds that perfect touch of fun to a room you may choose to leave with just a few special Cinderella touches.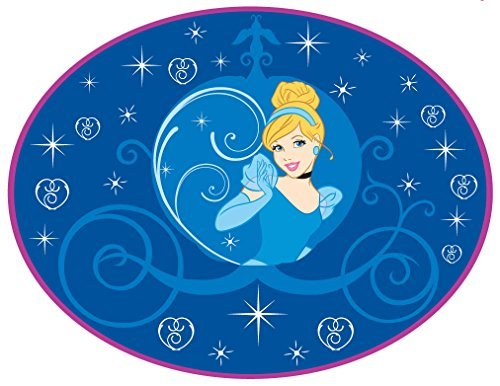 Princess Slipper Throw Pillow:  This embroidered throw pillow is perfect for accenting your Cinderella bedding.  Display or use as a cuddly pillow at bedtime, just make sure you know where your princess put her glass slippers at!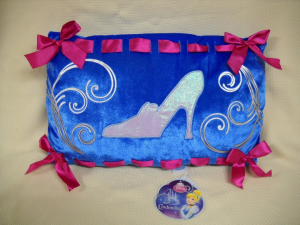 Cinderella Pillow:  This big fluffy Cinderella pillow is just what you think of when you are looking for Cinderella bedroom bedding ideas.  Add this pillow to the bed for a great addition that is fun to sleep on, play with our just use to display.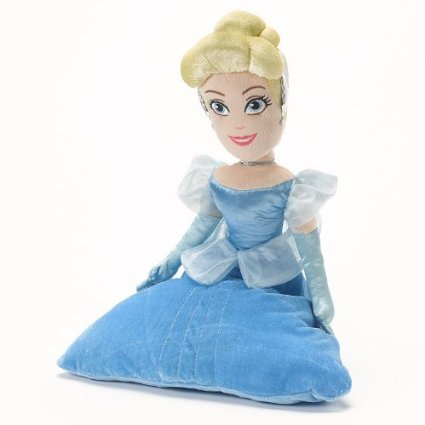 Cinderella Moment of Magic Blanket:  This blanket is perfect for the new fans of the live action Cinderella film that was just released.  Regal, graceful and beautiful, Cinderella makes a beautiful look to grace your daughters bed this year.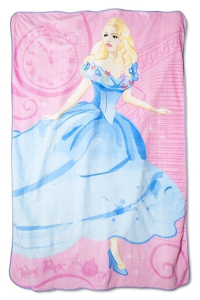 This year you can upgrade your little girls room with some of these perfect Cinderella bedroom bedding ideas!
What are your favorite Cinderella bedroom bedding ideas? Tell us in the comments!