My daughter loves making flower crafts. It cheers her up on those cold winter days. It is also her way to wish for spring to come fast.  This winter was beyond harsh: it was so cold that our noses froze when we walked for 2 minutes! When my daughter comes back from school and settles in to play, she is so over winter that she crafts something colorful to remind her that spring is on its way. I am always amazed by her creativity and her little talent. I didn't have such a talent as kid.
This spring craft for kids is very easy to make. It is perfect during play dates, a birthday party or as a school project. It is also great for toddlers as it is easy to make. They need some help with the cutting and drawing but they will have a blast coloring it. Best of all, it's an inexpensive way to encourage creativity!
Colorful Spring Flower Craft for Kids

Materials needed for this spring flower craft
Construction paper if you are not using a pattern
Flower pattern. You can find cute ones at a Dollar Store or if you are good at drawing, you can draw one using the construction paper. I used a pattern I found at the Dollar Store.
Crayons
1 wooden stick
Glue
Make it
Draw a flower shape on your construction paper
Let the child cut it if he or she is old enough
Let their creativity shine by coloring the flower
Once finished,  glue the stick to the flower.
It will be a nice display in their room
Looking for more cute flower crafts for kids? Check out two more of our favorites here on My Kids Guide!

This Fiesta Flower Craft was a cinch to make with the right tools! What are they? You'll have to read the post to find out!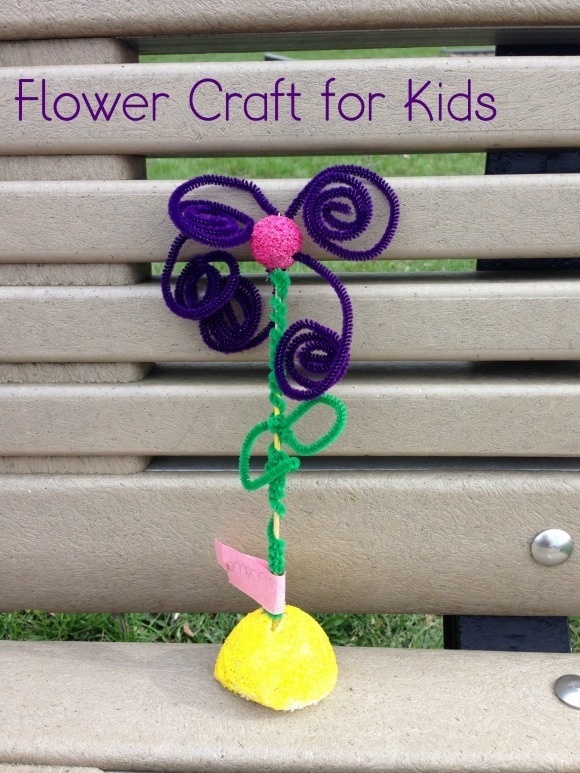 Nothing welcomes spring quite like our Pipe Cleaner Flower craft for kids! Check it out and make your own with simple supplies!
Do you have a favorite flower craft that you like to do to welcome spring? Tell us in the comments!