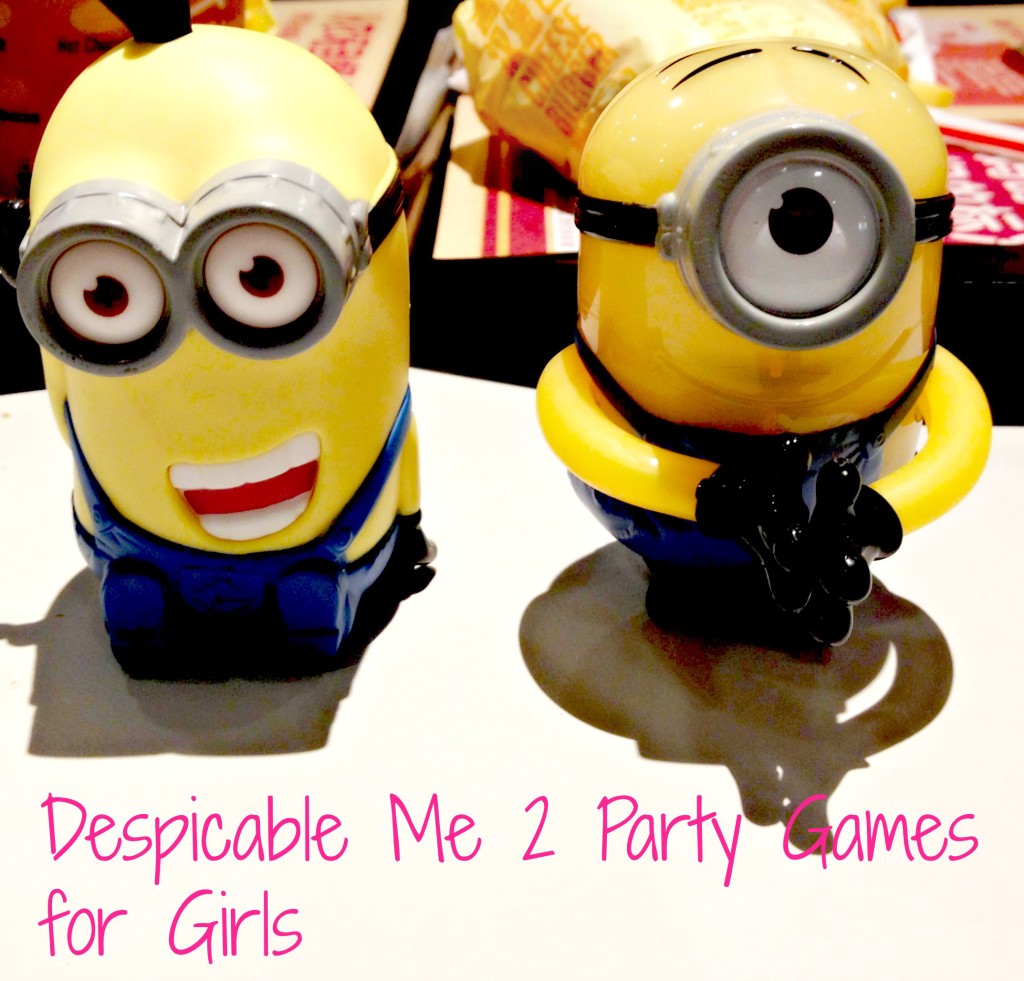 Few weeks ago we shared Despicable me 2 party games for boys ideas and since we do not want to upset our little girls, I am sharing these Despicable me 2 party games for girls. We will be even this way. :-). Despicable me is movie that kids and adults, boys and girls alike love and watch over and over. Despicable Me and Despicable Me 2 aren't just great movies, though- they make great birthday party themes! This is a fantastic idea for co-ed birthday parties, and you can even whip up some good Despicable Me 2 party games for girls to have fun with. Here are just a few to try out.
Related Minion reads
Despicable me 2 party games for girls
Freeze-Rays Fun
In the movie, the characters have Freeze Ray guns. Simply fill up some water toys with water and print out a Freeze Ray sign form online. Place all water toys in a bowl and put the sign in front of it. Of course these won't really freeze people, but the kids can play a game of tag or
water toy fight with them and pretend it freezes them. This is an easy Despicable Me 2 party games for girls and boys- and adults, too! For more fun with this game, make the water cold (which is perfect for hot weather parties).
Space Aliens Knocked Down
In Despicable Me 2, there is a space alien game people enjoy playing at a restaurant. The goal of the game is to knock down cuts outs of space aliens. To recreate this Despicable Me 2 party game for girls, print out images of the space aliens in varying sizes and glue them to a stack of cups at various heights. Have the kids use a Nerf toy (Affiliate link) to knock over the cups. Girls will have a blast with this Despicable me 2 party game.
This party is Bananas!
This is one of those Despicable Me 2 party games for girls that needs a good bit of supervision from parents, but it doubles as a game and a snack, so it can save money and time. The minions love bananas, and the kids at the party can go bananas for these banana split sundaes. The idea of this game is to divide all the kids up into teams, line them up at a table, and provide each child with enough materials to make their own sundae in an order you specify.
The order should be one banana, peeled, two scoops of ice cream, whipped cream, chocolate sprinkles, one cherry, and one spoon. That's a classic sundae recipe.
One child makes the split, leaves it on the table, and the next child steps up to make their sundae. Have an adult man the sundaes at each line. The team to finish first wins! And then kids can eat the sundaes they made. To accomplish this, you will need the following supplies:
 1 banana per child (unpeeled)
 1 dish per child
 1 can of whipped cream per team
 1 bottle of chocolate syrup per team
 1 dish of cherries per team
 1 carton of ice cream per team
 1 ice cream scoop per team (or large spoon)
 1 bowl of chocolate sprinkles per team
 1 spoon per guest
 Despicable me Napkins (affiliate) for each team (to help with the mess)
For more fun during parties, don't forget to check the party games for kids post.
Do you have any other Despicable Me 2 party games for girls  that are sure to entertain a room full of little princesses?