Looking for fun Earth Day crafts for kids to help teach them about conservation and respecting the planet? We've rounded up six of our favorites! Earth Day is such an important day because it reminds us that we all share this one great planet and we really need to take better care of it. Since I think it should be more than one day, you could use these crafts to create an entire Earth Week! Well, minus a day. We all need a break from crafting, right? Check out my favorite Earth Day crafts for kids!
Earth Day Crafts for Kids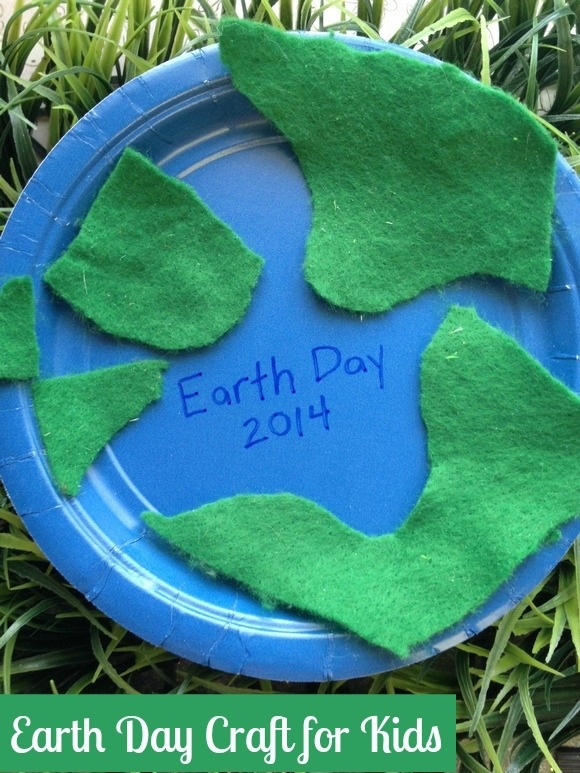 Let's start with one of our favorites from right here on My Kids Guide: our Earth Day Sign for Kids! Obviously, you'll change the 2014 to 2015. This is an easy little craft that lets you reuse bits of green felt that you have left over in your craft bin. Use a recycled paper plate to bring home the message.

I love these easy repurposed jar vases from Organized 31 because they're not only simple for kids to make, but they're also super cute gifts to give. So you'll be making Earth Day crafts for kids AND homemade Mother's Day or birthday gifts!

Chances are, you have most of the supplies for this Egg Herb Garden project by Home Made Interest right at home. What you don't have, you can pick up pretty cheap. This is a great activity to teach kids about gardening! It's something that they can tend to for months, making it an ongoing craft for kids.

Crafts by Amanda always has super cute stuff. I absolutely love this easy recycled plastic bottle wind spinner. It would look beautiful hanging from a tree in your yard where the sun can catch it!

Aren't these little egg carton creatures just the cutest things ever? They're created by Creative Green Living and very easy to make. Your children can use them to create imaginative scenes when they're done!

We shared this fun No-Sew Pillow over on OurFamilyWorld as an adult Earth Day Craft, but it's so easy even kids can do it. It's perfect for teens and tweens who want to add a little color to their rooms!