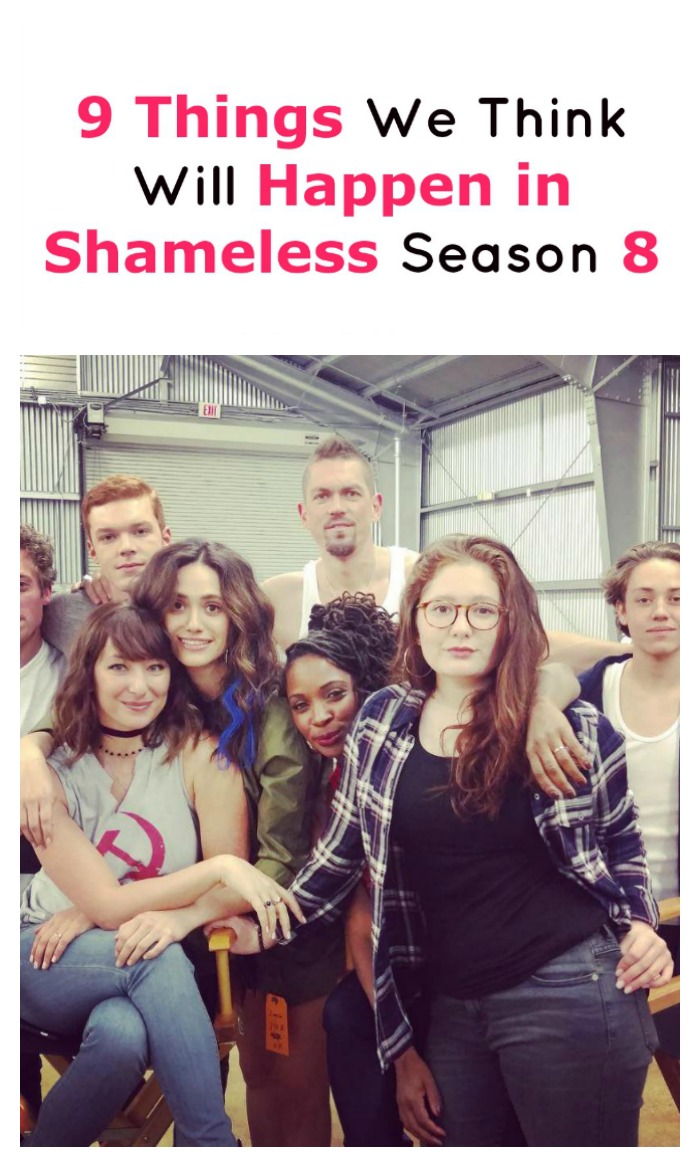 Rumors are flying about what is going to happen in Shameless Season 8, and we have a  few theories of our own. First, no, we still do not know exactly when season 8 of the hit Showtime show is scheduled to begin. Rumors abound about that as well, but the prevalent theory is sometime in October. Until we know for sure when we can dive back into the life of the  Gallagher family, we'll have to settle for speculating about what's going to happen next. Here are my thoughts. I'd love to hear yours, too!
What We Think Will Happen in Shameless Season 8
Affiliate links included below. Thanks for your support.
First, let's talk about where we left off in Shameless season 7. A lot happened during that season, so if you're not caught up, I suggest you sign up for a free trial of Showtime on Amazon and binge your way through the season. It's not on Netflix yet.
What happened in Season 7 of Shameless?
SPOILER ALERT: Here are a few highlights, because they're kind of important to predicting where the show goes next:
Monica died…and left her kids a TON of meth as their inheritance. Fiona buried a couple of bags with Monica, but we don't really see what happened to the rest of it.
Monica's death left Frank completely devastated. A lot of people seemed surprised by this, but if there's one person Frank has consistently loved throughout the series, it's Monica. They're kind of like Sid and Nancy (who Chloe Webb also played)- madly in love, with emphasis on MADly.
Fiona bought a building. First, she bought a failing laundromat and flipped it for a huge profit, much to her surprise (although she had to sell a piece of her soul to do it). Then she bought a building. Fiona is also "dating," as in flipping through Tinder and hooking up for one-night stands because it's easier than being romantically attached.
Carl is doing alright. Of all the characters, Carl has grown up the most. Where once we thought for sure he'd grow up to be an ax-murdering psychopath, he sent himself to military school to get his life together…and he's doing pretty amazing!
Debbie's doing alright as a teen mom. Okay, so maybe she's kind of a brat, a little nasty and self-absorbed at times. And yeah, she stole a bunch of stuff from people to buy totally unnecessary stuff (like a night nurse), BUT she definitely loves that baby. So much so that she camped out on the baby daddy's parent's front lawn when they stole Frannie from Debbie.
Lip gets on the wagon! Lip's had quite a rough year. First, he slept with his professor and fell in love. Then his psycho ex sent a picture of said prof to the whole school, ruining their albeit inappropriate relationship. The fallout sends Lip spiralling into the bottle until he gets kicked out of school (a lot of stuff happens to get to that point, but we're just doing highlights here). He does go to rehab, then to AA. In the end of Season 7, he finds himself a good sponsor and looks like he's got it under control.
Ian isn't as big a mess as he thinks he is. Ian struggles with his bipolar disorder and goes off his meds for a bit, but when Mickey escapes from jail and asks Ian to go to Mexico with him, Ian ends up doing the right thing.
Svetlana is a con artist. Big surprise! Svetlana turns out to be a complete con artist. While she, Kev and V are in a thrupple, she cons the bar right out from under them.
Like I said, a lot happened in Season 7, but I think these were the biggest highlights. Now, on to those rumors!
What's going to happen in Shameless Season 8?
Here are 9 things that I think might happen in Shameless Season 8!
1. Fiona does not become a drug dealer!
A lot of people in the rumor mills seem to think that Fiona is going to become a drug dealer, thanks to all the meth her mom left them. I really don't want to see this happen. Fiona had her trip down the rabbit hole already in season 6, when Liam overdosed on coke at her party. She ended up in jail, she's on probation. She's really trying to become something bigger than just another South Side girl working 20 jobs to pay rent. I think she'll struggle and hit some major snags, but ultimately, I think she's going to make it work. Turning her into a drug dealer would be a huge mistake. MAYBE she will dabble it in briefly to get out of a financial pit, but I don't see that as her life path.
2. Frank will not turn into Mr. Dad all of the sudden
Another rumor floating around is that Frank will turn a new leaf now that he's lost the love of his life. He did show his paternal side a few times throughout the end of the season, but I don't think he's there quite yet. He can go one of two ways in season 8: either losing Monica will make him face his own mortality (since almost dying of liver failure really didn't do it) or it will make him go crazy. I see it going both ways, although I'm not sure which will come first.
3. Jimmy/Steve returns?
Fiona kind of said her big goodbye to Jimmy/Steve, telling him that she loved him but didn't want to be with him. While it felt kind of final at the time (she was married to Gus when it happened), I don't think we've seen the last of him. He was a grifter, a thief, and a liar, but of all the relationships Fiona has had since Shameless season 1, those two made the most sense together.
4. Lip Will Get it Together
At the end of Season 7, Lip did say he was going to give college another try. The problem? He was thrown out of his last school for violent behavior, something that they will not remove from his record. Throughout the first few seasons, Lip's brains were always supposed to "save" his family. Now that he's not the savior  (Fiona, Carl, and Debbie are kind of doing okay on their own), maybe that's a relief, maybe he can finally focus on himself. Plus he's found this awesome girl, Sierra, and I think he really does want to be a better man for her. While I think we can expect at least one slip from Lip, but ultimately, he'll pull his life back together in season 8.
5. Debbie will find her passion
Season 7 showed Debbie pursuing a career in welding. Maybe that will prove to be her passion, her dream job, or maybe it will lead to another passion. I do think she will stay with Neil (even though it was a relationship of convenience for her at first, she does actually seem to love him), but I also think she'll learn how to stand on her own a bit more.
6. Ian and Trevor will make it work
Of all the guys Ian has been with, Trevor is really the best for him. I will admit that even though Mickey was kind of a sociopath, I loved seeing his softer side when dealing with Ian's illness. Mickey seems to be gone, though. It wouldn't make sense to bring him back since he's a fugitive. Trevor is a better match overall. He's supportive, encouraging and understanding. He challenges Ian. I think they have a shot of making it work!
7. Carl, Carl, Carl
I am so on the fence about what I think will happen with Carl's character. Like I said, he made the biggest turnaround in season 7, and I really want to see him keep that up. The thing is, tigers don't change stripes (or so they say), and we ARE missing an entire bag of meth. A big bag of it. Could Carl go back to his dealing ways? If so, I see him as more of a mastermind than a foot soldier. I can't see him going back to being a common thug.
8. A family out of touch?
If you've noticed over the last few seasons, the Gallaghers aren't quite as close as they used to be. Lip went off to school, Ian vanished for months, Carl went to military school, Debbie got her own place. Even poor Liam, who used to be the center of attention, spends more time with Frank than anyone else these days. I used to love how everyone was so close. Now, it seems like they're drifting apart. I think they will continue to do so throughout season 8. They'll come together when it matters most, but for the most part, they'll all do their own things.
9. Kev and V take down Svetlana
This is pure wishing on my part, but I'd like to see Kev and V get the bar back from Svetlana. Don't get me wrong, I kind of like Svetlana. She's proven a million times smarter than anyone gave her credit for in the start. Still, she went too far and now she has to be taken down. Unfortunately, I don't see how Kev and V can possibly outsmart her. Maybe they'll just say "let her have the bar" and start something completely new together.
There you go, my predictions for Shameless Season 8! Maybe I nailed it or maybe I'm totally off base. I guess we'll find out when the new season begins…whenever that is!
What are your predictions for Shameless season 8? Do you agree with any of mine? Think I'm totally nuts? Share below!