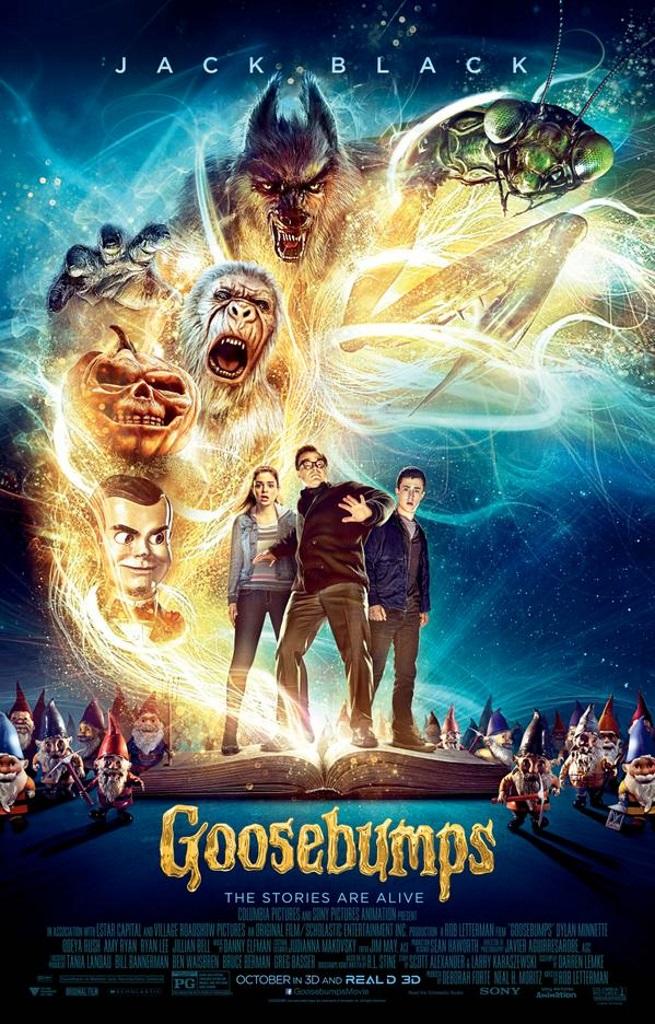 Are you ready for a live-action, feature-length version of Goosebumps? I was so excited when I read about it! I used to love the books, but I was curious to see how they'd bring the stories to life in a huge movie. After seeing the trailer and reading about the plot, though, I think they're going to make it pretty amazing! Check out everything you need to know about the Goosebumps movie!
All About the Goosebumps Movie
Goosebumps is a 2015 3D live-action/computer-animated movie that is set to hit theaters on October 16th. The film is directed by Rob Letterman, who also directed Shark Tale, Monster vs. Aliens and Gulliver's Travels. Goosebumps is being released by Columbia Pictures and has a runtime of 1 hour and 43 minutes. The movie is based on the book series by R.L. Stine and stars Jack Black as R.L. Stine, Dylan Minnette as Zach Cooper, Odeya Rush as Hannah Stine, Amy Ryan as Gale Cooper, Ryan Lee as Champ and Jillian Bell as Lorraine Cooper as main cast members.
The movie plot is situated around Zach Cooper, Hannah Stine, R.L. Stine and Champ. Zach and his mother move to a small town from a large city, moving in next door to the Stine's. Zach meets his new neighbor Hannah and quickly learns that her mysterious dad is none other than R.L. Stine, the best-selling author of the Goosebumps series.
Zach soon learns why R.L. Stine is so mysterious, the monsters that are in his books are actually real, making him a prisoner of his own works. In order to protect the readers of his books, Stine keeps all of the monsters under lock and key in their own books. However, when Zach accidentally opens one of the books, he also unleashes the monsters.
It isn't long before the monsters start to terrorize the small town. Zach, Hannah, Stine and Zach's best friend Champ team up together to save the town and put the monsters back in their books where they belong.
The Cast of the Goosebumps Movie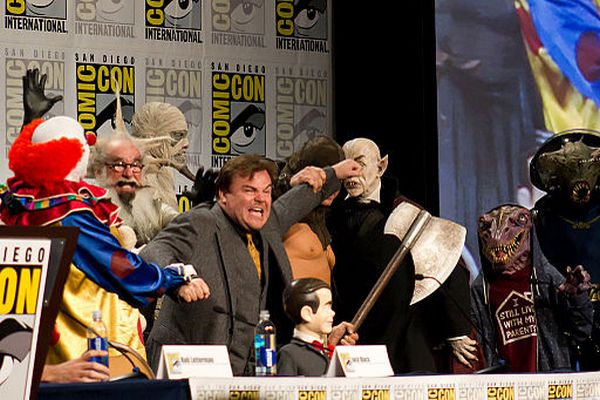 Some of the main cast members have been cast in other roles both on television and film, while a couple are relatively new on the movie scene. Let's check out the amazing cast of the Goosebumps movie!
Jack Black is well-known for his numerous comedic movie roles including The Cable Guy, Shallow Hal, School of Rock and Tropic Thunder. Black also was the voice of Po in the Kung Fu Panda movies, the voice of Zeke in Ice Age and the voice of Lenny in Shark Tale.
Dylan Minnette has had roles on television include Saving Grace and Awake as well as movie roles in Alexander and the Terrible, Horrible, No Good, Very Bad Day.
Amy Ryan has also appeared in television and movie roles. On television, she played in The naked Truth, The Wire and The Office, while she has been cast in movies such as War of the Worlds, Capote, Gone Baby Gone and Birdman.
Odeya Rush is a relative newcomer but she is known for her movie role in The Giver.
Ryan Lee has had TV roles in hits such as Breaking Bad, Community and Good Luck Charlie as well as movie roles in Titans and Super 8.
Last but not least, Jillian Bell has been cast in TV roles in Workaholics and Partners and movie roles in Bridesmaids and 22 Jump Street.
Other cast members of the Goosebumps movie include Avery Jones as the voice of Slappy the Dummy, Ken Marino as Coach Carr, Halston Sage as Taylor, Steven Krueger as Davidson, E. Roger Mitchell as the Mayor of Madison, Timothy Simons as Officer Stevens, Amanda Lund as Officer Brooks, Karan Soni as Mr. Rooney, Keith Arthur Bolden as Principal Garrison and R.L. Stine in a cameo appearance.
The Goosebumps movie earns a rating of PG due to scary and intense creature action and images as well as some rude humor.
With such an awesome cast, this looks like it's going to be a great flick!  Seeing it come to life on the big screen, especially with Jack Black, is going to be so spectacular!
Will you be seeing the Goosebumps movie? Are you a fan of the book series? Tell us what you're lookign forward to most about the live-action film!