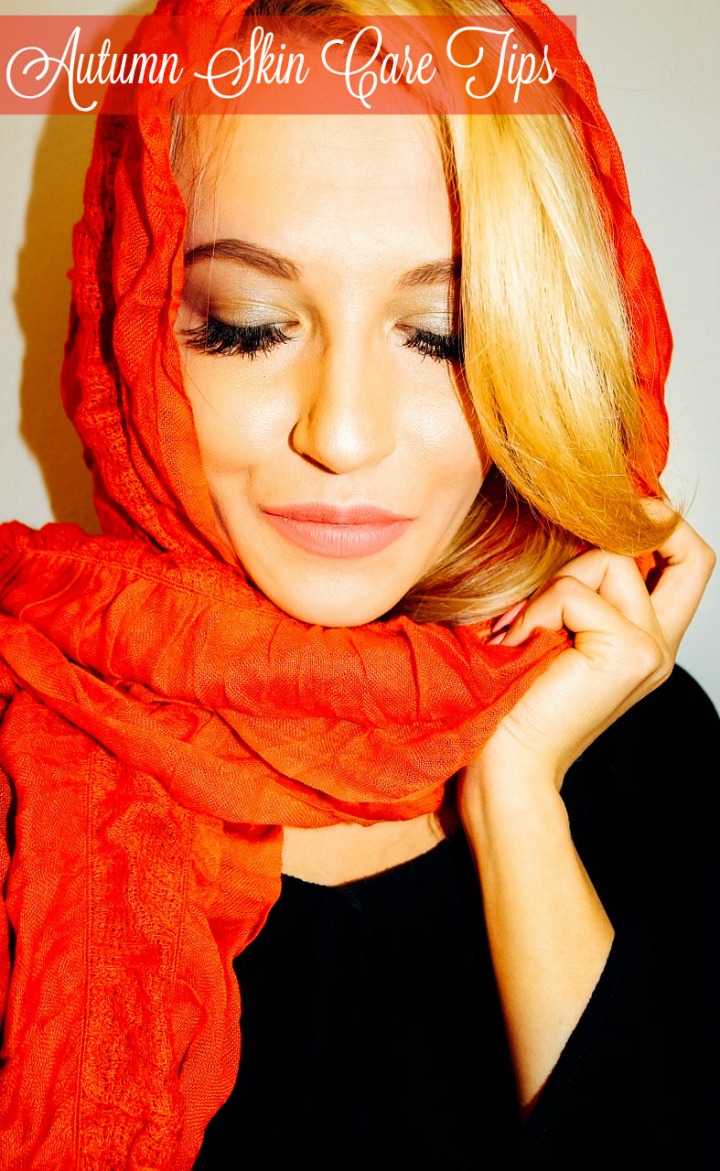 Today we're sharing autumn skin care tips to get your skin in tip-top shape for the season. As the nights start getting colder and your heat kicks on in your house, your poor skin will start screaming "hydrate me, feed me, love me!" Winter is HARD on skin! If you switch up your routine in the fall, you'll get ahead of the problems that you'll face when the weather really gets nasty! Here are some great autumn skin care tips.
Autumn Skin Care Tips
Affiliate links included below.
Refresh your skin
You want to start the fall season with skin that is refreshed. This means that you need to get rid of that summer residue on your skin. At the beginning of the season, have one deep-cleansing facial done so you start the fall season with a smooth, polished face. You can either do this yourself at home with a really great deep cleaning clay mask or get it done professionally at a salon.
Hydrate your skin
The best way to hydrate your skin is from the inside out and the way to accomplish this is by drinking lots of water. Have a bottle of water or two with you throughout the day. Can't stand plain water? Throw a little lemon or lime in it! If it is chilly outside and you want something warm, herbal tea is also great for hydrating your skin. By hydrating your skin, it will take on a healthy glow in no time at all.
Toss the soap
While soap may be the ideal choice for scrubbing up after a beach day, soap is also known for leaving skin dry. The last thing you want in the fall and winter is to have dry skin. So, instead of soap, reach for a hydrating body wash. We're big fans of Aveeno because it's super gentle on sensitive skin.
Protect your lips
You want to be sure that your lips are moisturized before the cold winter weather arrives. To achieve this, use a lip balm that is non-petroleum-based, to ensure your lips won't be dry or cracked in the coming months. Get yourself a 5-pack of Eos! We all love those things, but we all lost those things like crazy!
Invest in hand cream
Hands are one of the parts on the body that start to become dry during fall. The best way to tackle this is to prevent it. Use a hand cream to moisturize your hands, leaving them soft and smooth throughout the colder months. Yes to Coconut is one of my favorites because it smells great, doesn't cost a fortune and works wonderfully.
Use a humidifier
When the air turns colder, it also becomes drier. By using a humidifier, you are putting much-needed moisture back into the air. This moisture is needed to keep your skin soft and supple instead of being dry and cracked. Go with a cool mist humidifier. If you want to make your room smell great too, get one that also doubles as an aromatherapy diffuser!
These autumn skin care tips will not only help keep your skin looking great all throughout the fall, but they'll set the right foundation for the colder months to come.
Do you have any favorite autumn skin care tips that we missed? Share in the comments!