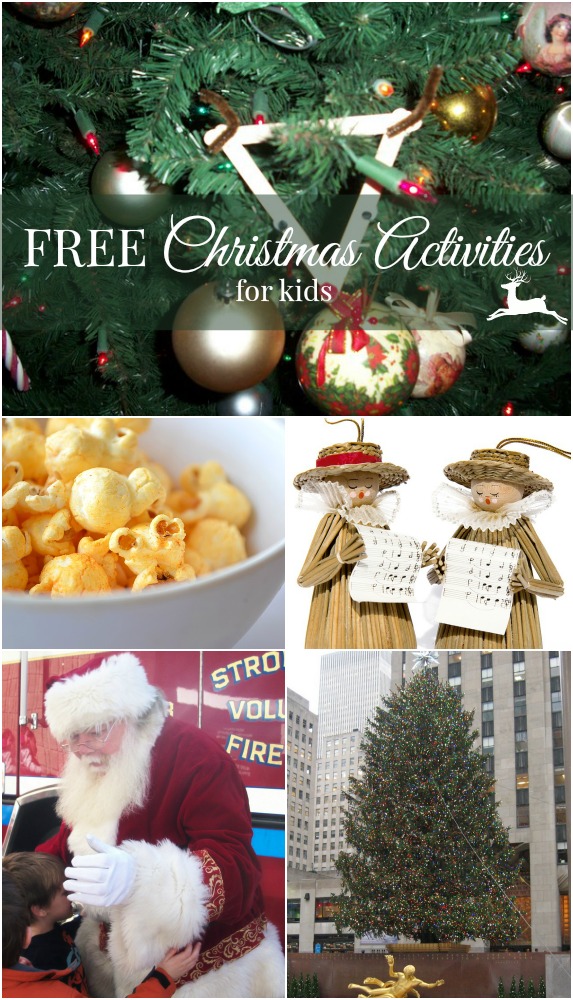 I have a lot of experience in finding free Christmas activities for kids. I suppose it's one of the up sides to being on a tight budget for years. I'm pretty much obsessed with all things Christmas.  In fact, I was even Santa's boss up until this year! I kid you not, I managed Santa at the photo set in my local mall. If they handed out advanced degrees in finding great free Christmas activities for kids, I'd have one. So check out my favorite ideas to help get you and your kids in the holiday spirit without breaking your budget!
Related Posts:
Awesome Free Christmas Activities for Kids of all Ages
I've included a mix of free Christmas activities for kids that you can do right at home and those that you can do out in the community. I know what it's like to be so low on funds that even paying for gas to go to a free activity out in town is a hardship.
A Visit with Santa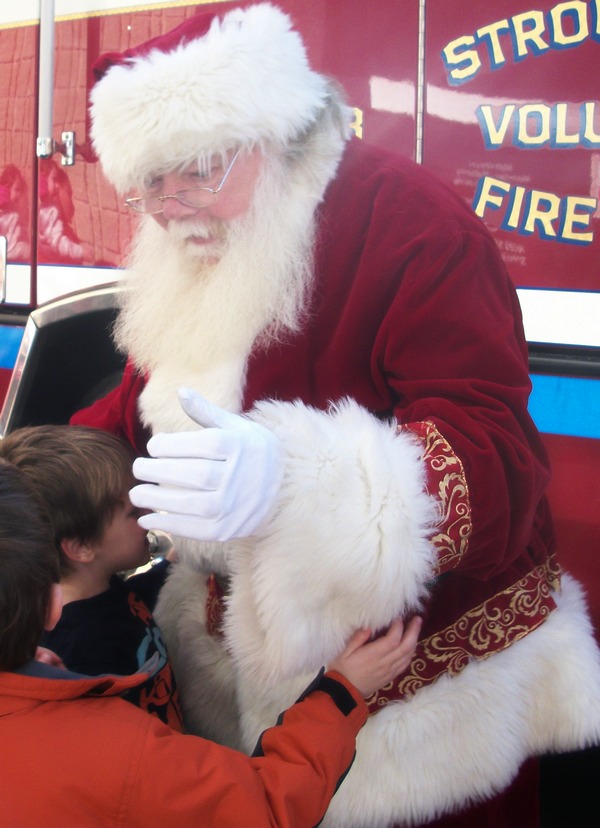 Pictures with Santa at the mall can be incredibly pricy for families on a tight budget. Did you know, though, that at most malls,  you don't need to buy pictures to let your child visit with the jolly guy? Visits are free. I HIGHLY suggest going during a slow period, such as a weekday morning. Your child will get more time with Santa. I can tell you from experience, on the slow days, they're more than happy to have your company.
Christmas Tree Lighting Ceremony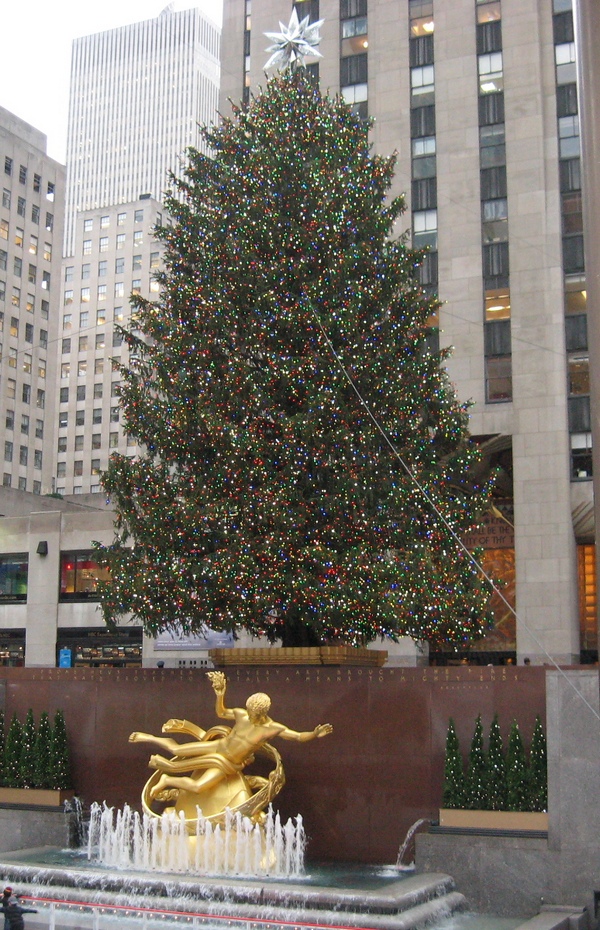 Most towns have a Christmas tree lighting ceremony sometime between Black Friday and about two weeks before Christmas. Check your local paper to find out when it's happening. These are fun events that bring out the entire community. It's a great way to get out for the evening and get into the spirit of the holidays. Some towns even serve free hot chocolate!
If you live close to New York City (I'm in the Poconos, in Pennsylvania), definitely go see the big tree in Rockefeller Center! I've never been to the lighting ceremony, but I have seen the tree  in both the day and at night. I highly recommend seeing it at night.  It doesn't cost a dime to walk around the city, and there's so much to see. Of course, it does get pricey if you want to SHOP in the city! My night pictures didn't come out so great,but here's an idea: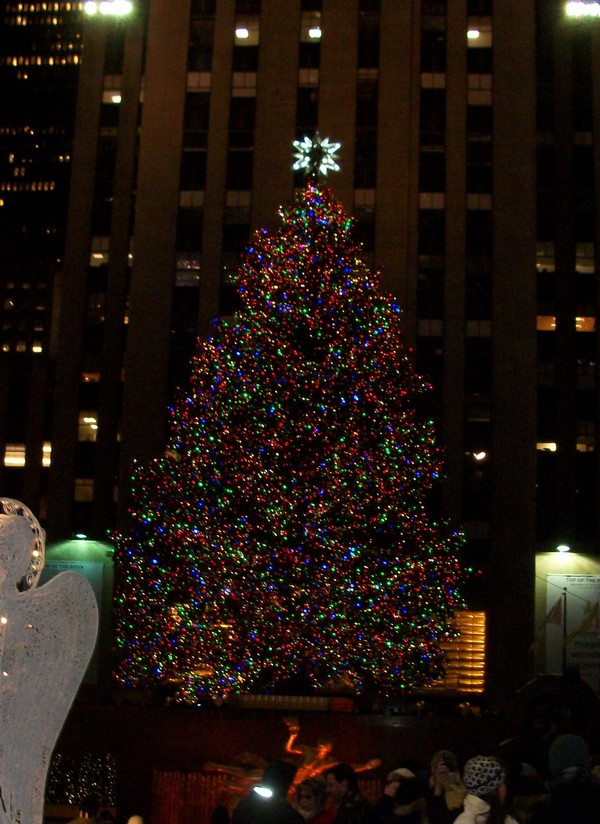 Neighborhood Light Tour
One of my son's all-time favorite free Christmas activities for kids is just driving around our neighborhood looking at the lights. When he was a baby, he used to do the baby sign language sign for "more" and say "more lights!" If gas money is an issue, bundle up the family, pull out the stroller for the smaller ones and make it a walking tour. Add a bit more excitement to it by turning it into a scavenger hunt! Challenge each other to find a house with just white lights, one with a light-up Frosty, a Rudolph, and so on.
Old-Fashioned Caroling
What ever happened to good old-fashioned Christmas Caroling? Bring back the fun tradition by gathering up your neighbors and heading out for a night of singing, strolling and laughing. Even better, find out if you can take your chorus to a local nursing home to cheer up the residents. Free Christmas activities for kids that also bring joy to others are the best types of all!
Holiday Movie Marathon
I am a total nut for holiday movies! I try to watch at least one holiday special every night from Thanksgiving to Christmas. Chances are, you have a good collection of Christmas movies on your DVD shelf. Gather them into a pile, pop some popcorn, put on your coziest jammies and start working your way through them. If you don't have any Christmas movies on hand, you could sign up for a free month of Netflix or Amazon Prime (affiliate link). Use the streaming service to watch your movies. Cancel after a month, unless you decide you love the service.
Making decorations out of found objects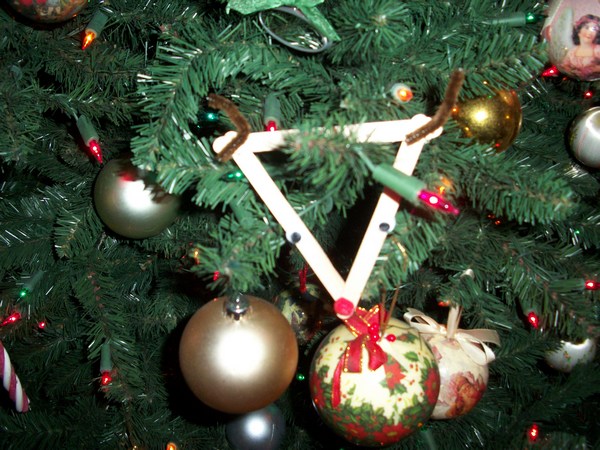 Many years ago, I couldn't afford decorations for my Christmas tree, so I made my own out of found objects. Newspapers, magazine pictures, pretty stones, acorns and so on. Now, even though I can afford to buy ornaments, I still love making my own sometimes! Grab a bag or basket and start looking around, both inside and out. What would look good on the tree? Small toys work fantastic. Painted seashells, popcorn on a string- so many possibilities.
These are just a few of my favorite free Christmas activities for kids to help get you in the holiday spirit. I've done every one of them except caroling. I have a terrible singing voice. My son loves to sing, though.
What are your favorite free Christmas activities for kids? Tell us in the comments!