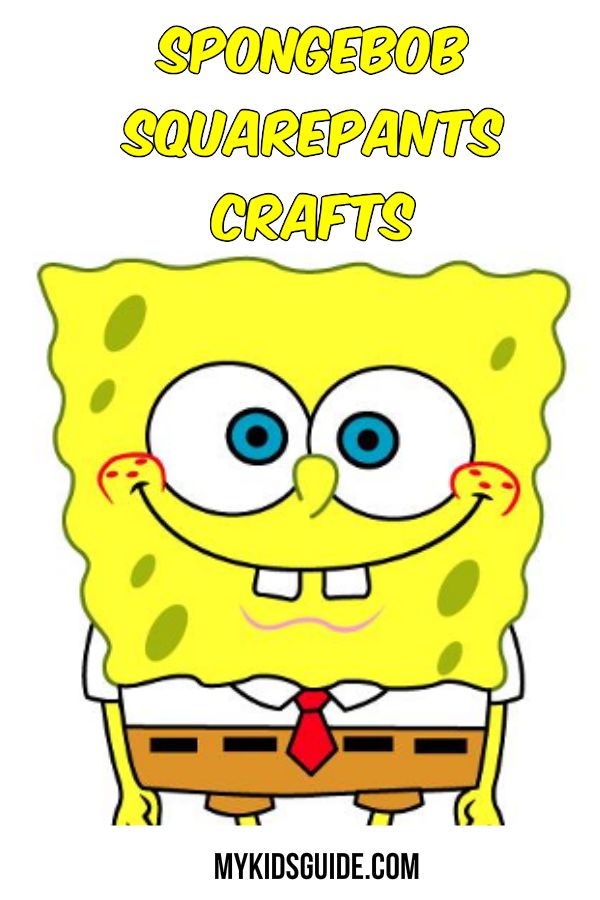 Everyone knows who lives in the pineapple under the sea, and these Fun Spongebob Squarepants Crafts are perfect to make for your next Spongebob Squarepants party.  Not only are some of these fun to make with the kids, they are perfect for upgrading a simple birthday party or gathering to a truly personalized event.
FUN SPONGEBOB SQUAREPANTS CRAFTS



Spongebob Squarepants Mini Pinata:  These are such a fun way to give out party favors at your next event.  Using empty toilet paper or paper towel rolls, you can easily stuff them full of candy and toys.  Cover both ends with cardboard or construction paper and paint to resemble Spongebob.
Toilet Paper Roll Planktons:  Paint empty toilet paper or paper towel rolls green.  Add Plankton's face with marker or paint, then glue green pipe cleaners on the inside to resemble his antenna.
Spongebob Squarepants Sponges:  Simple yellow kitchen sponges can be quickly turned into Spongebob Squarepants sponges with some magic marker drawing.  Add a piece of card stock on the back to make it sturdy and use for an invitation to the party, a favor or a decorations.

Sandy's Acorn Snacks: Sandy is one of the most fun characters on the show, and as a squirrel her love of acorns makes for a perfect snacking opportunity.  Using chocolate kisses, mini peanut butter sandwich cookies and a bit of frosting you can create a super fun and easy snack kids will love.

Spongebob Squarepants Bookmark: This is a fun craft to make with the kids to give out at their party.  Use large paperclips and hot glue a small square of yellow foam that has been made to look like Spongebob Squarepants.  You can use foam pieces glued together, or a marker to draw your own goofy Spongebob faces.
Jellyfish Hanging Decor: A paper bowl painted and turned upside down makes for a great hanging decoration.  Add some colored streamers and you've created fun jellyfish hat can be hung all over your home.
Whether you are putting together a fun craft to do with your kids, or simply looking for decorations or party favors for your next party these fun Spongebob Squarepants crafts are sure to do the trick.  Kids will love painting and helping you make these fun crafts.  They are great for working on fine motor skills, cutting and pasting for the younger crowd.  Upgrade them a bit and you might even have a fun new custom craft to sell at your local craft events.
Do you have any favorite Spongebob Squarepants crafts for kids? Share them in the comments!