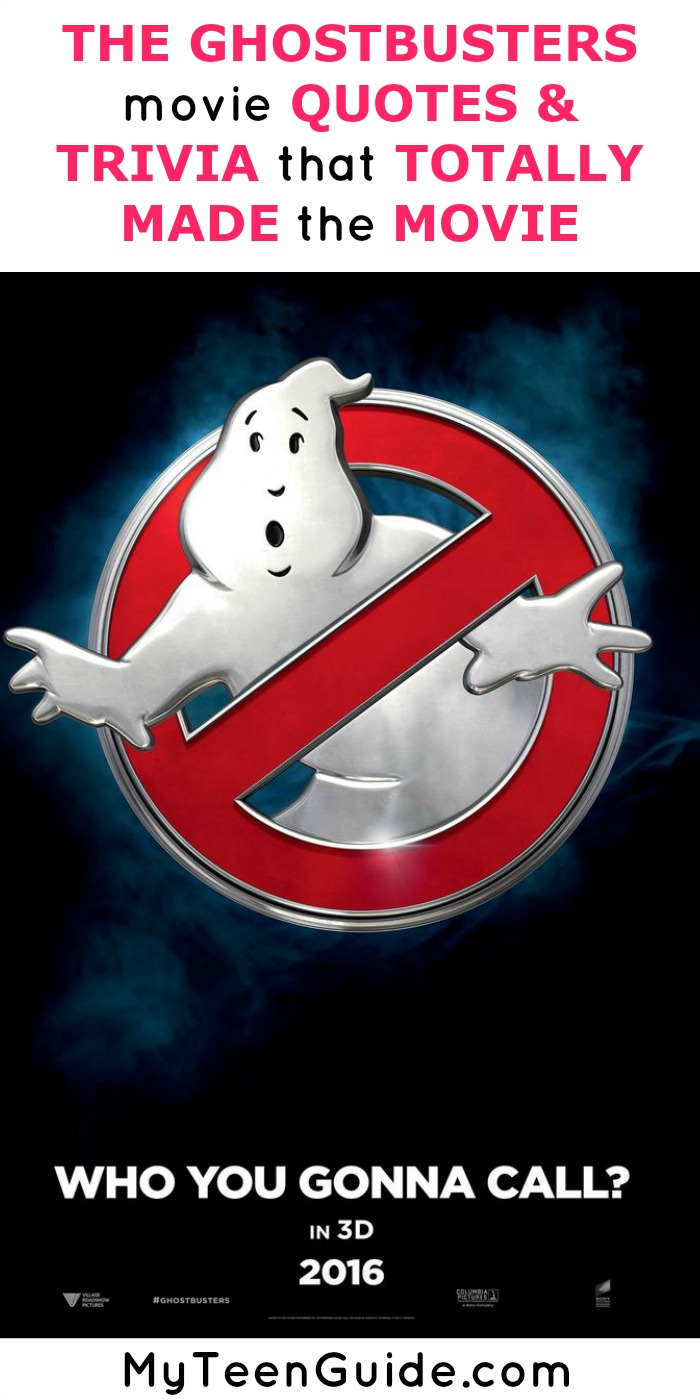 I've got the Ghostbusters movie quotes and trivia to get you pumped. Trust me, I ain't afraid of no ghosts! Are you? Below I've included some info about the new movie, along with the new trailer! Check out all the new bits about the new Ghostbusters film below!
The Ghostbusters Movie Quotes And  Trivia 
Ghostbusters is a 2016 supernatural comedy movie that will hit theaters on July 15, 2016. It is a reboot of the Ghostbusters films: 1984 Ghostbusters, 1989 Ghostbusters II and 1995 Ghostbusters III: Hellbent. Here are some  Ghostbusters movie quotes and trivia, along with the trailer for the 2016 release.
Ghostbusters Movie Quotes
Conversation between Abby and Erin:
Abby: "It's a class 4 operation."
Erin: "That's okay, she seems…peaceful. My name is Erin Gilbert, doctor of parallel psychics." (then, the ghost throws up on Erin).
Patty, as she jumps into the mosh pit, landing on the ground after the crowd moves away:
Patty: "Okay, I don't know if it was a race thing or a lady thing, but I'm mad as hell."
From the 1984 Ghostbusters film- Conversation between Janine and Winston:
Janine: "Do you believe in UFOs, astral projections, mental telepathy, ESP, clairvoyance, spirit photography, telekinetic movement, full trance mediums, the Loch Ness monster and the theory of Atlantis?"
Winston: "Ah, if there's a steady paycheck in it, I'll believe anything you say."
Ghostbusters Movie Trivia
https://www.instagram.com/p/BHS7VvqA_1y/?taken-by=ghostbusters
Both Jennifer Lawrence and Emma Stone turned down roles for this film. Jennifer Lawrence already was filming another one and Emma Stone said the Ghostbusters franchise was a huge commitment.
Several of the cast members from the 1984 flick will have cameo appearances in this film including Bill Murray, Dan Aykroyd, Ernie Hudson, Annie Potts and Sigourney Weaver.
The first official trailer was released on March 3, 2016, and was named by YouTube as one of their most disliked videos in their history.
While the other Ghostbusters movies were directed by Ivan Reitman, this one is directed by Paul Feig. Paul Feig is also known for directing lots of other films including the 2006 Unaccompanied Minors, the 2011 Bridesmaids, and the 2015 Spy.
During the 1984 Ghostbuster, there were 3 suits made for the Stay-Puft Marshmallow Man. The suits cost about $20,000 for each one.
So are all of these Ghostbusters movie quotes getting you excited for this release? Which Ghostbusters movie trivia did you find the most interesting? Tell me your thoughts.
Image via Wikia