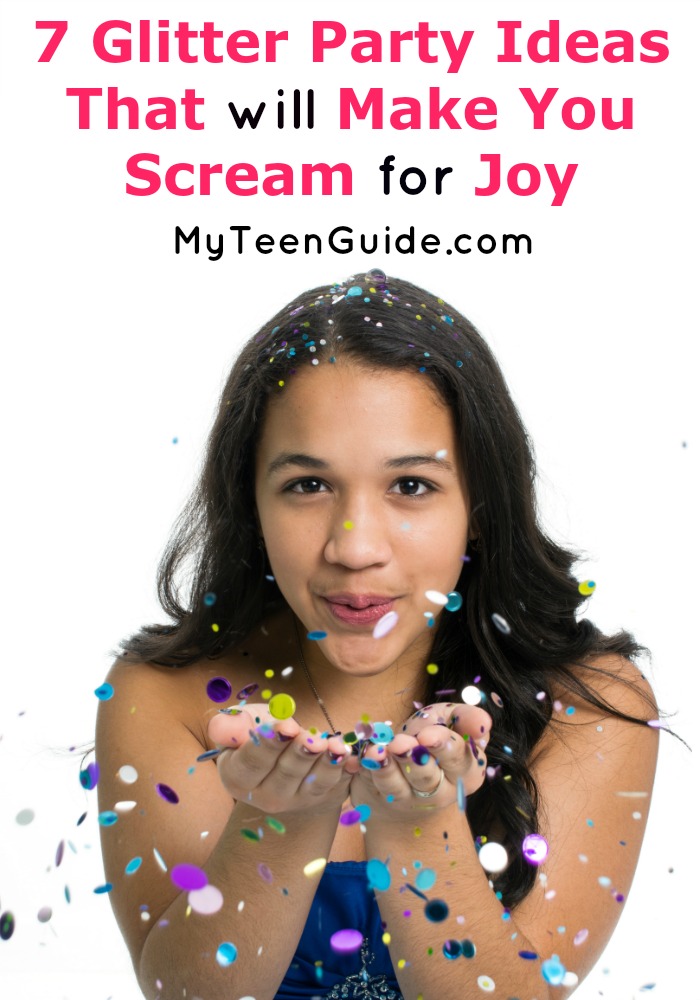 I know that sparkle and shine look in your eye, you want to have a glitter party! You have come to the right place because we totally get your need for sparkle and shine! From a glitter beard competition, to glitter party games and even edible glitter we've got a list of fun glitter party ideas are going to have to try. Let's get started with the glitter party fun!
Related: The Glow In The Dark Party You Wish You Were At Right Now
7 Glitter Party Ideas That Will Make You Scream For Joy
DIY Glitter Balloon Decorations
These pretty glitter balloons are sure to add some extra shine to your party. Best of all, they are super cheap to make!
Related: 7 Amazing Instagram Party Ideas That Will Make You Want To Snap A Selfie
Glitter Beard Competition
Need to challenge your friends? Give them the supplies to make their own glitter bear creation, and then vote on your favorites! Start with a colored facepaint or stick eyeshadow and draw on your beard, then adhere the glitter to your skin. In this video, they used regular clear Elmer's glue on their faces, but if you are concerned there are plenty of body glitters you could also use.
Edible Glitter
Cupcakes, cake pops or even popcorn! You need to spread this edible glitter on all of your party snacks. Bonus, it's super easy to make!
Related: What You Need to Throw the Best Spa Party
Golden Glitter Balloon Guessing Game
While you've got balloons, turn it into a party game! Fill a bunch of balloons with colored glitter and one balloon with gold glitter. Set the balloons on the ground and have each person take turns popping a balloon. The person who gets the golden glitter balloon wins!
Glitter Confetti Eggs
This is a messy part of the party, but so much fun if you can pull it off! Confetti eggs or Mascarenes are usually made around Easter time, but there is no reason why you can't have some fun at your party with them too! I recommend using sparkly confetti instead of glitter for this idea. Glitter when you throw it tends to be a billion times more messy than confetti. Do be careful, glitter in the eye is no fun for anyone.
Glitter Flower Crowns
Turn your whole squad into magical fairies when you make these fun glittery floral crowns! You can make these with your friends, or surprise them by making these beautiful glittery floral crowns before the party. Beautiful!
Glitter Shoes
Here's another fun project you can do with your friends once they are at your party! Glitter your shoes, glitter all the shoes! Ask each friend to bring a pair of old canvas shoes, or pick up a couple inexpensive pairs before your friends come over. You and your friends can then glitter your shoes together and rock the look once it dries! You can use this method of canvas shoes, but it could also work for sparkly heels too!
Glitter Hair And Roots
Whether you choose to go with the glitter roots trend, or just want to add streaks of colorful glitter to your hair, this tutorial will give you all the sparkle and shine you need. Set up a table and give everyone glitter roots!
So do you have a glitter party in the works for your friends? If you could have your dream glitter party, what would you create? Tell me in the comments!