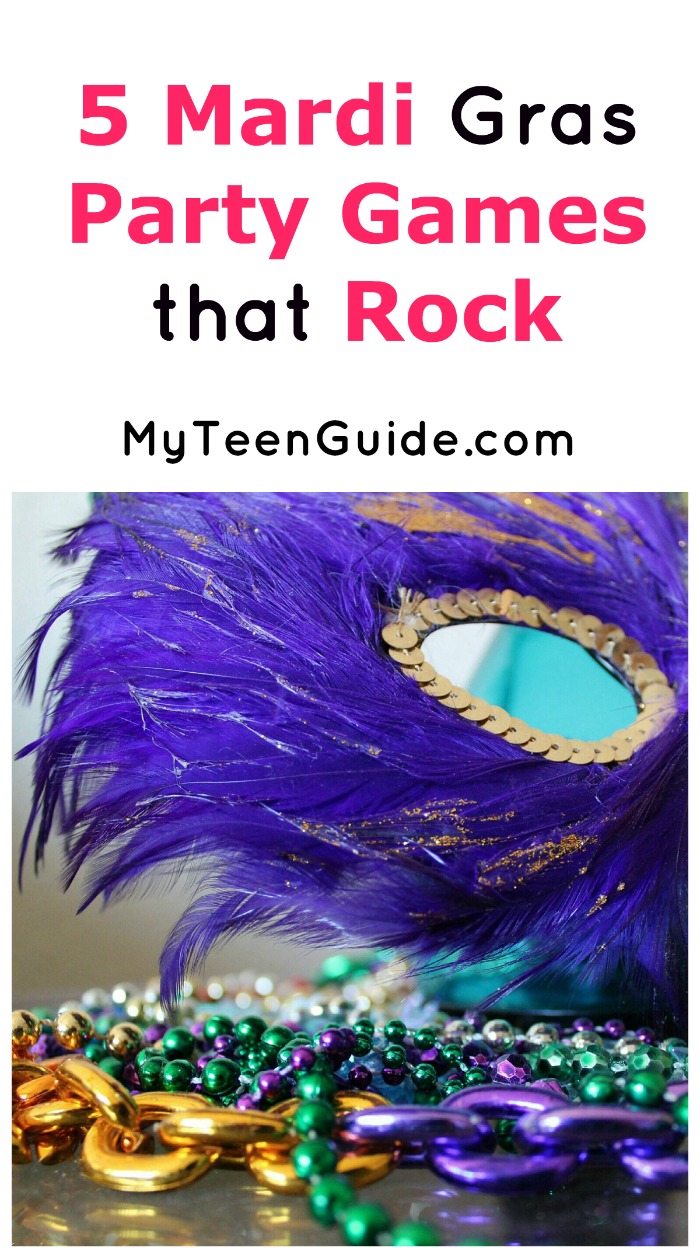 Looking for some fun Mardi Gras party games to rock your party bayou-style?
We've got you covered! Mardi Gras, otherwise known as "Fat Tuesday," is an annual Southern Louisiana tradition.
This celebration is celebrated publically, as well as by way of hundreds of private parties.
If you're planning your own party, this year, chances are you'll want to incorporate a few games to raise the "fun factor." Here are a few suggestions, to get you started.
Mardi Gras Party Games
Costume Contest
Mardi Gras wouldn't be the same without extravagant, colorful costumes. When you create invitations for your Mardi Gras party, make sure to urge your guests to wear costumes.
On the night of the event, set out an empty punch bowl and blank slips of paper Ask guests to vote on their favorite costume.
Another option is to allow votes in different categories (Most Original, Most Colorful, Most Over-the-Top, etc.) if you want the contest to be a bigger part of your party.
https://www.instagram.com/p/BPnSm3ChxtF/?tagged=mardigras
Gold Coin Scavenger Hunt
Before your party starts, buy either gold foiled chocolate coins or a bag of plastic coins.
Hide them all throughout the areas where you'll be hosting your party.
As your guests arrive, hand out small gift bags they can collect coins in. Whoever has the most coins at the end of the party is the winner.
To make this game even more exciting, you might also hide a few plastic eggs with small prizes inside.
Forbidden Word Bead Game
https://www.instagram.com/p/BPmL8Z5g0Fa/?tagged=mardigrasbeads
As your guests start to show up, hand each of them a string of Mardi Gras beads.
Make sure that they're as unique as possible, so that guests don't get them mixed up with their other beads.
Choose a word that people are likely to say a lot during the party (like "beads" or "drink.") If a guest catches someone saying the forbidden word during the party, they can take a string of the special beads from them. Whoever has the most necklaces at the end of the night is the winner.
Guess How Many Beads
To set up for this game, fill a glass jar with as many Mardi Gras beads as you can fit into it.
Make sure you keep track of exactly how many beads you put in. Leave out slips of paper for people to write their guesses on and a box to keep them in.
Whoever's guess is the closest by the end of the night is the winner.
https://www.instagram.com/p/BPczULojB8y/?tagged=mardigrasbeads
Mardi Gras Trivia
There are a number of different Mardi Gras themed printable trivia games online.
Print out enough copies of a few of these games for each of your guests. Ask everyone to fill them out and turn them in at their leisure during the party.
Whoever answers the most questions right wins. Guess what?
The fun doesn't have to stop with trivia. You can find other printer-friendly Mardi Gras party games online, including bingo, matching games, and word scrambles.
When it comes to fun Mardi Gras party games, this is just the beginning. For best results, the key is to choose games that appeal to guests of all ages. This way, everyone can easily participate.
Do you have any favorite Mardi Gras party games? Share in the comments!