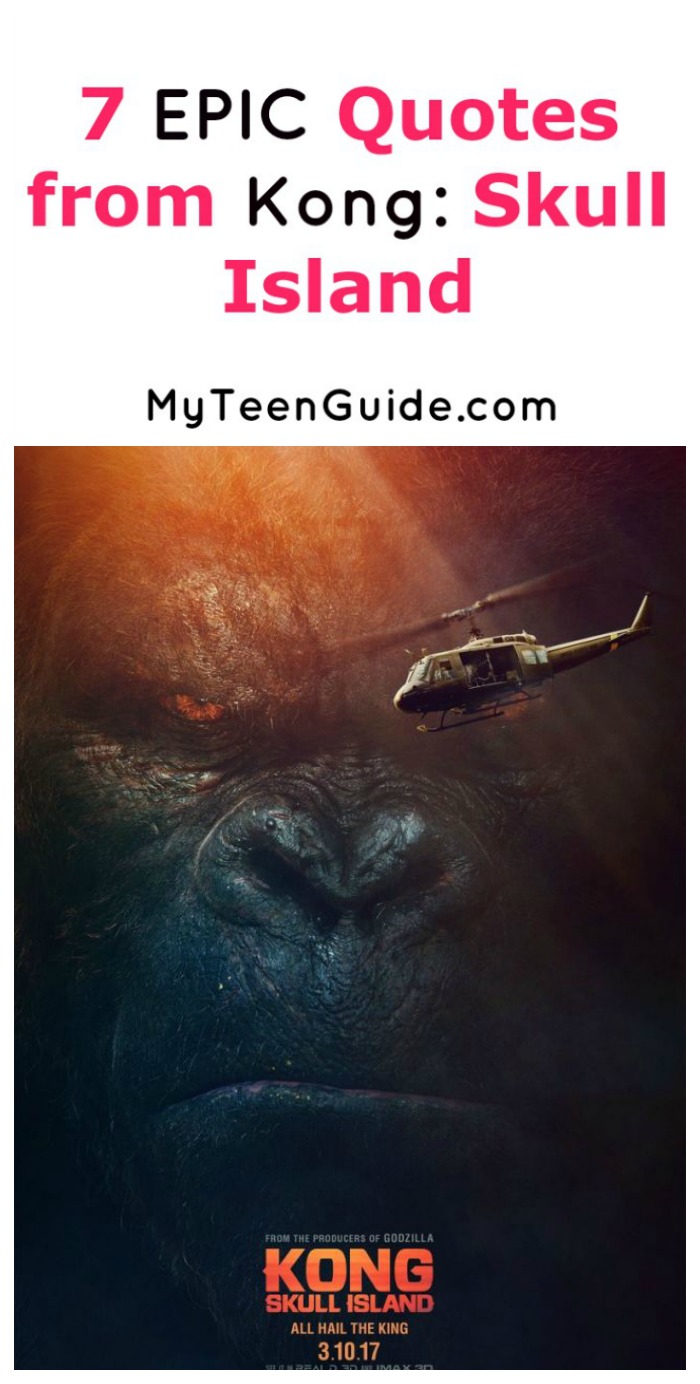 Get ready for some epic Kong: Skull Island movie quotes! If you checked out our Kong trivia post, you know that the world's most famous ginormous ape is getting a total reboot. Kong: Skull Island is an upcoming monster movie that will hit theaters on March 10, 2017. It features an all-star cast including Tom Hiddleston as Captain James Conrad, John Goodman as William Randa and Samuel L. Jackson as Lieutenant Colonel Packard.
Check out the trailer, then read on for our favorite Kong: Skull Island movie quotes.
Kong: Skull Island Movie Quotes
The movie focuses on a group of soldiers and explorers who travel to an uncharted Pacific Ocean island, known as Skull Island, unaware of what resides on the island. Here are a few epic quotes to check out:
Conversation between Lieutenant Colonel Packard and William Randa:
Packard- "You knew that thing was out here?"
William- "I'm sorry for your men, colonel. But if you want to make the sacrifice worthwhile, get us home with proof. Monsters exist."
Packard was hired to pilot the chopper that brings the group to Skull Island. Randa is a government official that is tasked with leading the Kong Island expedition.
Conversation between Glenn Mill and Ralph:
Glenn- "What the hell is this place?"
Ralph- "That's Kong, he's king around here. Kong's a pretty good king. Keeps to himself mostly, but you don't go into someone's house and start dropping bombs unless you're picking a fight."
Glenn is a helicopter pilot. Ralph is a WWII soldier who was stranded on Skull Island. Ralph knows all about the monsters that inhabit the island.
Conversation between Ralph and Captain James Conrad:
Ralph- "Kong's God on the island, but the devils live below us."
James- "And what are they called?"
Ralph- "I call them skull crawlers."
James- "Why?"
Ralph- "I've never said that name out loud before, it sounds stupid now that I say it. Just you call them whatever you want."
Ralph named the underground monsters skull crawlers. Captain Conrad used to be an officer with the British Special Air Service and is now a hunter-tracker.
Conversation between Glenn Mill and Captain James Conrad:
Glenn- "We'll use explosives to shake the earth, helping us to map the surface of the island."
James- "You're dropping bombs?"
Glenn- "Scientific instruments."
Ralph, talking to the other islanders, referring to the group that just landed on Skull Island:
Ralph- "This is a good group of boys. We're all going to die together out here."
William Randa, looking out of the helicopter window, noticing King Kong's gigantic bloody handprint on the side of the mountain:
William- "Magnificent."
Major Chapman, looking down at Skull Island from a helicopter window:
Chapman- "Is that a monkey?"
After Chapman asks the question, a palm tree is tossed at the helicopter.
Have you heard any other great Kong: Skull Island movie quotes? Share in the comments!