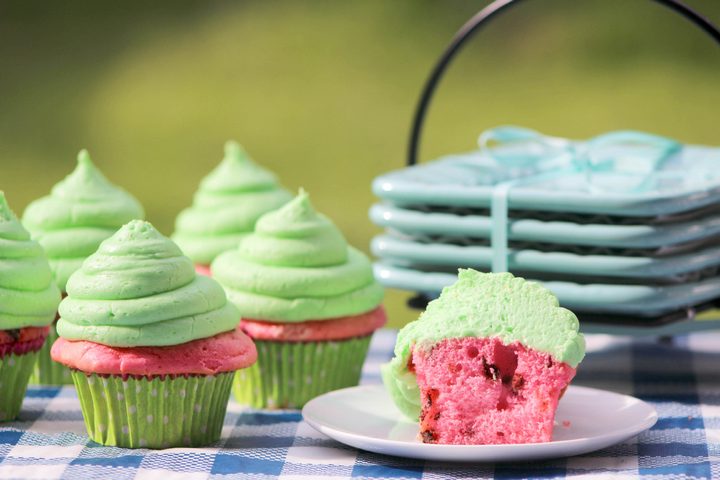 Summer may be over, but that doesn't mean we can't still relish in some of the best parts of it!
This delicious watermelon cupcakes recipe totally invokes images of all those lazy summer BBQs with your bff.
Plus, since it just LOOKS like a watermelon, you don't have to worry about finding in-season fruit to make it!
It's absolutely perfect for a winter luau party, don't you think?
How to Make This Watermelon Cupcakes Recipe
Affiliate links included. We earn a commission at no extra charge for you.
Watermelon Cupcakes
Ingredients:
1/2 C unsalted butter, room temp
2 egg whites, room temp
2 eggs, room temp
2 C flour
1 tsp baking powder
1/2 tsp salt
1/4 tsp baking soda
3/4 C buttermilk
1 1/2 C sugar
1 tsp vanilla extract
1 tsp almond extract
1 C mini Chocolate chips
Red gel food coloring
Directions:
Preheat oven to 350 degrees.
Set up the 

cupcake

 pan with liners.
Using a medium bowl, whisk flour, baking powder, salt, and baking soda.
In a separate large mixing bowl, beat the butter with an electric mixer on medium to high for 30 seconds.
Add sugar, vanilla, and almond extract to the butter and beat until combined.
Add egg whites, and then eggs one at a time, beating well after each addition.
Alternate adding the flour mixture and buttermilk to the butter mixture, beating on low speed until everything is mixed together.
Add several drops of red gel food coloring until the batter looks like 

watermelon

 red.
Add the mini chocolate chips.  Stir well.
Fill the 

cupcake

 tins till they are  2/3rds with 

cake

 batter.
Bake for 20-25 minutes.
Allow 

cupcakes

 to cool in the 

cupcake

 pan for 10 minutes then remove and allow to cool completely on a wire rack.
Frosting: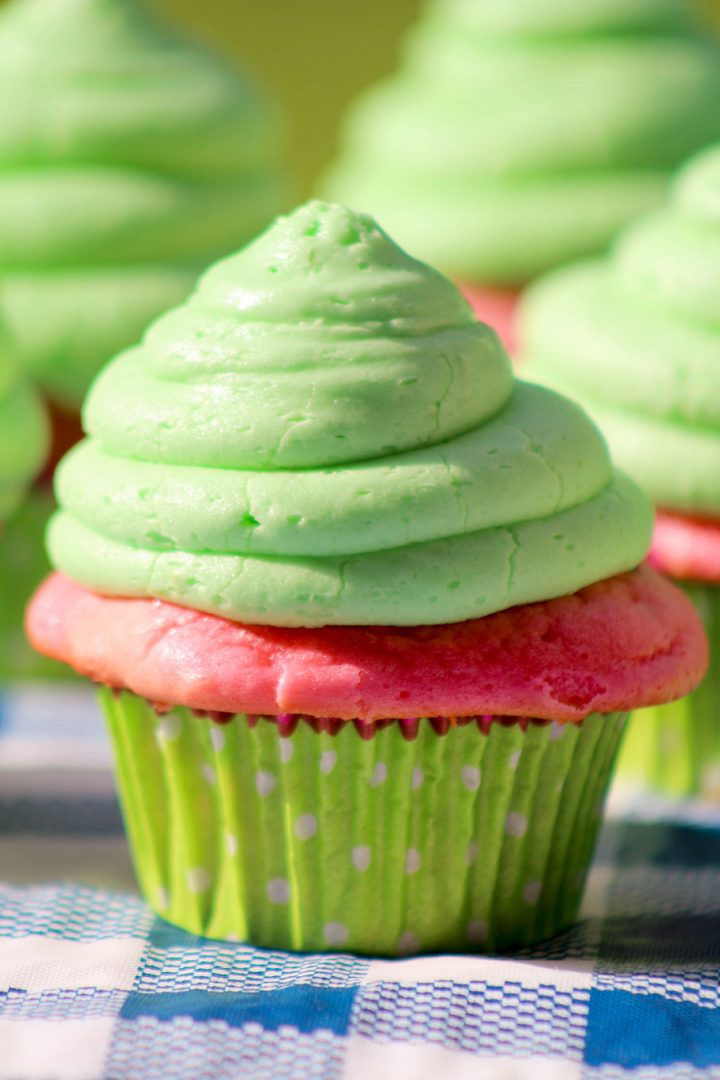 Ingredients:
2 sticks of unsalted butter, room temp
4-5 C powdered sugar
4-5 TBSP of heavy whipping cream
Green  gel food coloring
Directions:
Cream the butter and powder sugar until it looks light and creamy.
If it doesn't cream add the heavy whipping cream.
Test to see if the frosting can form and hold a stiff peak by taking a large spoonful and turning the spoon upside down.  If the frosting doesn't fall it is ready. If the frosting does fall off the spoon then….
Add more powder sugar 1/2 C at a time.
Test to make sure that the frosting can make and hold a stiff peak.
When frosting is ready, add several drops of green gel food coloring.( Color should be a pastel green  color to look like a rind of a 

watermelon

.)  Stir well to blend both the extract and the food coloring throughout the frosting.
Scoop the frosting into a pastry bag with a large frosting tip and frost your 

cupcakes

.

Looking for more delicious cupcake recipes? We have a few fun ones that you'll love! Try: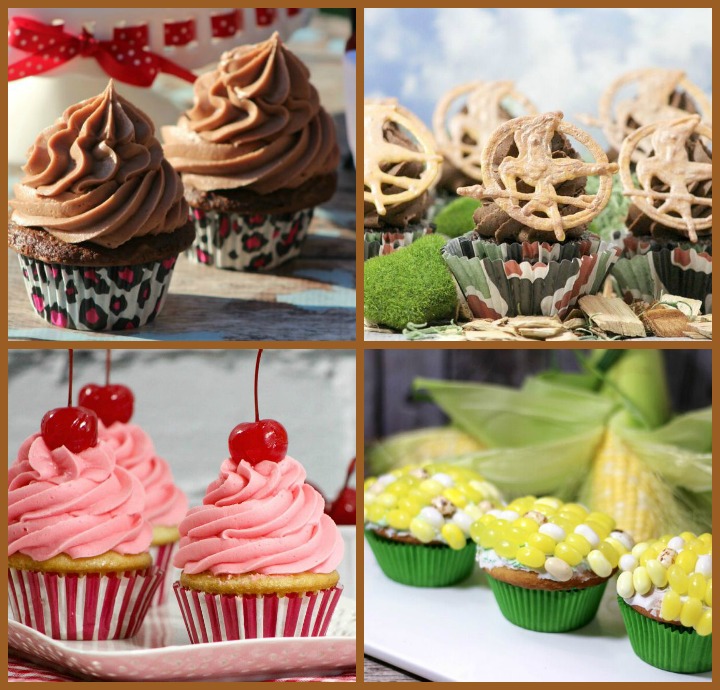 Do you have a favorite cupcake recipe for teens? Share it in the comments!