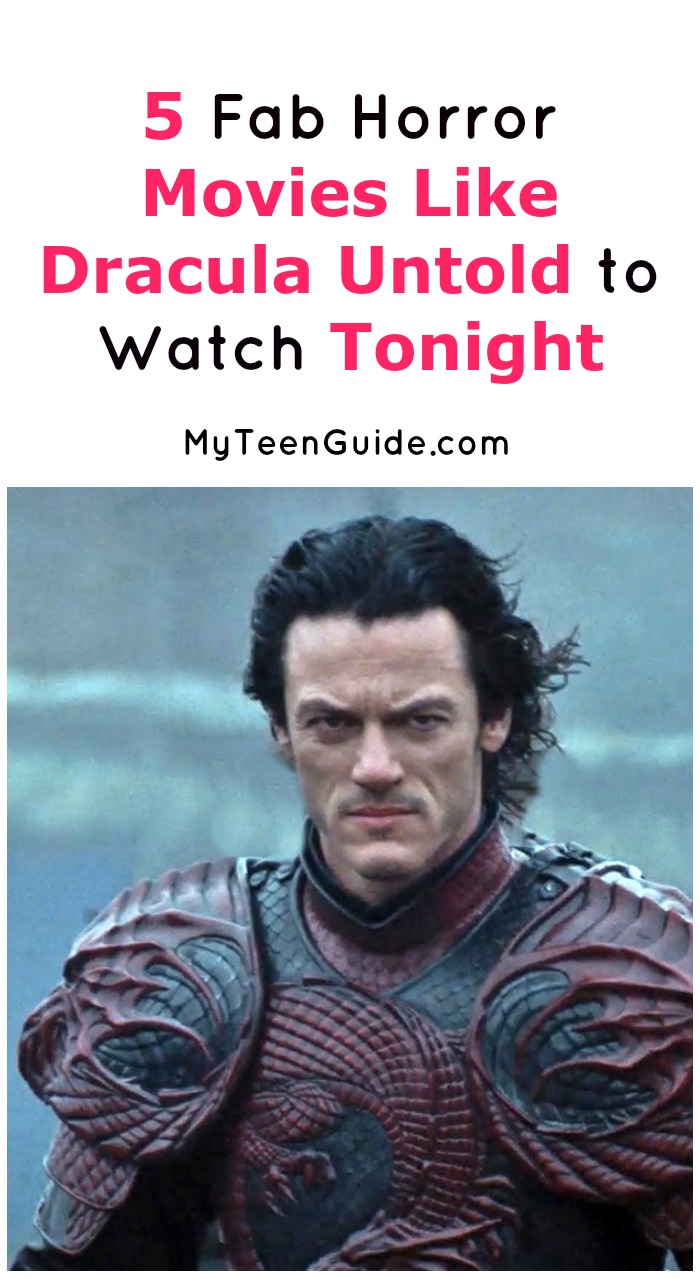 Looking for more movies like Dracula Untold that blend horror, action and maybe even a bit of history? We have five more flicks that we think you're going to love! Dracula Untold is a 2014 dark fantasy, action, horror movie that focuses on the title character of Count Dracula, by retelling the tale of Vlad the Impaler. In the movie, Vlad Tepes is a young prince who becomes a monster in order to protect his kingdom from the threat of the Turks. Dracula Untold stars Luke Evans as Vlad Tepes/Dracula. Here are some other movies for you to watch that are like Dracula Untold.
Movies Like Dracula Untold
Affiliate links included below. Thanks for your support!
Dracula 2000
Dracula 2000
is a 2000 vampire horror action movie is somewhat of a continuation of the 1897 book titled Dracula by Bram Stoker, with Count Dracula resurrected in the United States as it is today. The movie focuses on the story of a group of thieves who steal the silver coffin containing the body of Count Dracula, essentially awakening the Count. Count Dracula heads to Louisiana in search of his estranged daughter, Mary Heller. Dracula 2000 stars Gerard Butler as Count Dracula and Justine Waddell as Mary Heller.
Dark Prince: The True Story of Dracula
Dark Prince: The True Story of Dracula
is a 2000 horror war television movie that debuted on USA Network on October 31, 2000. The movie tells the story of Vlad Dracula, a noble patriot who fights a bloody battle in order to avenge his father's murder and regain control of the kingdom that is now his. Dark Prince: The True Story of Dracula stars Rudolph Martin as Vlad Dracula the Impaler.
Van Helsing
Van Helsing
is a 2004 dark fantasy, action, adventure movie is a tribute to the 1930's and 1940's horror monster movies from Universal Studios, including the 1931 Dracula, the 1935 Bride of Frankenstein, the 1943 Son of Dracula and the 1944 House of Frankenstein. The movie's title character, Van Helsing, was inspired by the vampire hunter character, Abraham Van Helsing, from the 1897 book titled Dracula by Bram Stoker. In the movie, Van Helsing heads to Transylvania in order to stop Count Dracula from using a sinister monster he created to terrorize the town. Van Helsing stars Hugh Jackman as Van Helsing and Richard Roxburgh as Count Dracula.
I, Frankenstein
I, Frankenstein
is a 2014 movie that features fantasy, thriller, horror and action. It is based on the 2013 Darkstorm Comics written by Kevin Grevioux. The movie focuses on Adam Frankenstein, a superhuman creature that was the creation of Doctor Victor Frankenstein. I, Frankenstein stars Aaron Eckhart as Adam Frankenstein and Aden Young as Doctor Victor Frankenstein.
The Last Witch Hunter
The Last Witch Hunter
is a 2015 dark fantasy action movie that showcases the life and adventures of Kaulder, a witch hunter who is immortal and is tasked with stopping the raging forces of some of history's most sinister witches, while also trying to save the human race. The Last Witch Hunter stars Vin Diesel as Kaulder.
These fab movies like Dracula Untold should give you plenty of creepy material for your weekend binge watching! I really liked I, Frankenstein. I've always been a big fan of Mary Shelley's monster! What about you?
Do you have any other favorite movies like Dracula Untold? Share below!