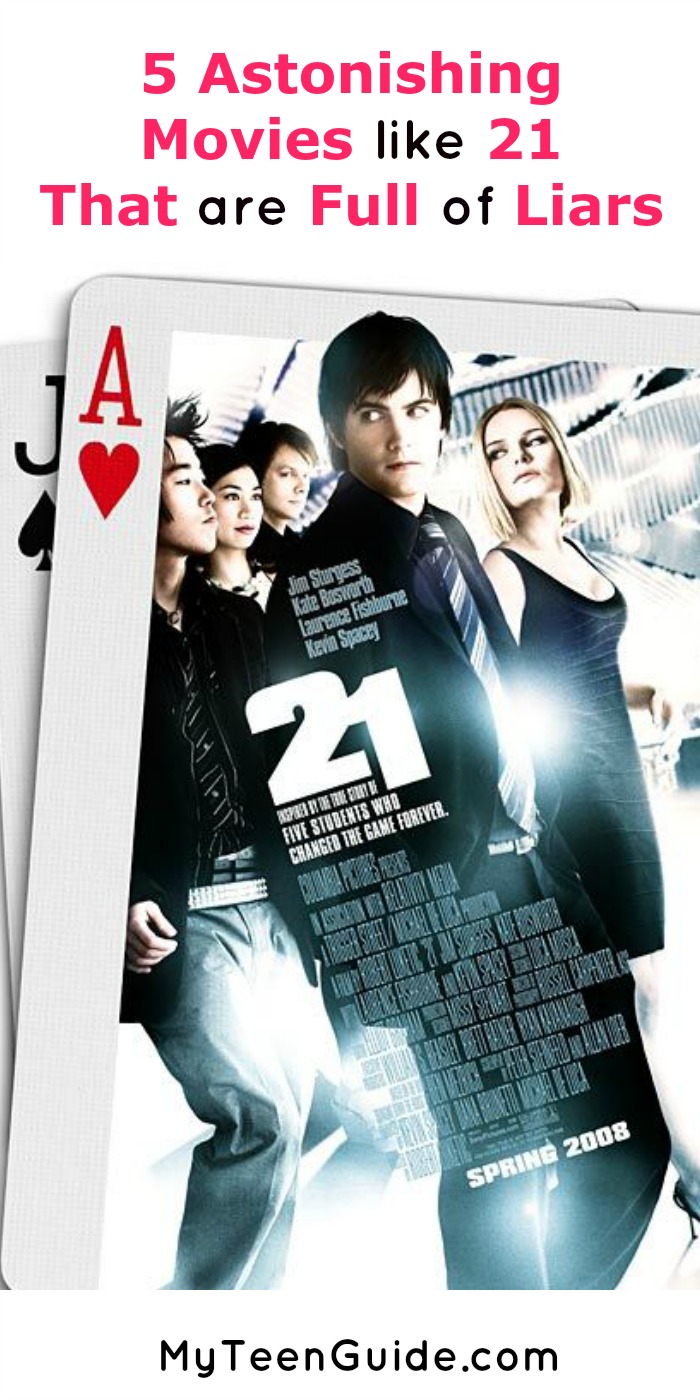 If you think you could pull a fast one then you need to check out these movies like 21! These fast paced movies are the perfect way to get your adrenaline pumping! I haven't watched 21 for a while, but I caught it the other day, and I forgot just how much I loved this movie. The concept that anyone can bring down the house and walk out a winner is one that is fascinating, especially seeing all the deals that take place behind the scenes. If you love watching people lying and cheating their way through (how did they get away with it exactly?!?), then you have to see these films! Check out the full list below.
Related –> All The Shows like Shameless and Weeds That Are A Hot Mess
5 Astonishing Movies Like 21 That Are Full Of Liars
21 is a 2008 heist drama movie that is based on the 2003 book Bringing Down the House by Ben Mezrich and the true life story of the MIT Blackjack Team. The movie stars Jim Sturgess as Ben Campbell, Kevin Spacey as Micky Rosa, Kate Bosworth as Jill Taylor and Laurence Fishburne as Cole Williams. Watch the movie trailer below!
Here are some movies like 21.
Ocean's Eleven
Ocean's Eleven is a 2001 comedy heist movie that is a remake on the 1960 movie of the same name. It is the 1st of 3 films, with Ocean's Twelve in 2004 and Ocean's Thirteen in 2007. The movie tells the adventures of Danny Ocean and his accomplices as they plan to rob 3 casinos in Las Vegas at the same time. Ocean's Eleven stars George Clooney as Danny Ocean, Brad Pitt as Rusty Ryan, Matt Damon as Linus Caldwell, Don Cheadle as Basher Tarr, Bernie Mac as Frank Catton, Scott Caan as Turk Malloy, Casey Affleck as Virgil Malloy, Carl Reiner as Saul Bloom, Elliott Gould as Reuben Tishkoff, Eddie Jemison as Livingston Dell and Shaobo Qin as Yen.
The Last Casino
The Last Casino is a 2004 comedy drama movie that is also based on the 2003 book Bringing Down the House by Ben Mezrich just like the movie 21. The movie is about Doug Barnes, a university professor who recruits George, Scott and Elyse, three of his smartest students to learn the world of card counting. Later, he makes them play and win all for him. The Last Casino stars Charles Martin Smith as Doug, Albert Chung as George, Kris Lemche as Scott and Katharine Isabelle as Elyse, and is a Canadian film.
Lucky You
Lucky You is another movie like 21! It is a 2007 drama movie that was inspired by the 1970 movie The Only Game in Town.  The movie revolves around Huck Cheever, a tournament poker player trying to win in Las Vegas but at the same time, he is also losing when it comes to his personal problems. Lucky You stars Eric Bana as Huck.
Casino Jack
Casino Jack is a 2010 movie that has action, thrills, and comedy. The movie is about a hot shot lobbyist in Washington, D.C., Jack Abramoff, and several other lobbyists and congregational staffers were convicted as part of a large corruption scandal in 2005 regarding Native American casino gambling. Casino Jack stars Kevin Spacey as Jack.
The Social Network
The Social Network is a 2010 biographical drama movie that is based on the 2009 book The Accidental Billionaires: The Founding of Facebook: A Tale of Sex, Money, Genius and Betrayal. The movie is the story of how Facebook was started by a group of Harvard college kids. The Social Network stars Jesse Eisenberg as Mark Zuckerberg, Andrew Garfield as Eduardo Saverin, Justin Timberlake as Sean Parker, Joseph Mazzello as Dustin Moskovitz and Patrick Mapel as Chris Hughes.
Ocean's 11 (and all of its sequels!) is another film I'm overdue to watch, but is totally worth watching more then once. Which of these movies like 21 are you going to be watching soon?
Image via Wikia