Looking for more incredible movies like The Edge of Seventeen that celebrate girl power and available on Netflix? We're sharing our top 10 flicks to watch! Let's check them out!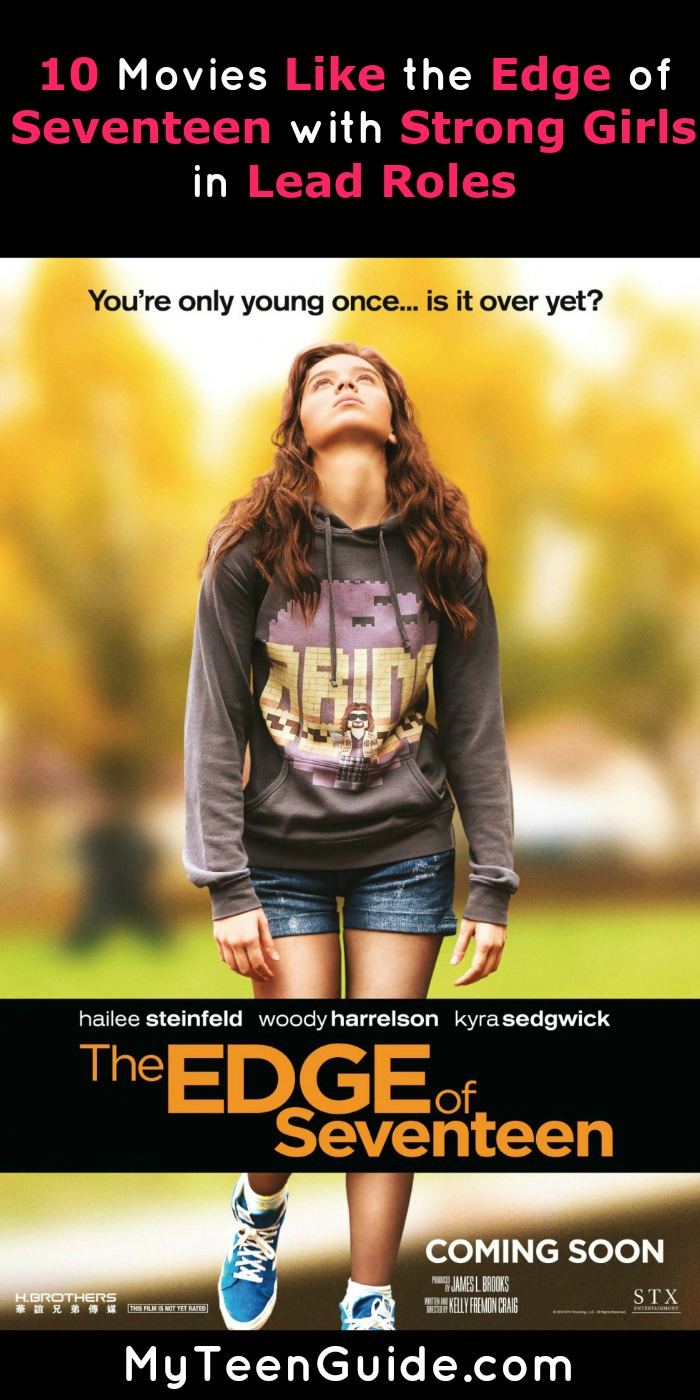 Even though The Edge of Seventeen can be branded as a classic coming of age teen comedy, which it is in the strictest sense, it can also be considered to be a strong feminist movie with a powerful female lead, often unaware of her strength. And even if you do want to judge this movie just from the genre standpoint, it certainly comes at the very top.
When her best (and only) friend starts dating her older brother, Nadine (Hailee Steinfeld) begins to question her purpose, her lack of love life and all the other issues which arise from being a high-school outcast. Nadine's talks with her history teacher (Woody Harrelson) are probably the comedic highlight of the movie, even though the entire film is full of great humor and awkward situations. And if you liked The Edge of Seventeen, you will surely love some of the movies on our list as well.
10 Movies Like the Edge of Seventeen
1. Juno
Teenage pregnancy is not a thing that is supposed to be taken lightly, but with the right approach from all sides involved, it can be much easier to bear with the consequences. Juno manages to take this serious issue and create an ultimate feel-good movie with a lot of great humor and a strong female character in the leading role.
https://www.youtube.com/watch?v=QuN0Z65sp5c
2. Pitch Perfect
This movie is one of the rare successful combinations of musical and teen comedy, and if you are in the mood for some a capella singing mixed with classic problems of teenagers, Pitch Perfect will keep you engaged from the beginning to the end.
3. Heathers
One of the very first teen comedy movies like The Edge of Seventeen on Netflix, Heathers is also special because it manages to break those shackles and become much more thanks to some dark elements that are included in it. With Christian Slater and Winona Rider in leading roles, this movie really stands on its own when it comes to teen comedies.
4. Me and Earl and the Dying Girl
This  movie on Netflix can't really be classified as a teen comedy, even though it has a lot of humor in it. It is a true coming of age story in which a couple of boys befriend a teenage girl with leukemia, but it is also a wonderful movie because it manages to stay positive even though it deals with such deep and hard emotions and questions about life, death, friendship and love.
5. Election
Reese Witherspoon plays a quirky teen with a lot of confidence and only one goal in mind – to become the president of a student government. Matthew Broderick plays her teacher who finds himself in the midst of a mid-life crisis. Their clash will bring many awkward and extremely funny moments, so don't miss this great movie.
6. Mean Girls
This is a classic teen comedy in which Lindsey Lohan showed the promise of what could have been with her career. The plot pretty much follows the well-proven mold of teenage comedies; a new girl arrives and becomes too popular that she loses the sight of things that really matter, like love and friendship and having empathy for other people. And, unlike other similar movies, Mean Girls hits it out of the ballpark.
7. The Breakfast Club
If you haven't seen The Breakfast Club yet, that means that you are either too young and still haven't discovered it, or you don't like coming of age movies at all. If you are in the first group, this movie about a bunch of high-schoolers from different cliques bundled together during an 8-hour long detention needs to be on top of your watchlist. This is definitely one of my all-time favorite movies like The Edge of Seventeen!
8. The Perks of Being a Wallflower
Emma Stone plays one of the leading roles in this sweet coming of age movie and when she says to her newfound friend Charlie (Logan Lerman) "Welcome to the Island of Misfit Toys", that pretty much sums up the entire plot. However, with such a simple premise, The Perks of Being a Wallflower still delivers profoundly moving and emotional experience.
9. Easy A
Easy A is probably the one movie on this list that is the most like The Edge of Seventeen. Emma Stone depicts a teenage girl who gets into a riff with her best friend and, one lie after another, becomes the object of gossip while being in the middle of many weird and scandalous situations.
10. Sing Street
This is one of those movies like The Edge of Seventeen  that creeps up on you unexpectedly and stays with you forever. This coming of age comedy truly captures the atmosphere of a hopeless teen romance and mixes it up with a lot of great music because the leading character in this movie forms a band to get the girl.
https://www.youtube.com/watch?v=C_YqJ_aimkM
Even if you are just a casual fan of teen comedies, The Edge of Seventeen will provide you with a lot of laughs, emotions and intrigue. And if you really like it, give these movies like The Edge of Seventeen from our list a chance as well. You won't regret it.
Do you have any other favorite comedy movies like The Edge of Seventeen on Netflix? Tell us all about them below!