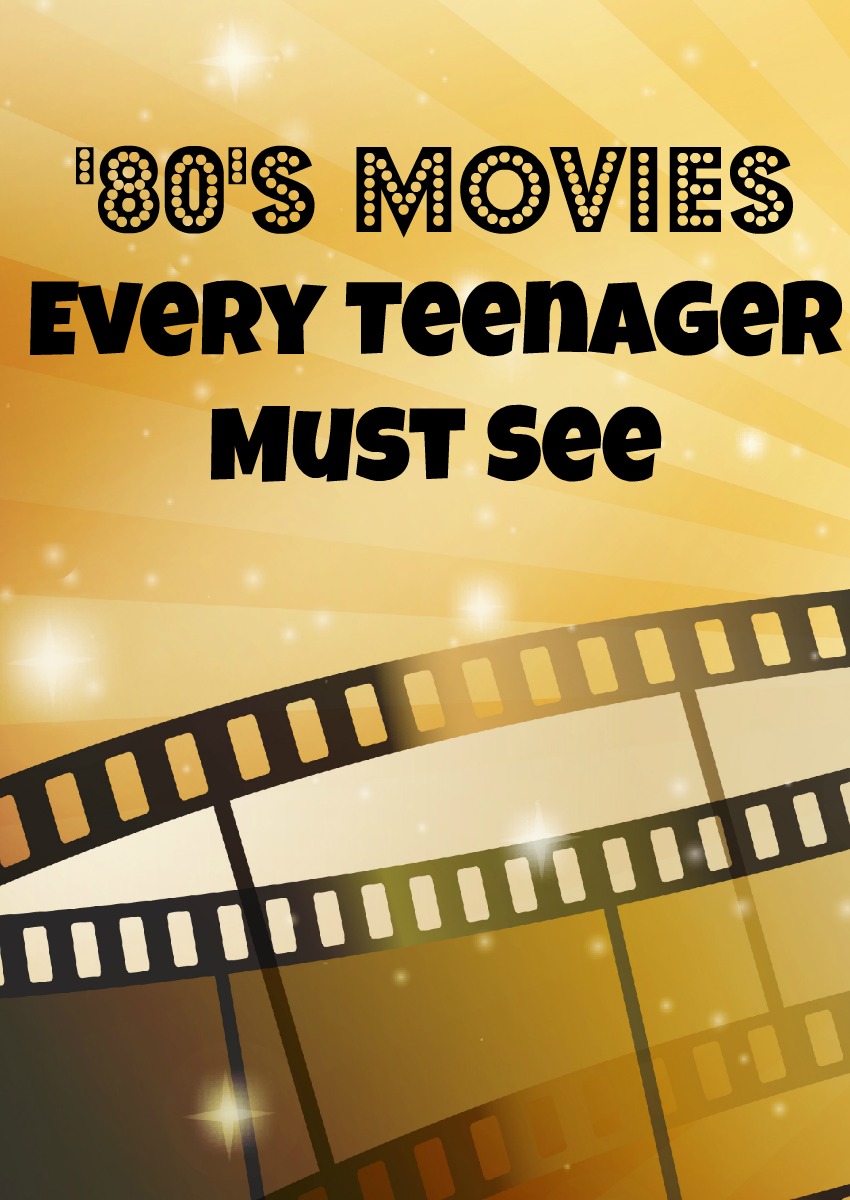 I love '80's teen movies!  As teenagers, my friends and I used to watch these movies all the time.  We would go to Blockbuster (remember that store?) and browse.  I'm not quite sure what it is about that decade, but there are some really great movies that every teenager must see.  Sort of like a rite of passage into adulthood.  Here is my list of must-see teen movies from the 80s!
Related: Hottest Teen Movies To Watch On Netflix This Summer
Must-See Teen Movies from the 80s
The Goonies (1985) I have seen this movie so many times.  Set in Oregon, this group of friends lives in the Goon Dock area of Astoria and are thus called 'Goonies' (a fun fact I just learned!)  The kids get together one weekend and while going through one of their attics, find an old 1632 treasure map.  Using the map to point them in the direction of the treasure, they find an old restaurant and explore coming across some tunnels and a family that is hiding out and running a counterfeit operation.  Classified as an adventure comedy, it is exactly that!
Dirty Dancing (1987) This is my all-time favorite movie. I did a little dance when I came across it on Netflix!  Good girl falls in love with bad boy in the summer of 1963 at an upscale resort in the Catskills.  The resort employs dance instructors for the guests and Johnny (bad boy) is one of the head instructors.  Baby (good girl) runs into Johnny's cousin one night and he brings her to where the dance staff is having their own (dirty) dance party.  Baby is smitten and spends the summer secretly meeting him. There is more to the story, just click play on Netflix.
Big (1988) We have all wished this when we were kids, to be bigger.  To be big meant we could do whatever we wanted.  Tom Hanks made that wish one night at a carnival and he got what he wished for.  I won't give it all away, you just have to watch to see what happens to the teenage boy in an adult man's body.
Say Anything (1989) Your classic 'slacker dates smart girl' movie, starring John Cusack and Ione Skye.  You might have seen the posters of Cusack holding a boombox above his head outside of Skye's bedroom window (that would be a big box with speakers that played music, very popular in the '80's).  Let's just say that in 2002 Entertainment Weekly ranked this romantic comedy drama number 11 in it's list of top 50 best high-school movies.
Labyrinth (1986) If I described this movie as a British-American musical adventure fantasy film, with most of the cast being puppets from Jim Henson's Creature Shop, you would most definately laugh at me and move on, so let's pretend you didn't read that.  It is a cult classic, a must-see among 80's films.  David Bowie is the Goblin King, and has stolen the baby brother of Sarah, played by Jennifer Connelly, and she must follow him through, well, the Labyrinth, to get him back.  Just be sure to not be so mesmorized by Bowie's fabulous '80's hair you miss the film.
The Shining (1980) I do not like scary movies, but I do like this one.  Which is odd, because it has been listed as one of the 11 scariest horror movies of all time.  It is based on Stephen King's 1977 novel of the same name, although they differ significantly, but I couldn't tell you how, as I have not read the book (again, I do not do well with scary things).  The patriarch in the family takes a job as an off season caretaker of a hotel.  While there, they get snowed in and he, for lack of better terms, goes nuts, attempting to murder his wife and son.  Oh, the hotel is haunted, and his psychic son is able to see and hear the spirits that haunt the grand hotel.  If you are like me, have a blanket close by to cover your eyes for the spooky parts!
Related: Scare Yourselves Silly With Our Horror Movie Marathon Party Games
There are so many teen movies from the '80's that could have made this list.  I had to narrow it down!  Since we have so many ways of watching movies these days with Netflix and the internet, you shouldn't have any problem finding these titles and more to fill your rainy weekend nights.
What are some great '80's teen movies you have seen that you consider must-see for you and your friends?