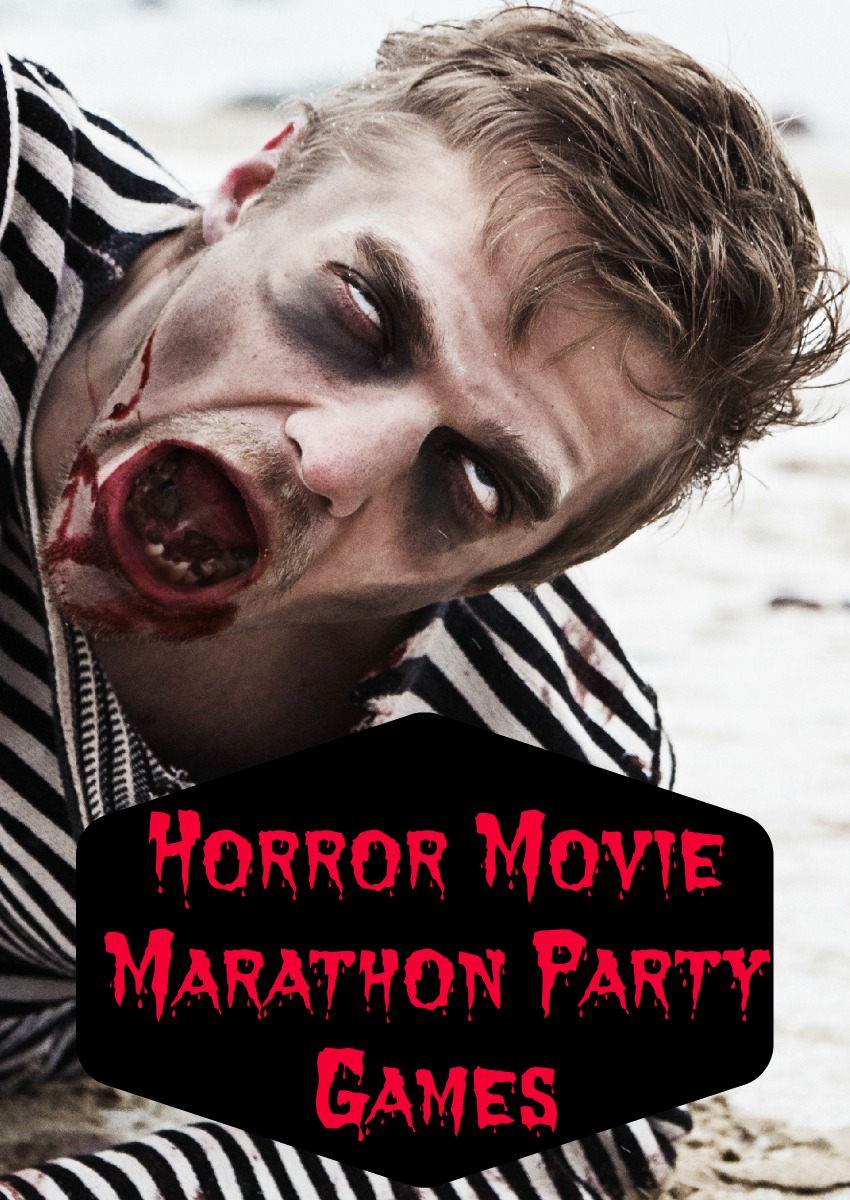 Planning a horror movie marathon for you and your friends? Why not go all out and make it a party, complete with awesome (or maybe gruesome!) teen party games! Sure, you could just sit around and watch flick after flick, but really, how much fun is that? Okay, fine, it's fun when you're with the right people. Still, throw in a few fun party games and it's, well, it's a party! Check out our ideas for super creepy horror movie marathon teen party games!
Related: Faction Focused Divergent Party Ideas
Horror Movie Marathon Teen Party Games
Name that movie: Using synonyms as a clue, your friends have to guess the real title of the horror movie.  For example, for the movie 'Jaws', your clue would be 'Mandibles' and for the Halloween series, the clue would be 'All Hallows Eve'.  You can create teams too, so everyone can put their heads together.
Pandora's box: You are going to need 4 styrofoam coolers.  Do not label them, but you are going to fill them with the following: one with ice, this will be the unpleasant one, fill one with worms and dirt as the gross one, another filled with syrup and peeled, smashed grapes as the creepy one (add red food coloring to it to make it seem like blood!) and the final one fill with something nice, like jellybeans or feathers.  The idea is to try to choose the nice one.  Each guest has to hold their hand in the box for one minute, all the way to the bottom!  After each person, mix up the boxes so no one can cheat! In fact, if you want to make sure you don't accidentally remember which cooler is which somehow, ask your parents to fill them for you!
Light as a Feather, Stiff as a Board: This is one of the most classic teen party games of all time!  One person lays on the floor, legs out straight with arms crossed.  Everyone else touches them with their fingers underneath them, palms up.  Guests then start to chant 'light as a feather stiff as a board' but the person on the floor can not speak.  What do you think, will the person on the floor be lifted up in the air? Trust me, it's SUPER creepy!
Related: Party Games for Teens Stuck Indoors This Summer
Murder Mystery Game: This can be so fun! You will have to have an outsider create it (maybe get your parents to help out).   Each guest has a part to play.  Coming in costume makes it even more fun!  Create the invitations to tell them what they should be wearing for the part they are playing.  You can go to https://www.nightofmystery.com/ to get the details on how to play and make it the party your friends will be talking about at the lockers come fall!
With these fun horror movie marathon party games for teens, you and your friends will have a blast. I'll be honest, I don't usually like to be scared, but it is way more fun when you are with your friends!  This doesn't have to be saved for a birthday party either, just pick a free weekend and have your  friends over for a spooky party.
What other teen party games can you think of to play at a horror movie marathon?  Share your ideas below!