Oh, how I have been waiting for these Teen Movies To Watch On Netflix This Summer to be released!
I love Netflix and how it has so many of my classic favorites already, but that new release list is like gold to me!
Related: Top 10 Best Anime on Amazon Prime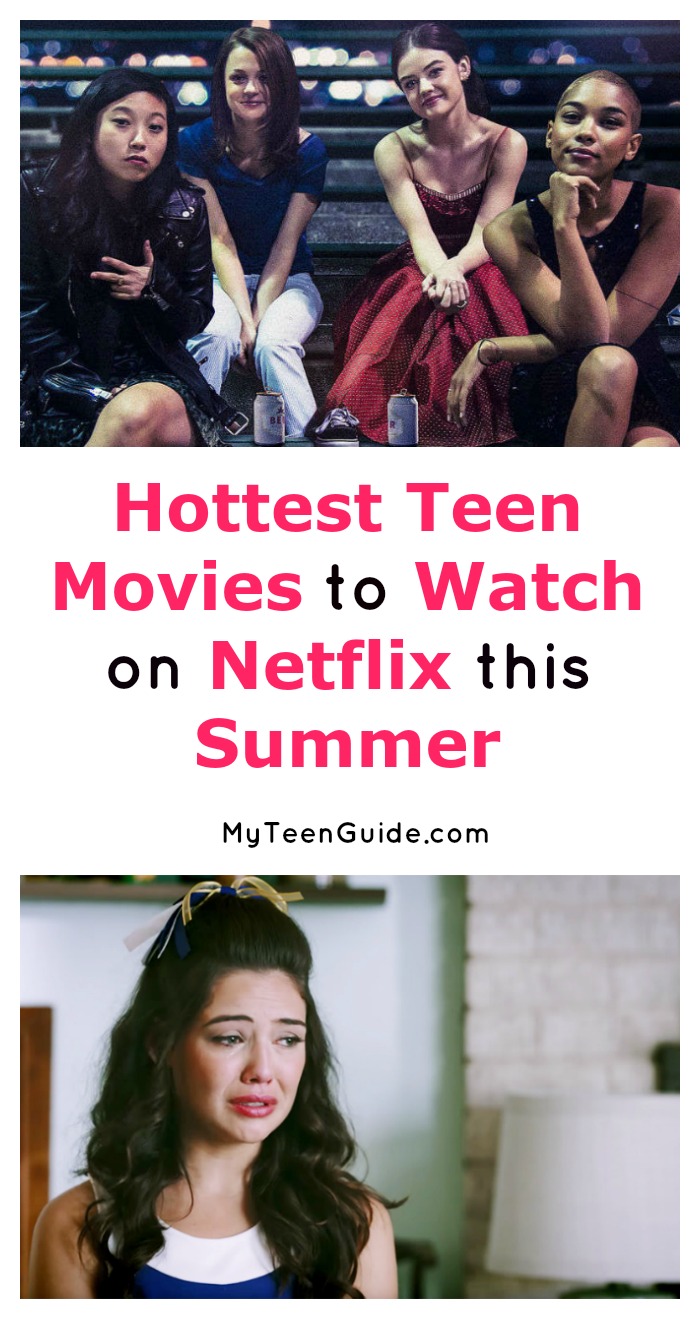 I sit waiting for them to make the announcements and hope that what I want will be on the list.
This year we got a lot of great teen movies to watch on Netflix!
I can't wait to dive in!
Related: 3 Must-Watch Summer Teen Movie Marathons
Teen Movies To Watch On Netflix This Summer
FYI: This post has been updated from the original to reflect Netflix's constantly changing lineup.
1. The Kissing Booth
Teenager Ellie's first kiss just happens to be with the hottest boy in school! Even better? That first kiss isn't the last. You'd think that's good news, but it's not so much when it means risking her relationship with her BFF.
This Netflix original stars Joey King, Joel Courtney, and Jacob Elordi. It's perfect for when you're in the mood for a quirky romantic comedy!
2. Candy Jar
Another Netflix original (so there's a good chance it will be around for a while), Candy Jar stars Jacob Latimore and Sami Gayle as Bennet and Lona, the only two students on their school's debate team.
When pressure from their overbearing moms and pending college admissions escalate, these two bitter rivals realize they may actually have more in common then they think!
3. Despicable Me 3
Poor Gru, just when he gets the hang of being a good guy, his long lost twin comes along to suck him back into the world of villainy.
While Despicable Me may technically be a kid's movie, I think we all secretly love it no matter how old we are! Watch it alone on a rainy weekend or gather your best friends and make it a Minions Marathon weekend!
4. Dude
Starring Lucy Hale of Pretty Little Liars, Dude follows the last days of high school for four best friends. While these BFFs aren't being tortured by an anonymous baddie, they are facing some tough challenges as they navigate a major loss and huge life changes.
Dude also stars Kathryn Prescott of the totally underrated MTV show, Finding Carter; and Alexandra Shipp, best known for her role as Storm in X-Men: Apocalypse.
5. I Am Number Four
While it's not exactly a new movie, it is relatively new to Netflix. I really liked this movie when it first came out, and summer seems like a good time to rewatch it.
If you're not familiar with it, I am Number Four is the story of an alien who is basically trying to avoid being murdered. See, there's a hit list with the names of aliens and their guardians, but the assassins have to go in order. This is the story of the 4th name on that list.
6. Before I Wake
If you're looking for teens movies to watch on Netflix this summer that will give you chills, this is the one! Before I Wake stars Kate Bosworth and Thomas Jane as Mark and Jessie, a couple morning the loss of their son.
Looking to fill the void and honor their child by helping another, they foster Cody, a child who turns out to have some very unique abilities.
7. When We First Met
What would you do to get the love of your life to actually fall in love with you? If you're Noah, you use a magical photo booth to take you back in time to the night you met the girl of your dreams for another chance to get her to fall for you.
If that doesn't work, you do it again. And again. And again! Noah relives the night he met Avery over and over, trying to get her to fall in love with him. Will it work? Watch the movie!
8. F the Prom
Maddy and Cole were once inseparable BFFs…before high school came along and turned them into FBFFs (former besties). It's a tale as old as time: she got popular, he didn't. Still, when Maddy gets betrayed by her backstabbing not-so-BFFs, Cole is right there waiting to join forces with her again…to ruin prom.
9. 47 Meters Down
In the 2016 movie, 47 Meters Down, Mandy Moore (of This is Us) and Claire Holt (Rebekah of Vampire Diaries and The Originals) play two sisters trapped in a shark cage at the bottom of the ocean. They're running out of air and the sharks are circling!
This is the perfect summer movie if you like suspense. Of course, if you're already afraid of sharks, you may want to skip it so you don't end up skipping the beach! On the other hand, if you avoid deep sea diving in a shark cage, you should be just fine!
10. The Open House
Another great summer movie for those looking for something a little spooky, The Open House stars Dylan Minnette of 13 Reasons Why. He and his mom move to a relative's vacant vacation home and quickly learn that it may not be as vacant as they thought!
Related: 9 Hunger Games Movie Quotes We Love
These movies are some of our favorites already, but seeing them come to Netflix makes for an awesome summer ahead of us!  I can't wait to pop the popcorn and snuggle up on my couch for some Netflixing!
Which of these teen movies to watch on Netflix this summer are you most looking forward to seeing? Are there any others that we should add to the list? Tell us in the comments!