These are the Marvel movies like Avengers: Infinity War that you NEED to see before heading to theaters!
In fact, they're a must-watch on any superhero movie lovers list! Let's check them out!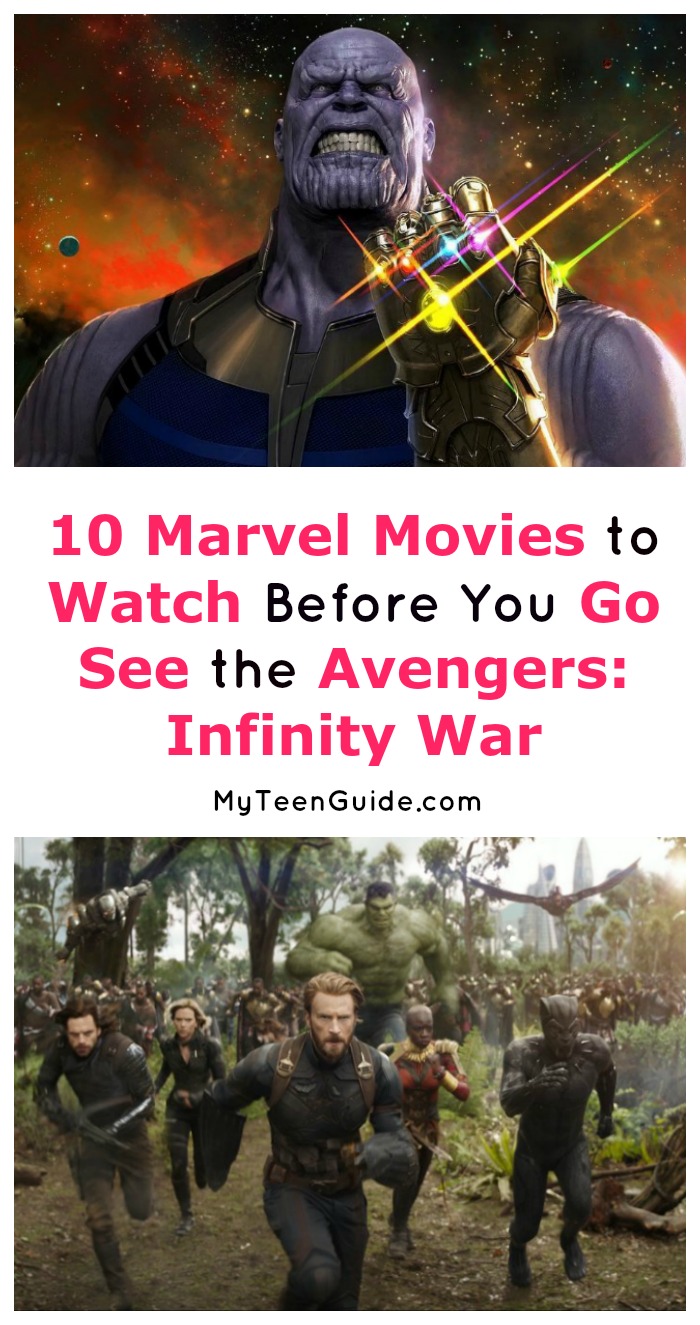 With the premiere of the most anticipated Marvel movie yet, Avengers: Infinity War, drawing near, you should probably take some time to watch some of the other movies from the Marvel Universe in order to get prepared for Infinity War and all the characters that are set to appear in this star-studded movie.
Even though Infinity War directors Anthony and Joe Russo have mentioned movies like Out of Sight and Two Days in the Valley as biggest influences on their work on their latest superhero flick, which means that you should definitely watch these films as well, in my list I will focus on Marvel movies that you need to see before you watch the Avengers: Infinity War because the entire cinematography of the Marvel Cinematic Universe leads to this epic movie.
10 Must-See Marvel Movies Like Avengers: Infinity War
Affiliate links included below. If you make a purchase through these links, we earn a small commission at no extra charge to you.
1. Iron Man (2008)
The movie that started it all.
Iron Man
is the first movie in the Marvel's Cinematic Universe, which means that you must watch it in order to get into the story the right way.
The movie that introduced the lovable playboy billionaire Tony Stark (Robert Downey Jr.) and his gadgets and quirks was followed by two sequels that you should probably watch as well, Iron Man 2 and Iron Man 3.
2. Thor (2011)
This movie is the origin story of Thor (Chris Hemsworth), the famous hammer-wielding Norse God stripped of his powers and send to Earth where he must prove himself worthy before he can reclaim his infamous Mjolnir and his right to the throne.
On his way, in this movie and sequels Thor: The Dark World
and Thor: Ragnarok
, as well as Avengers movies, he encounters many villains, but also his witty and traitorous brother Loki (Tom Hiddleston).
3.  The Incredible Hulk (2008)
Even though there is practically a consensus among Marvel fans and critics that The Incredible Hulk
is probably the weakest movie in the Universe, it is still worth a watch at least to get yourself familiar with Hulk's origin story.
And even though Edward Norton was later replaced with Mark Ruffalo as Hulk in subsequent films, I feel that Norton deserves some credit for his portrayal of Bruce Banner and his plight.
4. Captain America: The First Avenger (2011)
As the name itself says, Captain America (Chris Evans) was the first Avenger and this movie depicts his story and sets the tone for the future Avengers movies. The movie shows the transformation of Steve Rogers from a sickly man to a superhero who must fight to save the world.
Don't miss the sequels as well, Captain America: The Winter Soldier and Captain America: Civil War.
5. Guardians of the Galaxy (2014)
This is a personal favorite of mine when it comes to superhero flicks, especially from the Marvel's Universe.
It has a great cast (Chris Pratt, Zoe Saldana, Bradley Cooper) and a lot of witty humor.
The second movie, Guardians of the Galaxy Vol. 2
is also great and worth investing your time, especially when you consider that entire ensemble of the Guardians has a prominent role in the Infinity War.
6. Ant-Man (2015)
With Paul Rudd as the titular character, you know you are in for at least a few laughs even though it is a superhero flick.
In fact, many critics noted that it is the funniest of all the Marvel films, although I still hold Guardians of the Galaxy higher on my humor list. However, we can only hope that Rudd will bring some of his famous wit to the set of the Infinity War as well.
7. Doctor Strange (2016)
Perhaps the most spiritually appealing movie from the Marvel's Universe, Doctor Strange
is one of those superhero movies that manages to move away from the pattern as much as possible.
And it has Benedict Cumberbatch, so even if you are not a big fan of superhero flicks, give this lovely doctor a chance.
8. Spider-Man: Homecoming (2017)
It was strange to get used to Andrew Garfield as Spiderman for us 90s kids since we grew up with Tobey Maguire and Kirsten Dunst, but since Andrew didn't really have a long tenure in the role, it was a bit easier transition this time.
In yet another movie about one of the Marvel's most popular heroes, Tom Holland gives a great performance and will reprise his role in the Infinity War.
9. Black Panther (2018)
The latest movie in Marvel's Cinematic Universe was received great from both fans and critics and every bit of praise is well deserved.
Chadwick Boseman truly brought Black Panther to life, and the world of Wakanda is absolutely stunning to watch.
10. Marvel's The Avengers (2012)
You can't have a list of movies like Avengers: Infinity War without mentioning this one! Witness the birth of a great idea made into reality by beloved Nick Fury (Samuel L. Jackson) in the first movie about the Avengers.
The second movie, Avengers: Age of Ultron is also amazing and a must-watch before you go to the cinema for the third part that will bring together all of these amazing characters in one epic showdown.
Of course, you could just go and watch Avengers: Infinity War even if you didn't see these movies from my list, but to be able to truly appreciate the grandiose world that Infinity War brings to the big screen, you should go in well prepared for this monumental story.
Can you think of any other Marvel movies like Avengers: Infinity Wars that everyone should see? Share below!