Looking for clever and fun glow in the dark tween birthday party ideas?
We've got you covered!
Check out everything you need to throw an epic party!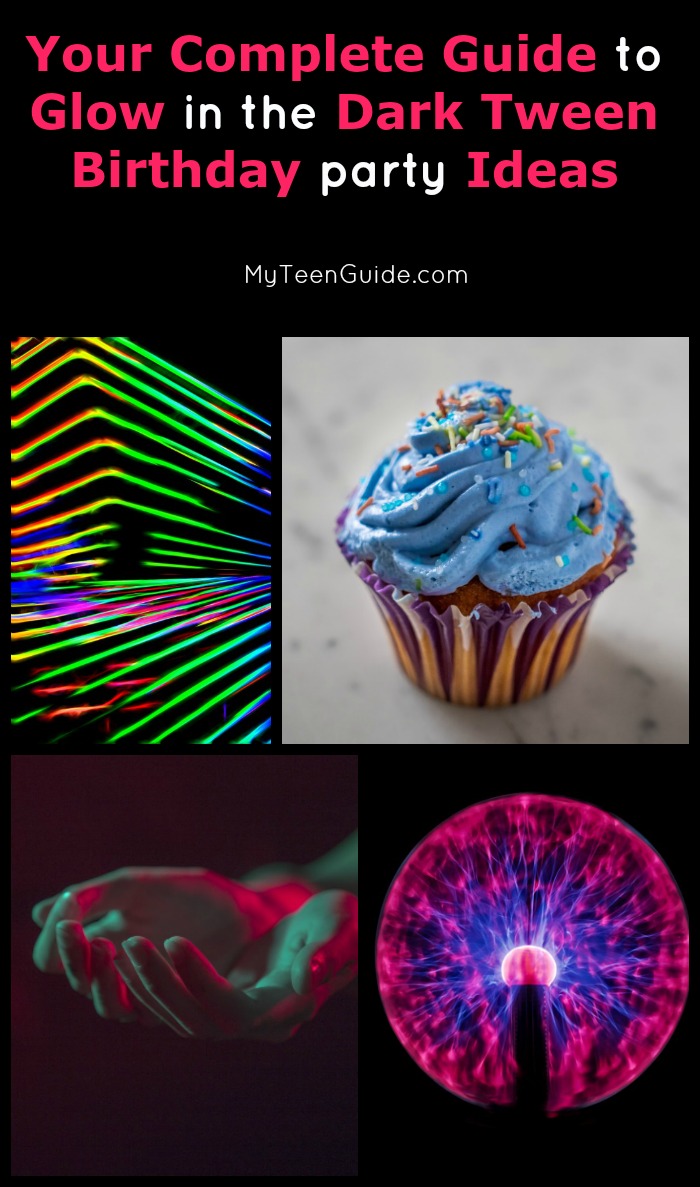 Let's be honest, who wouldn't love a glow in the dark birthday party theme?
Heck, most of us would be thrilled to have this as the theme for our next birthday party!
But, as much as we love the idea, tweens love the idea twice as much.
If you're throwing a party for a tween, here are some awesome glow in the dark birthday party ideas that they'll absolutely love!
Glow in the Dark Tween Birthday Party Ideas
Affiliate links included below. If you make a purchase through these links, we earn a small commission at no extra charge to you.
1. Invitations
In order to get guests to your party, you are going to need to send out some cool birthday party invitations.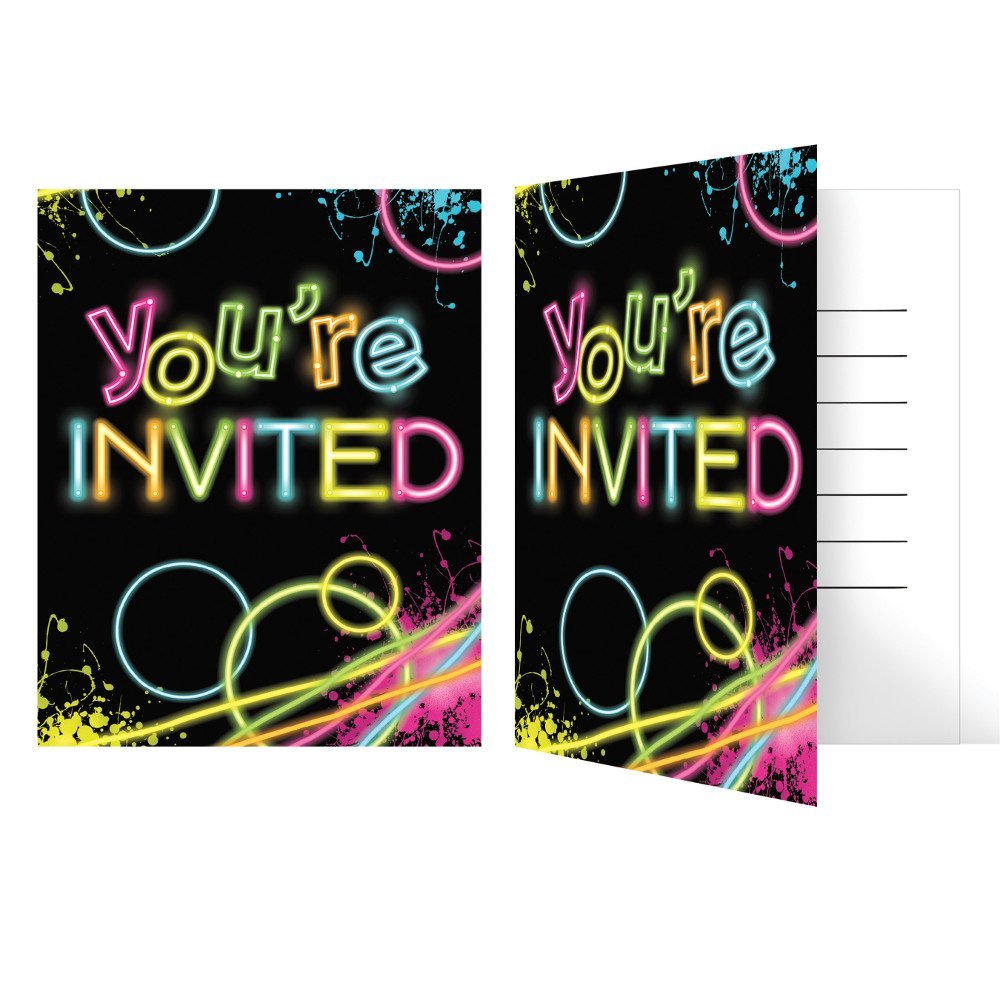 Birthday Cake Glow in the Dark Party Invitations, from Zazzle, can be personalized and you can choose from 12 paper types, 6 shape options and 2 printing options.
Glow Party Birthday Party Invitations, from Amazon, is a set of 8 invitations.
Neon Let's Party Invitations, from Target, is a set of 10 invitations.
2. Decorations
The most important thing you will need for your party is a black light. Black lights are designed to only allow in ultraviolet light, making fluorescent items pop with neon colors. Party City has a Fluorescent Black Light Fixture. The fixture measures 18-inches long and features a 6-foot cord.
Birthday in a Box has a Glow Party Deco Kit, which comes with 12 latex balloons, 4 balloon weights, 2 curling ribbons, 2 foil star balloons and 2 themed foil balloons.
Amazon has a Glow in the Dark Happy Birthday Banner. This banner allows you to choose from just a Happy Birthday or you can add a name as well.
Amazon also has some really neat Neon Balloons that react under a black light.
The Etsy shop- Beth's Card Creations- has Neon Garlands for Black Light Party, where you can choose from 2-foot to 10-foot lengths.
Check out some more fun DIY ideas here:
3. Tableware
When it comes to tableware for your party, you have a few different options available.
Neon Black Tablecloth- This easy DIY idea is perfect for your party tables. Just spread out black tablecloths, like this Black Plastic Table Cover, from Party City, then splatter paint all over them, like this 6-Pack Neon Paint
, from Amazon.
The Etsy shop- Always in Blossom- features Neon Rainbow Roses, which are a set of 6, 3-inch handmade, paper flowers. You can scatter them on your party tables.
The Etsy shop- Pages to Petals Designs- has a Neon Party Centerpiece, which is a bouquet of 24 neon paper flowers with 9-inch stems.
Amazon features a Neon Disposable Party Supplies Set for 32 Guests, which features 9-inch and 6-inch plates, hard plastic cups, cutlery and napkins.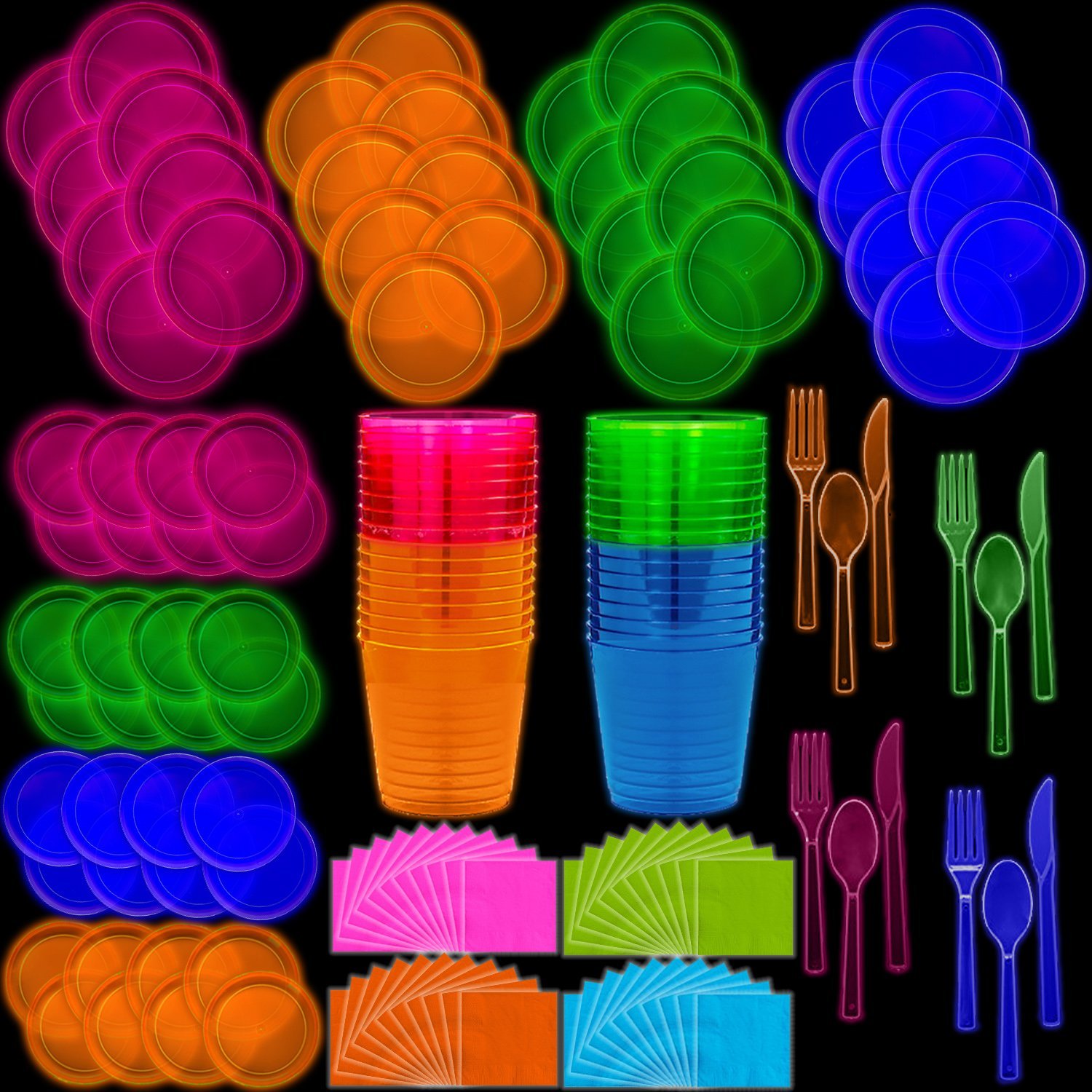 4. Food & Drink
It is hard to come up with neon food for your party, except for desserts or sweets.
Taco Bar- Tweens love tacos, so consider setting up a taco bar at your party. Style Blueprint shows you The Easiest Way to Feed a Crowd: A Taco Bar, while Genius Kitchen features ideas on How to Build the Ultimate Taco Bar.
Nachos Bar- In addition to tacos, tweens also love nachos, so consider setting up a nachos bar at the party. Genius Kitchen shows you how to Build Your Own Nacho Bar for a Crowd, while My Mommy Style gives you great ideas on how to Build Your Own Nacho Bar.
Cupcakes- Make some cupcakes and spread them with white frosting. Then place the cupcakes in these Neon Baking Cups and then drizzle them with Neon Gel Food Coloring.
The Etsy shop- Sweets by Smooches- features a Neon Sweets Party Pack, complete with Chocolate Covered Neon Oreos, Chocolate Covered Neon Pretzel Rods and Neon Rice Krispie Treats.
We also love these neon galaxy cupcakes:
5. Music
A neon birthday party for tweens calls for some great music, more specifically, dance and EDM (Electronic Dance Music) songs. Here are some ideas for your party playlist:
Dance Songs
All About That Bass- Meghan Trainor
Dynamite- Taio Cruz
Firework- Katy Perry
Happy- Pharrell Williams
One Last Time- Ariana Grande
Shut Up and Dance- Walk the Moon
Timber- Pitbull and Kesha
What Makes You Beautiful- One Direction
EDM Songs
Clarity- Zedd
Fade Into Darkness- Avicii
Random Access Memories- Daft Punk
Summer- Calvin Harris
Too Close- Alex Clare
Without You- David Guetta and Usher
6. Activities
There are lots of activities and games to keep you and your guests occupied during the party!
Party 411 features instructions for an array of Glow in the Dark Party Games, like Capture the Glow Stick, Glow Charades and Glowing Treasure Hunt.
The Spruce features ideas for Glow Stick Party Games, including Glow in the Dark Ring Toss, Glow Hoop Volley and Tic Tac Glow.
Fun Attic features an array of Glow in the Dark Party Activities and Games, including Balloon Truth or Dare, Glow in the Dark Twister and Ping Pong Toss.
7. Party Favors
You want to send your guests home with some cool party favors!
8. Theme Names
If you want to give your party a fun and interesting theme name, here are some awesome ideas:
Bright Rainbow
Color Clash
Color Fusion
Colors Town
Dancing in Colors
Electric Color Bombs
Electric Express
Electric Youth
Get Your Glow On
Glow the Night Away
Glow with the Flow
Light Bright
Neon Kingdom
Rainbow Village
True Colors
9. Locations
If you don't want to have your glow in the dark birthday at home, there are numerous venues you can choose from:
10. DIY Ideas
For those who are crafty, consider these cool DIY glow in the dark ideas for your party:
With all of these glow in the dark tween birthday party ideas, you should be all set for a night of fun! Now all you need are the guests!
Have you ever thrown a glow in the dark tween birthday party? Share your tips!