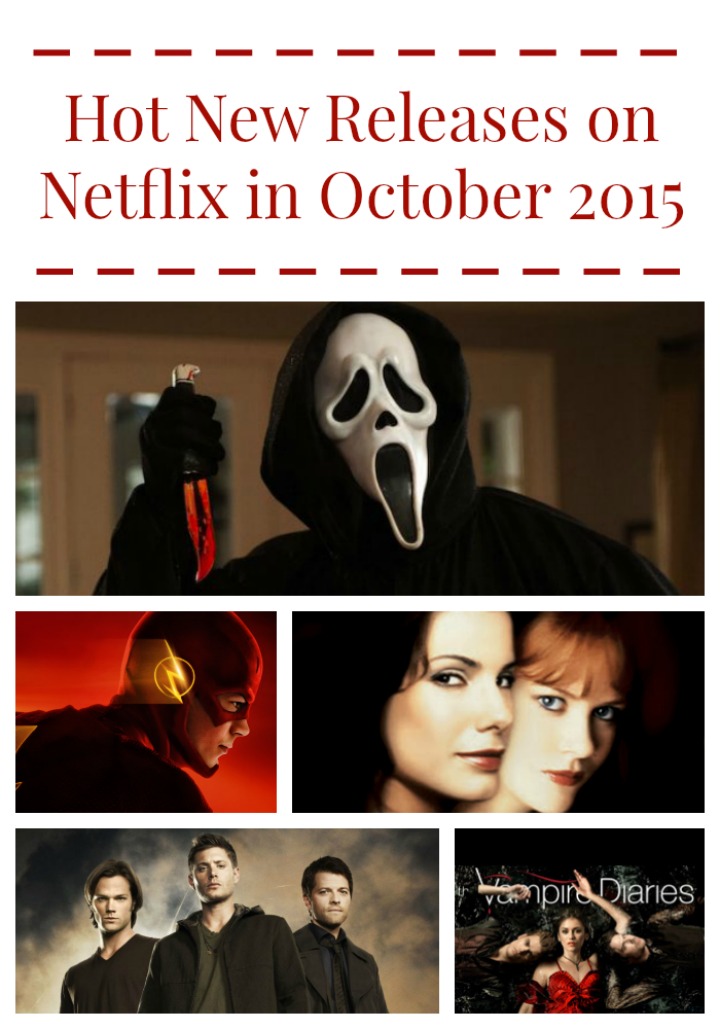 Who's ready to fill their stream with new releases on Netflix in October 2015? If you have recently run out of shows and movies to stream on Netflix, there is some great news! A new month is now upon us and that means it's time for Netflix to unveil the new monthly roster. October brings an array of shows and movies that teens will love.
New Releases on Netflix October 2015
October 1st
About Alex
American Pie
Batman Begins
Curse of Chucky
Robin Williams Remembered: A Pioneer of Television Special
The Nightmare
In About Alex, a young man's former classmates attempt to try and help him heal after he attempts suicide, until old issues come to light. American Pie is the story of four high school seniors, trying to lose their virginity. Batman Begins takes place after Bruce Wayne's parents are killed, as he takes on a new disguise to fight crime in Gotham City.
Chucky is back for all you fans out there with the Curse of Chucky! Robin Williams Remembered is a celebration of his life and career. The Nightmare is a documentary that delves into the world of sleep paralysis.
Canada Only Releases
Scream- Season 1
The Dark Knight
Mystic River
Men in Black
Men in Black II
Practical Magic
October 2nd
The Vampire Diaries- Season 6
The Vampire Diaries follow the lives of two vampire brothers, trapped in teen bodies and vying for the attention of Elena.
October 6th
American Horror Story: Freak Show- Season 4
iZombie- Season 1
The Flash- Season 1
The Originals- Season 2
Tremors 5: Bloodline
American Horror Story is back for a whole new season filled with horrors, evil and supernatural fears. In iZombie, what happens when a woman is savaged by zombies? The Flash is about Barry, who was strike by lighting, spent months in a coma and wakes up to find not only is he different but so are those around him. If you love Vampire Diaries, you will love its spinoff, The Originals. Tremors is back with its 5th installment, with Graboids that are deadlier than ever.
October 7th
Arrow- Season 3
Supernatural- Season 10
Arrow is based on Green Arrow from DC Comics. The brothers are back once again to investigate paranormal happenings in Supernatural.
October 9th
Mighty Med combines superheroes with sci-fi and comic books.
October 12th
Jane the Virgin- Season 1
When Jane becomes pregnant due to a medical mishap, she must change her entire life around.
October 13th
Penatonix: On My Way (Canada Only)
October 16th
Anthony Jeselnik: Thoughts and Prayers
Some Assembly Required- Season 2
The Principal- Season 1
For an hour of laughs, Anthony Jeselnik is your guy. Some Assembly Required follows the life of a 14-year old who becomes owner of a toy company and creates some fascinating toys. The Principal is a great series about violence, conflict and a principal determined to change his school around for the better.
October 23rd
In Hemlock Grove, secrets and evils are part of everyday life.
Last Call: Catch Your Favorites Before They Are Gone
Leaving October 1st
Dirty Dancing
Flashdance
Katy Perry: The Prismatic World Tour
Night of the Living Dead
Pet Sematary
Pink: The Truth About Love Tour
If I Stay
The Hunger Games: Catching Fire
Angela's Ashes
Caprica
Charlie Bartlett
God's Not Dead
Gimme Shelter
Girl Most Likely
The Skeleton Twins
World War Z
Leaving October 4th
Leaving October 6th
Leaving October 28th
Which of these new releases on Netflix in October 2015 are you planning to watch first? Tell us in the comments!