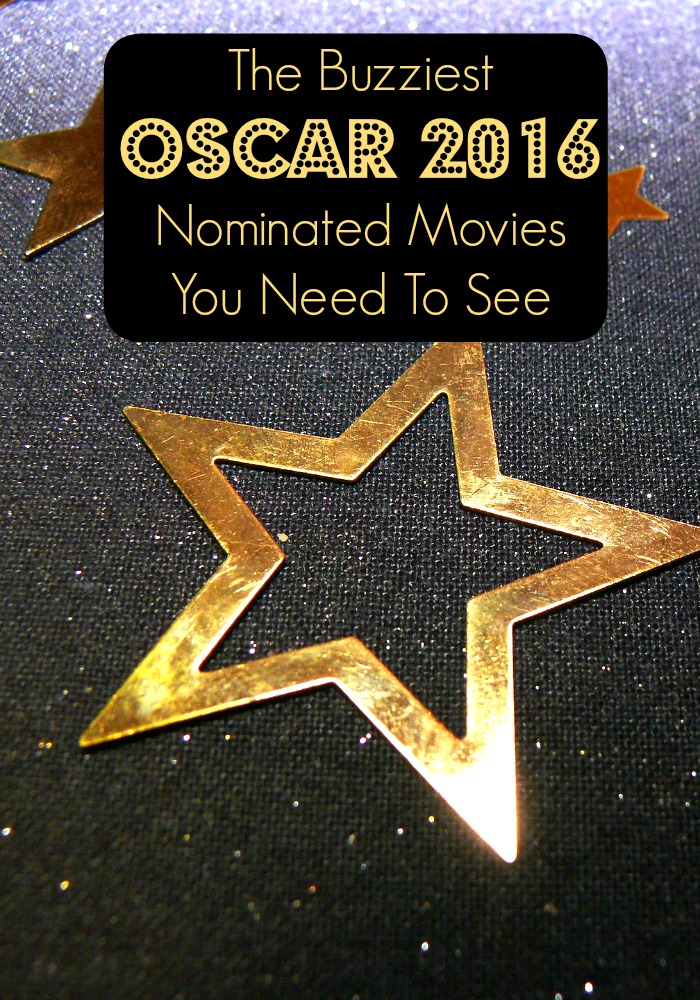 Are you ready to see which Oscar 2016 nominated movies makes it to the win this year? The Oscars are one of my fav awards shows. There is so much glitz and glamor at this show, and I always feel like the stars truly up their game. The dresses and tuxes are always amazing, and I have no doubt the Oscar parties are too! Will anyone trip? Who cries and who is surprised? Who gets yanked off the stage because they were babbling so much, they didn't make it through their speech? I simply have to know! I'll be glued to the screen while eating popcorn.
So many actors are hoping for that epic 45 seconds to thank their peers for recognizing them as outstanding. I  don't think anyone will come close this year to Walt Disney's record-breaking list of  59 nominations and received 26 awards over the course of his lifetime. Way to go Disney! There are some seriously good movies and artists up for awards this year, but I have a few that I am placing MY bets on for the win. If you are interested in catching up before the awards, I highly recommend checking out these movies, which are all currently up for Best Picture this year at the Oscars among many other awards. I've also included a bit of trivia on all three of these Oscar 2016 nominated movies, so you look super smart watching the awards with your friends!
Oscar 2016 Nominated Movies You Need To See
The Martian
The Martian is a 2015 sci-fi comedy film starring Matt Damon, Jessica Chastain, Jeff Daniels, Kristen Wiig, Sean Bean, Kate Mara, Sebastian Stan and Chiwetel Ejiofor. The movie showcases an astronaut on Mars, who is thought to be dead. However, when it turns out he is alive, he must struggle to survive while others hurry to rescue him. This movie is finger gripping, nail-biting suspense and my TOP pick for Best Picture among other awards.
Trivia So You Look Smart: To prepare for her role in the movie, Jessica Chastain visited NASA and talked to astronauts. For the role of Venkat Kapoor, the first choice was Irrfan Khan, but he had a prior commitment. Matt Damon shot his solo scenes in five weeks, so he didn't meet any of his castmates until the movie premiere.
Quotes: Mark says, "I don't want to come off as arrogant here, but I'm the greatest botanist on this planet." Teddy says, "If we are going to have a secret project called "Elrond", then I want my code name to be "Glorfindel".
Bridge of Spies
Bridge of Spies is a 2015 historical drama thriller film starring Tom Hanks, Amy Ryan, Alan Alda and Mark Rylance. It is based on the Cold War 1960 U-2 incident and tells the story of a lawyer who is responsible for negotiating the release of a pilot. The characters twist and turn, so it is hard to know who is lying and who to root for, as everyone single character seems to have a deceptive hidden agenda!
Trivia So You Look Smart: The movie was first named St. James Place. Some of the scenes were filmed in California at Beale Air Force Base. Bridge of Spies is the first time in more than ten years that Steven Spielberg and Tom Hanks worked together.
Quotes: Agent Blasco says, "You have been selected for a mission for which you are not to discuss with anyone outside of this room. We are engaged in a war with the Soviet Union. This war does not, at the moment, involve men in arms. It involves information."
Mad Max: Fury Road
Mad Max: Fury Road is a 2015 action movie that stars Tom Hardy, Charlize Theron, Hugh Keays-Byrne, Nicholas Hoult, Riley Keough, Abbey Lee, Courtney Eaton, Rosie Huntington-Whiteley and Zoe Kravitz. The movie setting takes place in a desert wasteland in the distant future where water and gasoline are hard to find. Max and Imperator Furiosa team up to get away from a cult leader and his army. Expect to be thrown head first into the action for this movie and to figure out all the strange rituals and ideas of the attacking cult society as you go along!
Trivia So You Look Smart: The jacket that Tom Hardy wears in the movie is a replica of the one worn by Mel Gibson in Mad Max 2 and Beyond Thunderdome. The film's editor, Margaret Sixel, had to go through 480 hours of film to make the necessary edits. During a filming scene, Tom Hardy ended up with a broken nose, endured when Charlize Theron elbowed him on accident.
Quotes: Max says, "You know, hope is a mistake. If you can't fix what's broken, you'll, uh… you'll go insane." The bullet farmer says, "I am the scales of justice! Con-DUCT-or of the choir of death!"
So tell me in the comments, did I miss any movies that you are buzzing about? Who are you excited to see at the Oscars? Which of theses Oscar 2016 nominated movies are you cheering for? Make sure to check back after the award show for our full recap!
*Image via Pixabay