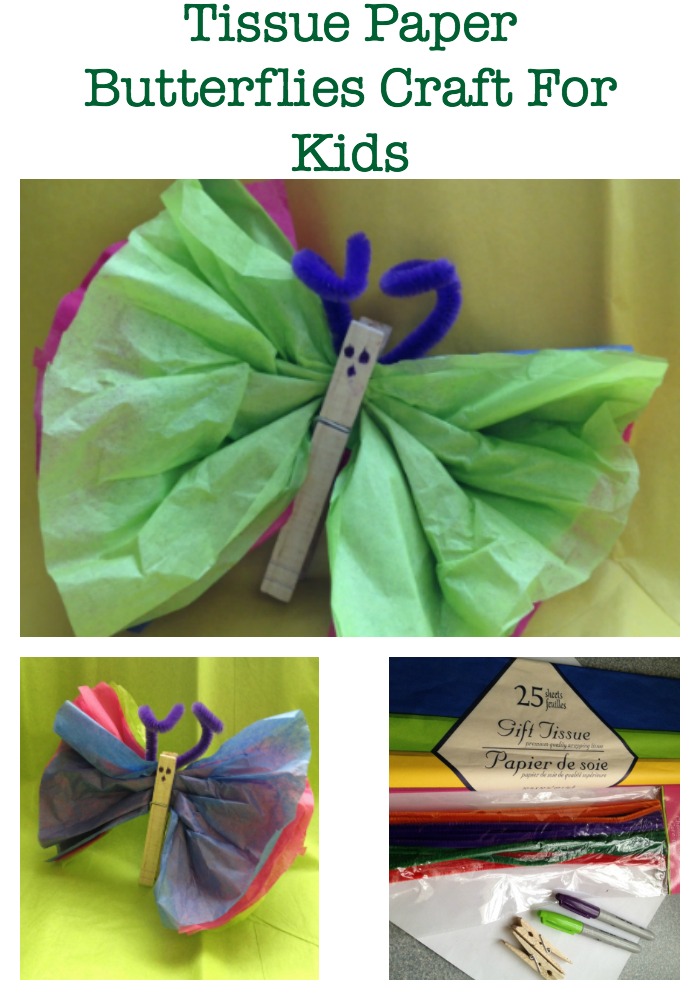 Nothing announces the arrival of spring like butterflies in flight! The soft flutter of butterfly wings are enough to set any child in a mesmerized trance.  Their color, grace, and beauty are all to be admired. This spring, prepare for the arrival of colorful butterflies by making your very own! These tissue paper butterflies are simple to make,  require just a few items found around the home or your local dollar store, and make great Easter crafts for kids.
This activity not only yields colorful butterflies, but allows kids to practice fine motor skills and discuss all of the fun facts about butterflies! Included below is even a list of butterfly texts appropriate for kids, so you can enhance this learning experience! So take a peek and see how easy it is to whip up your own fancy tissue paper butterflies!
How to Make These Cute Easy Easter Crafts for Kids
Materials: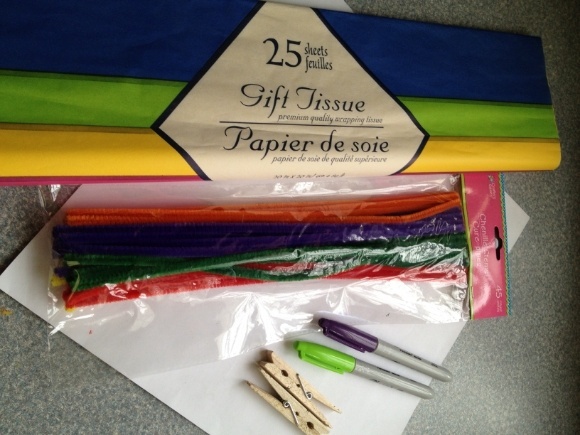 Wooden clothespins (dollar stores sell packs of 24 for $1.00)
Pipe cleaners (dollar stores sell packs of 24 for $1.00)
Colorful tissue paper (found in the gift wrap section of dollar store)
scissors
markers
Directions for these fun Easter crafts for kids:

Cut several 10-in. squares from the tissue paper.
Gather the squares of tissue into a uniform pile. Fold the tissue paper, accordion style.
Squeeze a clothespin open and clip it over the midpoint of the folded tissue. Open the wings out on either side.
Bend the pipe cleaner to form a "V" shape for the antennas. Bend each end of the antennas into a little "O" shape or knot.
Clip the "V" shape of the antennas into the clothespin, on top of the folded tissue.
Use markers to draw the butterfly's eyes just below the antennas.
That's it! Display these lovely creatures in a sunny window, or give them as a gift to someone special! They are so cheery and colorful, and are sure to brighten up any room or day. You can also make several of these if you wish, attach fishing line or yarn, and hang from a ceiling for an instant spring look!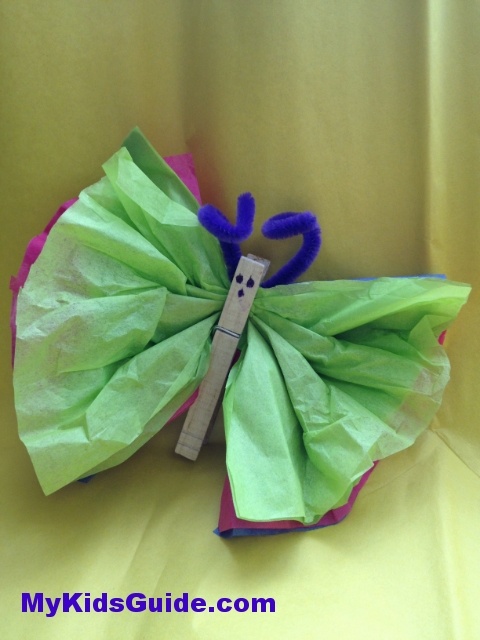 When finished, why not take the time to make a list of butterfly facts? You can make a list of the ones you know, and make a list of the questions you have. Explore one of the many texts available to help you learn more about butterflies and get an up close look at these amazing creatures!
Here are a few books to get you started!
Butterflies
, By Seymour Simon
My, Oh My–A Butterfly!: All About Butterflies (Cat in the Hat's Learning Library)
, By Tish Rabe
National Geographic Readers: Great Migrations Butterflies
, By Nat Geo
So what are you waiting for? Create your own colorful butterflies with your kiddos today, and start learning more about their fascinating life! You will be amazed at the facts you can learn, not to mention how sweet and colorful your home will look with these tissue paper butterflies flying all about!
For more Easter crafts for kids, check this Easter Egg Craft and this DIY cup flower Easter craft for kids