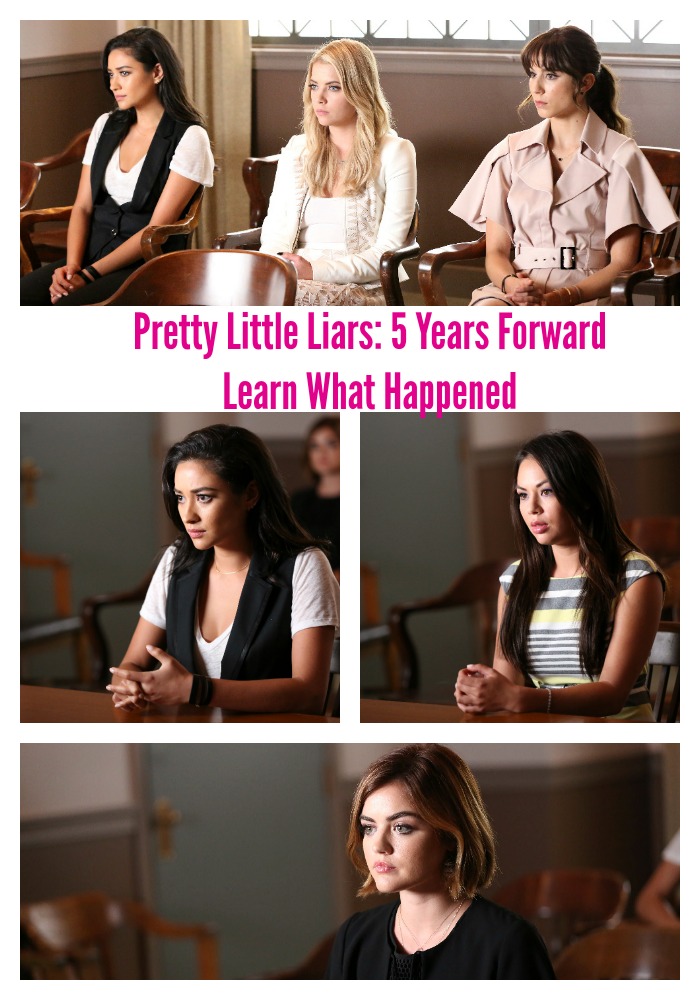 Pretty Little Liars: 5 Years Forward aired on Tuesday, November 24, 2015. "Pretty Little Liars: 5 Years Forward" offers fans a glimpse at what everyone's favorite characters have been up to inside and outside of Rosewood over the past five years. The episode will feature never-before-seen scenes, backstage tours of brand new PLL sets, interviews with the cast and crew surrounding the highly anticipated time jump, including the style evolution of the Liars, and more. Here is what we learned about all the characters from the show.
Pretty Little Liars Five Years Forward Recap
Aria-
Aria is now in a good place in her life. She is in a happy relationship, having found love again. His name is Liam. Ezra is still in her life but not in a romantic way. She has discovered her love of writing again and Aria and Ezra are working together in her publishing career.
Ezra-
Ezra has had a wild few years. He fell in love with a girl, Nicole, while he was in South America performing service work. However, everything that Ezra had been violently taken from him. In Season 6B, we will see Ezra is not having a sense of who he is or what he is supposed to do with his life. Also, Ezra has become an alcoholic.
Hanna-
Five years later, Hanna is doing amazingly well. While she and Caleb do move to NY together, things just get worse from that point with the relationships. Caleb continues to live in the world of technology while Hanna attends fashion school. Hanna gets a job as an intern for Zac Posen and puts her job before her relationship with Caleb. She travels to Europe, meets someone new and becomes engaged.
Caleb-
Caleb skipped college because he thinks he's too smart for college and continues his life in the tech world. While Caleb and Hanna's relationship didn't work out, Caleb and Toby's relationship has strengthened over the five years. In fact, they go fishing together on a regular basis.
Spencer-
Spencer attends Georgetown and focuses on a political career. She is now working on Capitol Hill, seemingly at a low-end job, but it is a start to her career. However, her relationship with Toby has fizzled because of the physical distance between the two and because of the fact that Spencer's career is very demanding.
Toby-
Toby is now single but extremely wealthy due to a hefty inheritance from the explosion of the Cavanaugh house. He builds a huge house just outside of Rosewood and has met someone who is very special in his life. Toby is also now a seasoned cop on the police force.
Emily-
Emily moves to the west coast and has dropped out of school after the death of her father. She does come back to Rosewood, but she has a huge secret that she hasn't revealed to anyone.
Alison-
Alison is now married to Dr. Rollins. She meets him while she is visiting Charlotte in the hospital. However, their marriage is kept a secret because of the fact that he is the doctor of her sister.
Stay tuned for the premiere of Season 6B of Pretty Little Liars in January 2016.
Did you catch up on Pretty Little Liards 5 years forward episode? What surprised you the most?