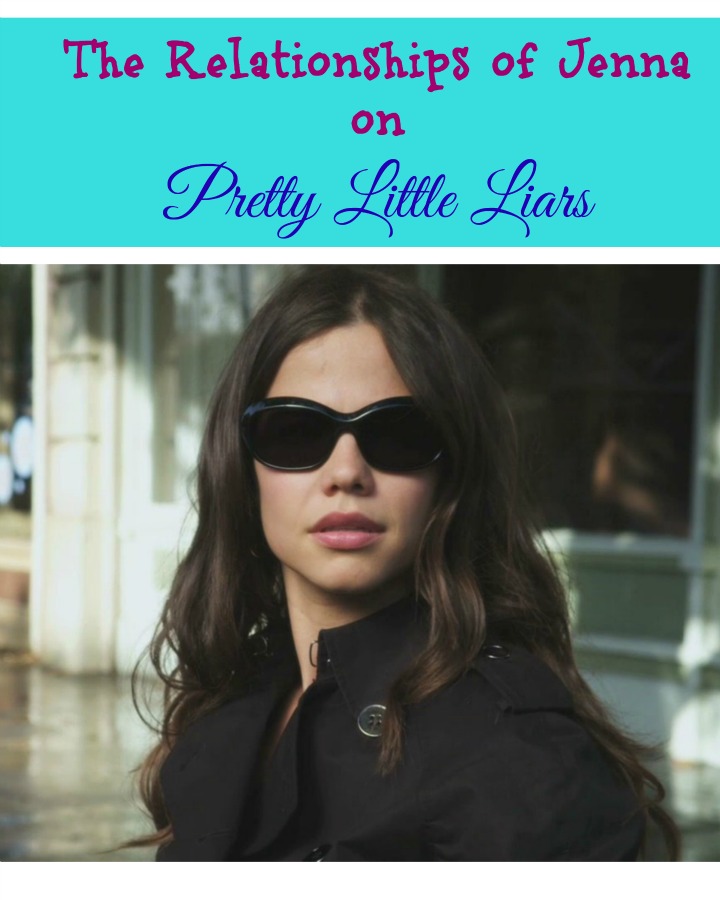 Okay, Pretty Little Liars fans, today we're talking all about one of our favorite arch nemesis- Jenna! Specifically, the past and present relationships of the nasty girl next door we love to hate…or hate to love? I'll admit, I have such mixed feelings about Jenna. She creeps me out with her weird fixation on her stepbrother, and she'd definitely a mean girl! But on the other hand, she did get blinded by a prank gone wrong. You gotta feel SOME level of sympathy for her.
Jenna's had some really ODD relationships over the years of Pretty Little Liars. Let's talk about a few of them! Without further ado, we present the past and present relationships of Jenna!
Past and Present Relationships of Jenna on Pretty Little Liars
Toby
While Toby is indeed her step-brother, she develops feelings for him. However, these feelings are not returned by Toby, making the relationship one-sided. In the past, Jenna has forced Toby into a sexual relationship with her. CREEPY! Jenna gets crazy jealous whenever she sees Tobes with another girl, especially Spencer Hastings!
Garrett
Garrett was a police officer for the Rosewood Police Department. Their relationship started (for our eyes) during the first season finale. Garrett appears in Jenna's room when she tells him that Alison still seems to be taunting her, even from the grave. Garrett tell Jenna that he will not let anything happen to her and they kiss. Eventually, Jenna breaks up with Garret but the reasons are unknown.
Noel Kahn
Noel and Jenna were first spotted together by his ex-girlfriend, Mona and her friend Hanna. They were out for a romantic evening and continued to date for some time afterwards. They split up some time in the latter part of season 3 or the early part of season 4. Noel and Mona split up in season 2 and Jenna becomes close to Noel not too long after that. However, they were getting cozy before that and Jenna even kissed Noel two times when he was still seeing Mona.
Nate
The relationship between Jenna and Nate was more of a flirty relationship than anything else. Nate is pretending to be the cousin of Maya but in fact he is Lyndon James. Lyndon moves to town after Maya is killed saying he is a transfer student attending Hollis College. Turns out he was the one who was stalking Maya from True North, he was responsible for her death and they weren't related at all. Nate and Jenna first talk about his drawings and she invites him to her birthday party. He shows up and the two flirt and talk the whole time.
Nigel
Nigel and Jenna briefly dated and they are first seen together during episode one of season 4. They are attending the funeral of Officer Darren Wilden and Jenna shows up on Nigel's arm. Nigel is a guy who is charming and confident but we see a dark side surface. Nigel is seen talking to an unknown woman regarding the phone Caleb stole from him. He is seen making a cup of tea and calling the woman babe. On the table nearby, a pair of sunglasses is shown along with a walking stick, meaning he is talking to Jenna.
Shana
Jenna's relationship with Shana was clearly more than just platonic, especially since Shana goes off the deep end and tries to kill everyone involved in The Jenna Thing as "Justice" for her. Shana actually arrived in Rosewood to spy on Jenna at Ally's request, but developed deeper feelings for her during her investigation. She became so deeply fixated that she plotted to take down Ally and the other girls in New York City.
Lucas???
In "The Last Dance" (Season 6, Episode 9), the girls see a photo of Jenna and Lucas together at the senior prom. Clearly, they went as dates. Is there anything more to that? Who knows? Guess we'll find out when Pretty Little Liars returns!
Of all Jenna's past and present relationships, I found her fixation on Toby the creepiest. Her romance with Shana, even though it resulted in madness and mayhem, actually seemed the deepest!
Which of the past and present relationships of Jenna freaked you out most? Who do you see her with when Pretty Little Lairs returns?